Splinterlands Is Setting The Pace For Hive Growth
There is little doubt Splinterlands is absolutely an enormous force in cryptocurrency right now. It is one of the leading blockchain games that is helping to usher in the #Play2Earn era. This is only going to attract more people to cryptocurrency as word spreads.
Basically, we are seeing the days of spending hours playing a game making only the developers (company) rich diminishing rapidly.
This was something that took a couple years. However, as we will see, this is spurring on exponential growth on many levels.
Exponential Charts Galore
The @splinterlands account put up a post detailing some of what is taking place. We will not go through all the charts here but will take some from Splinterlands continues to fly.
We can start with total accounts. This is a basic metric. If anyone is wondering what an exponential chart looks like, this is it.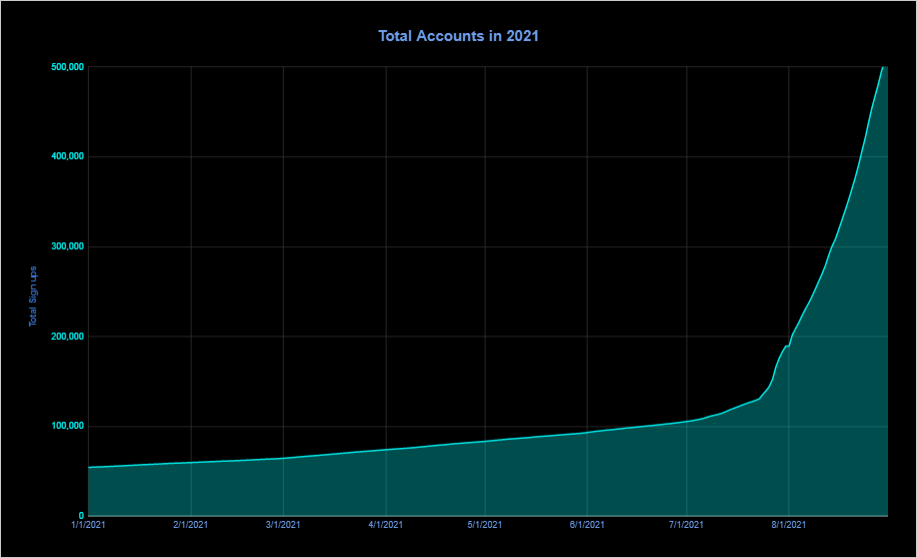 As we can see massive growth throughout the last couple months. This is coupled with the huge increase in daily sign ups.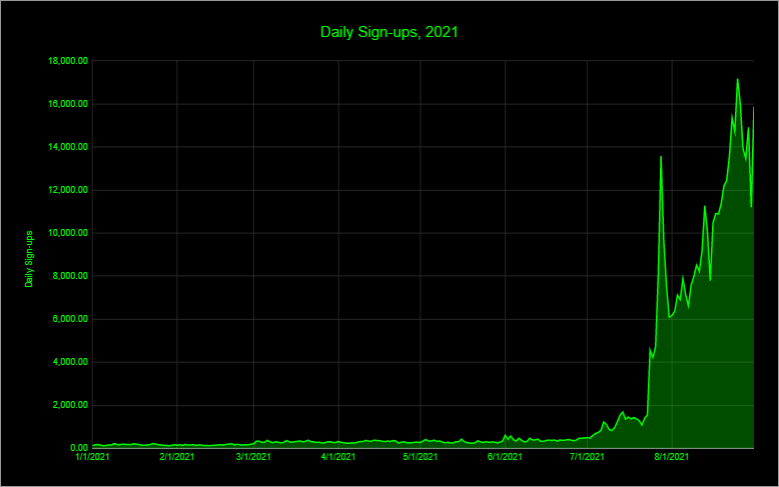 One of the key features of #Play2Earn is actually getting involved in the game. It is one thing to sign up for an account, it is another to actually put some money down to get involved. For Splinterlands this is buying the Spellbooks.
Here is what the totals look like in chart form.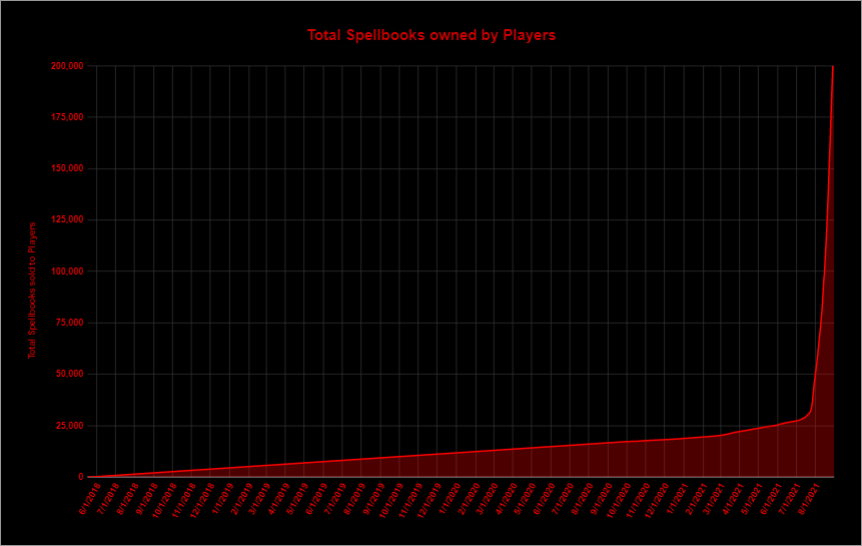 The rest of the charts look the same. To view them, check out the post here.
Paving The Way For The Rest Of Hive
This is just the start.
There is a big advantage to blockchain. It all feeds into the same ecosystem. Anything that takes places within one application can serve to benefit all the others.
We can already see how some are encouraged to not only play Splinterlands but also enhance their earnings by creating articles about it on Splintertalk. Of course, anything that is posted on there is fed into the blockchain and can be read by other frontends such as Peakd and Hive.blog.
As beneficial at this is, it is only the start. We are looking at the prospects of a Hive account having considerable utility by the end of the year. In addition to the existing applications and games, we are going to see the emergence of #ProjectBlank and #SpkNetwork. Both of these are going to help to provide more use cases for all who are associated with Hive.
While many are only interested in gaming, there are going to be a lot who will want to use Twitter on the Blockchain. At the same time, making videos of matches and playing styles are often of interest to people.
Tutorials are something else that tends to do very well for content creators. For example, 10 Splinterlands Card Strategies for Beginners was viewed almost 8,000 times in August via Google searches. The popularity of this game allows for content that supports those who are a part of the ecosystem.
Wealth creation is also something that is taking place on Hive. Obviously, we can see from the charts that Splinterlands is really increasing the wealth of many who were involved over the past few years. As stated, this was a process that developed over time.
In fact, we have an older article, Splinterlands: How Much Can You Earn? that goes back two years. The information in it is a bit dated in that the numbers are orders of magnitude higher today.
All of this is feeding into Hive. The fact that we see articles posted about the game on Leofinance, Splintertalk, and Peakd only means that we will see more traffic generated for these sites over time.
The Feeder System
Since one account can provide access to all applications and games on Hive, anything that brings in users is of benefit to everything that is tied to this blockchain.
At this time, since the majority are coming from Splinterlands, that is operating as a giant feeder system for all of Hive. While the present sign ups are most likely only interested in the game, we could see that expand in the future. As more development takes place, there might be other things people are interest in.
The same is true for any other application. When it brings in users, there could be a branching out as people learn about all the other things their Hive account provides them access to.
What this is doing is providing us a glimpse of what Reed's Law describes. Unlike Metcalfe's Law, this one adds another layer to the network effect by implementing subgroups. Each application can be thought of in this was on Hive.
Here is what the outlines look like: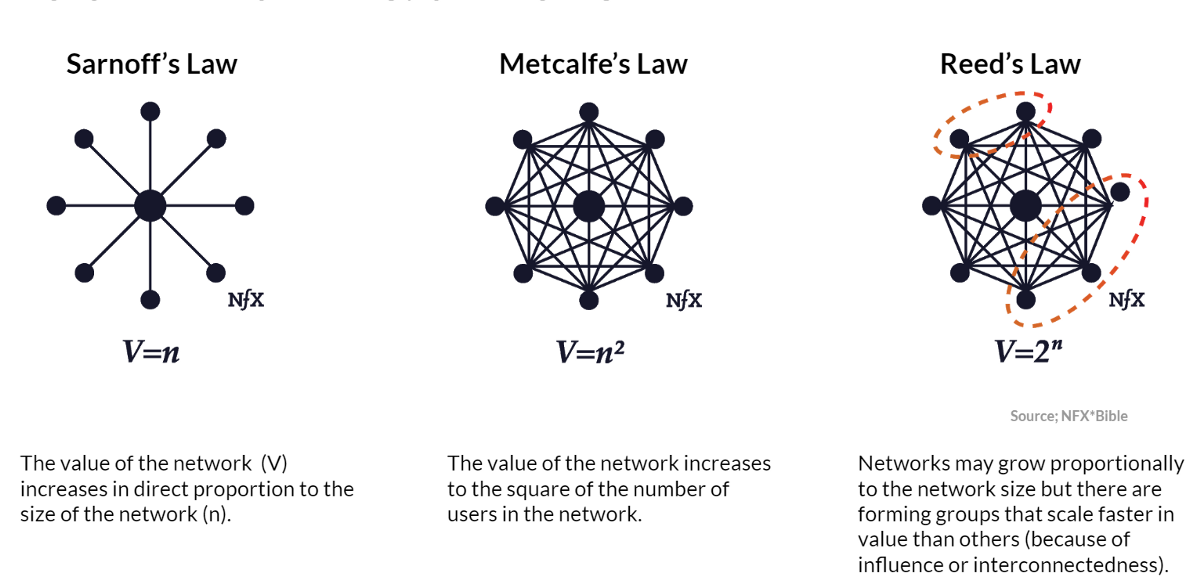 Source
As we can see, the interconnectedness will enable Hive to scale faster than a network normally would since there is not competing applications. Instead, they all feed into the same system, accelerating the network effect.
Splinterlands is providing the first wave. Hopefully others will be following shortly. Whatever sign ups come from this game, there is the possibility that they will expand what they use. The same goes for any application that brings traffic to Hive.
---
If you found this article informative, please give an upvote and rehive.

gif by @doze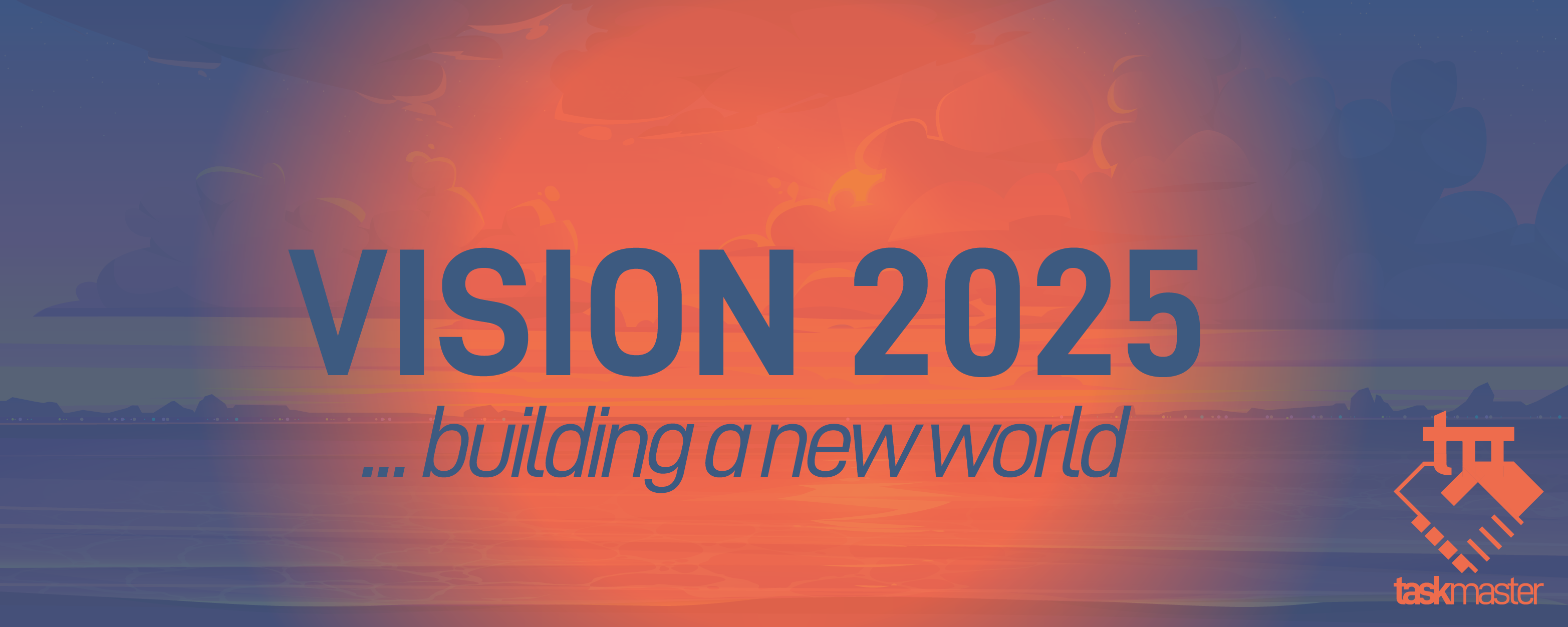 logo by @st8z
Posted Using LeoFinance Beta
---
---