Challenge - Something dead cannot burn again.

Social Media Challenge, introduction to Splinterlands.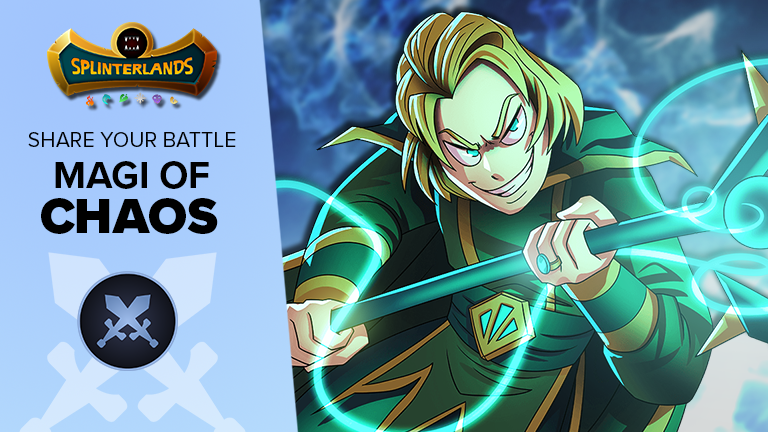 Greetings to all!
A warm greeting to all the Splinterlands community that is within the wonderful hive platform, today, for the second time I bring you the weekly challenge, in which I will bring you an exciting story of the battle, my strategy to win it, among other things that I could take into account and I liked so that you enjoy them as much as I did playing and writing for you. I send you a big hug, thank you for your acceptance, I hope to continue growing and prospering throughout the coming weeks. I send you a big hug, thanks for the acceptance, I hope to continue growing and prospering throughout the coming weeks. Let's play!

Death vs. Fire! Will we kill or will we burn?

This time I have the death splinter, which is probably one of the most lethal in the game because it offers a lot of power and because it also brings versatility in the confrontations, in general this splinter attacks the opponent in a powerful way weakening them easily, it is effective against any type of enemy and acts in a fast and effective way.
On the other hand, our rival has a Fire splinter, another one which also has good stats including great attack, with it you can put together various strategies that are quite strong and undoubtedly complicate any opponent, like me, my opponent's splinter is based on eliminating enemy cards in one hit, so no doubt this will be a very interesting and equal battle in every way.
My opponent's strategy was based on attacking my cards located in the last position, which favored him even though I had an advantage in number of cards, his great defense is also remarkable, but my blunt attacks were accurate enough to guarantee me the victory and my defense was evidently superior. So, although it was a close battle, it was defined by small details in which my cards benefited.

Battle Rules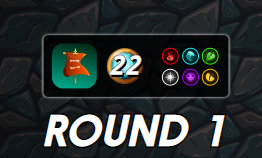 With a total mana limit of 22 to spend, which is a relatively low number, however, it is not a great impediment or a limitation when creating combinations within the battle strategy to occur.
The rules, as usual, are the standard and there is no modification, so there is great versatility when using any type of splinter and cards within the confrontation.

The confrontation! Can something dead burn again?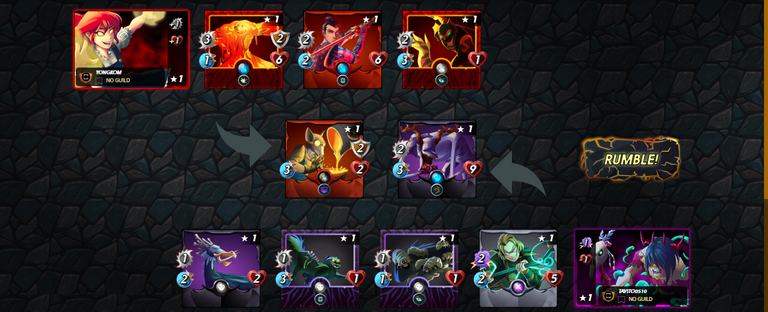 The battle begins and the summoners do their job, in this case my opponent increases his monsters in one point of health and one point of melee attack, on the other hand, my summoner reduces in one point the magic attack of my opponent and also reduces in the same amount the health, which makes my opponent to have neutral points of life.
The first round begins aggressively on my part, eliminating drastically and without giving opportunities to the enemy monster located in the last position, this thanks to the work of my summoner to have reduced his health was nullified in one blow. Still in the first round, my monsters demonstrate their authority and raze the enemy tank, in view of this, my opponent decides to attack by eliminating my monster located in the last position, a clean move on his part to try to demonstrate equality between the two.
At the beginning of the second round I had an advantage of 4 monsters to two, however, his now new tank is quite good, I must play with patience in order to get the victory. Again my monster in the last position is attacked and eliminated, but I retain the numerical advantage.
Now in the third round it becomes a totally even match, again I am attacked in the last position, resulting in a 2vs2 battle. Not to worry since as I mentioned, I had to play patiently in order to get the victory. Congratulations, in the fourth round I smash his tank leaving him at my mercy, it is already clear the end. I must admit that it was a challenge to get rid of his second tank because he had good stats, but in the end they didn't compare to mine or the power of my monsters.
He concludes the battle and I come out victorious, honestly it was quite a long battle, where the endurance of his monsters was a determining factor for him, since at the same time he was eliminating my monsters in last position. However, the protagonists of this confrontation were my tank which could not do much damage and, curiously, the card of this week's challenge, who remained standing until the end of the game.

Positioning of the Battle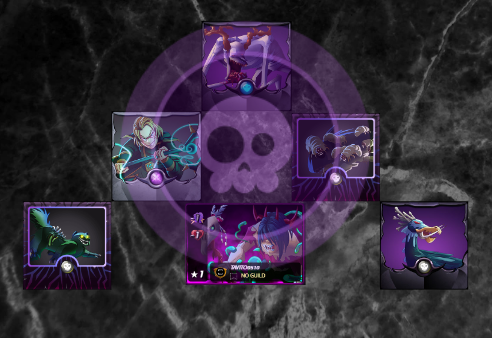 It's time to talk and explain the battle formation, in this case, I will talk from top to bottom and from left to right, and explain the usefulness of each card and the reason for its placement.
Summoner: "Name" He leads the cards in my formation with a desire to annihilate enemies and a thirst for victory. His role in this battle is to reduce my opponent's magic damage by -1 point and also to reduce his health points by the same amount.

First Position: Cursed Windeku, a card with the ability "Thorns" which is about reflecting the damage received in melee, with a fairly high base life stats, 9 points for her. It has 2 armor and 3 mana.

Second Position: Magi of Chaos the card in this place, the prodigal of this week, a card which has no skills, but does not miss them because its stats are quite high, with 5 health, 2 speed and 2 magic attack.

Third Position: Maggots, a bloody card whose special ability is to "smell" the target with lower health and attack it drastically. With somewhat low stats, it is remarkable only for its great ability. +1 melee attack, speed and life.

Fourth position: Undead Badger, attacks the monster located in the last position, thus evading the enemy frontlane. It has 1 point of melee attack, 3 of speed and 1 of life.

Fifth position: Carrion Shade, without ability, is an offensive card with 1 melee attack point, 2 health and 2 speed.

Strategy and key points
I knew that my opponent despite not possessing the same sliver of Death as me, his provided him in a way the same benefits I was going to have, with which I figured the battle would be very evenly matched at some point in the rounds, as his plays are either very aggressive or very defensive, basically, just like me.
My strategy was to be bold at the beginning of the game to give him no respite with his monsters, taking advantage of the reductions caused by my summoner and thus, in the course of the rounds to be calmer and more patient, until I achieved my goal, the long-awaited victory.

The challenge, was this card useful?
This card called Magi of Chaos, is an excellent choice because it was not only key to win the battle, but also stood up to achieve victory, it was undoubtedly the protagonist of this encounter because its ability that each attack directly affects the health of the enemy ignoring his shield helped greatly to eliminate his first tank which managed to weaken it drastically and quickly. In addition, she has high health points, in this case with 5 points, which is a high defense factor and has a fairly normal speed of 2 and 2 magic attack.
Truly, I would use it in future confrontations and I also recommend it, I was quite satisfied with the performance this wonderful card gave me.

Farewell
This is the end of this publication, I thank the whole community for reading me, it is a pleasure to make content for all of you. I will continue to bring content, and I hope to improve in the next publications.
Goodbye!
I leave my splinterlands link for you to register.
And I include my twitter post.

If you like to join the game, here is my link.
I also add my twitter post.
Battle link
---
---