An Overview of Splinterlands Discord Server

I decided to write this open letter post as an overview to @Splinterlands official Discord Server.
This is more to help the team behind Discord management to take note what an outsider like me see when I joined the server.
Although if the team needs my help to tidy up things, I'd be more than willing to take the job 😄.
I composed this post long before #Splinterlands Discord server got attacked raided by scammers through one of their moderators account. I believe they are currently tightening all the mods roles and permissions to prevent the same thing to happen in the future.
This post, however, is not looking at the security point of view, but rather the cleanliness and tidiness of their channels.
Good luck for HomesteadHacker for the new position as Lead Moderator.
- tedus
As a background check, I have been working with a lot of Discord servers with various purposes:
Moderator & Staff at EPIC RPG INDONESIA (LINK). Whoever play EPIC RPG in Discord can contact me and I will give you a little boost.
Created my workplace's Discord Server, as project management center for all production matters.
Created a Discord Server for an electrical trading company, as their project management center.
Co-Founder & Administrator at SehatSehatSehat, an information center for healthcare volunteers' friends and families to get fast and accurate Covid-19 information throughout Indonesia.
Administrator at CryptoWatch Discord Server (LINK), owned by @christahir.
Helped created a few other small community-owned servers.
Being involved in the creation and set-ups of those servers above, I couldn't help but realized that Splinterlands' server is quite a mess, to be honest.
This will be a long and boring post for some, but will be helpful for the team to tidy things.
Let's dissect them one by one.
---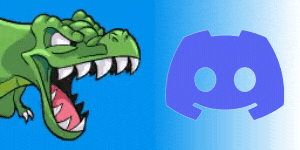 1. WELCOME SCREEN / MESSAGE
First impression do matter, so a welcome message when someone join the server needs to serve as our first impression. We can set this up in server settings.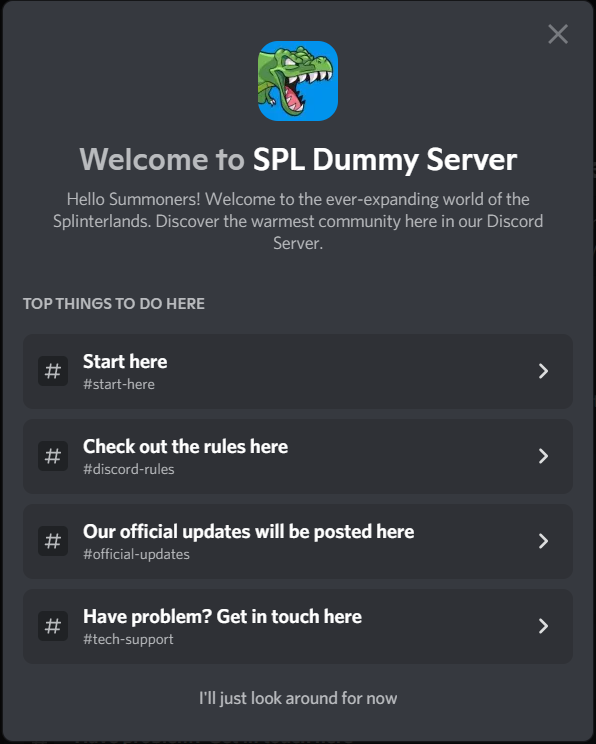 I do realize we have a #welcome channel which will show message from sm-voter bot like below: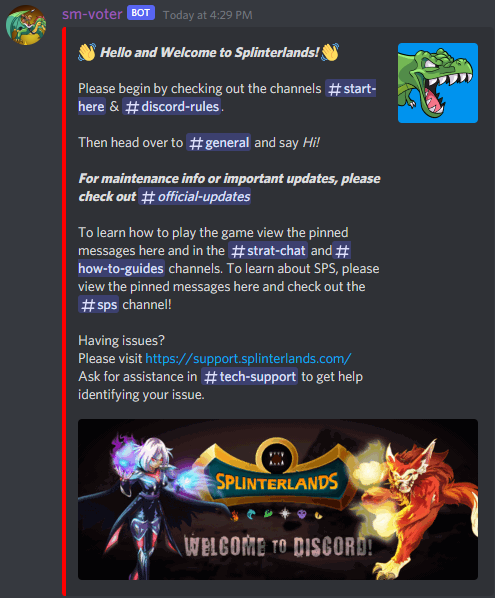 But since the initial channel which the new member landed could be anywhere (depending on where the invite link was made), the #welcome channel oftentimes never been seen.
Furthermore, the sm-voter bot should've mention the username outside of the embed, so that they get the notification on that channel. See example of SPL-Indonesia bot message below: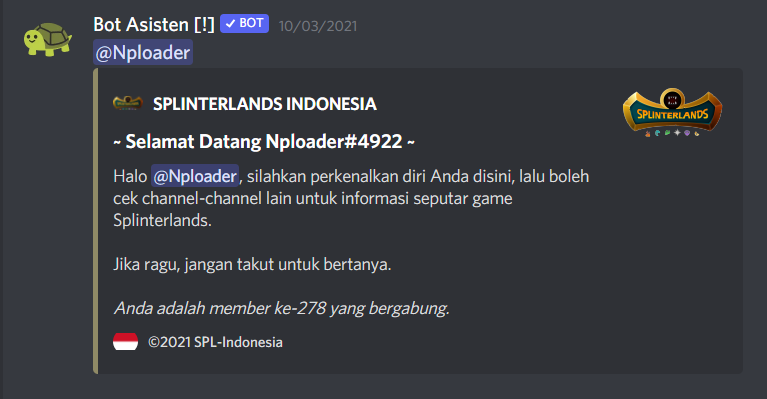 Notice that the welcome message actually mention the person's discord ID (in this case it's @Nploader) before the embed message. This will eventually made the Welcome channel stood out from the rest of the channel, since there'll be a red notification there.
---

2. CHANNELS & CATEGORIES ARRANGEMENT
For this purpose, I have created a dummy server to try to replicate the channels inside the real server (please don't sue my of copyright infringement). I found that a lot of the channels are supposed to be categorized as something else. Here's the breakdown of each categories:
1.1. Non-Categorized Important Channels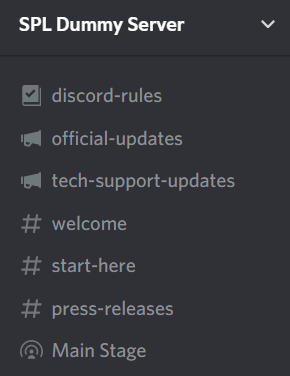 🔹
#discord-rules
,
#official-updates
, and
#tech-support-updates
channels are the most important channels, and should be on the very top, no doubt about it.
🔹 Sometimes, if needed, before any channel, we put up some statistics, i.e. number of members, date, time, etc. (see Statistics section to read more about this)
🔹
#welcome
and
#start-here
need to move here with their fellow important channels, because currently they're lost inbetween other chat text channels.
🔹
#press-releases
channel comes next in line.
🔹 I am not sure why there's a
Main Stage
voice channel here, but I assume this will be used in the future, hence they made it. Currently all the AMAs were held in a dedicated
AMA
voice channel, though.
Stage channels are a special type of voice channel you can create in your Community server. They are for audio-only conversations where some people can talk and others can listen as the audience.

If you're running an audio event where you want only a select number of participants to be speaking at one time with a majority of the audience in passive, listening mode - then Stage channels offer a great way to support and run that event!

In testing, we've seen people use Stage channels to run AMAs, Fireside Chats, Townhalls, Reading Groups, and more!
- Discord Stage Channel FAQ Page
---
1.2. Category: SUPPORT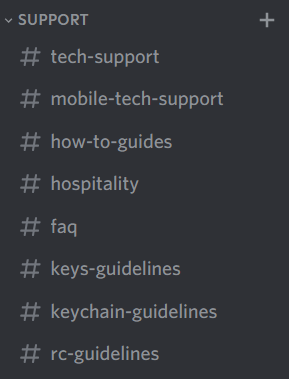 🔹
#tech-support
and
#mobile-tech-support
will need to be on the top channels in this category, as both of them are where the
Support
team resides in, and byfar the most hectic and busy channels amongst others.
🔹 Following that, we have
#how-to-guides
where 'supposedly' people can ask anything regarding Splinterlands, DEC and STEEM, etc. Quoted from the channel description, which needs an update ASAP.
🔹
#hospitality
channel was created not too long ago, which description stated
A room for Splinterlands employees to directly answer player questions through voice and text
. Hosnestly, this is very similar to
#how-to-guides
and I really think they should just merge this two channels.
🔹 The last 4 channels in this category are meant to be
Read-Only
channels, which are
#faq
,
#keys-guidelines
,
#keychain-guidelines
, and
#rc-guidelines
. All four of them serve as information channels to refer to, when let's say a Support team member answer something related to any of the four.
---
1.3. Category: MAVERICKS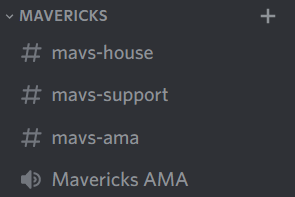 🔹 To maintain exclusivity of the
Mavericks
, it's better to make a category for them. Not only this will make them neater, it will also easier for Mavs to navigate, since it's a whole new category group by itself.
🔹 I also put there
#mavs-support
as a "Premium" support center specifically only for all the Mavs. This will get priority over the traditional
#tech-support
channel. And maybe, have one or two Support staff specifically prioritize to look after this channel. Just my two cents, because if I'm one of the Mavs, I'd love this channel.
🔹 The AMA channels for Mavericks also can be grouped in this category.
---
1.4. Category: TEXT CHANNELS
All the text channels should be categorized into this. However, there are lots and lots of channels which I don't think are necessary, as they are duplicates in a way.
One example is #sl-giveaway-post, #raffle-post, #sl-post-promotion, #random-topic-post. Those four channels could be easily merged into one, so all posts will only posted there. Currently, when I posted something, most likely I will share my post in those four channels too.
---
1.5 Other Categories
There are several other categories which need to be discussed whether it's still relevant or not to stay. One of the obvious is GUILD category. In my opinion, we should just merge it together with COMMUNITY category, and put the #guild-chat channel there.
Other tidying up needs to be done with the LANGUAGE category. If you see below, on the left is the channel arrangement in the real official server, and on the right is what I made using my dummy server.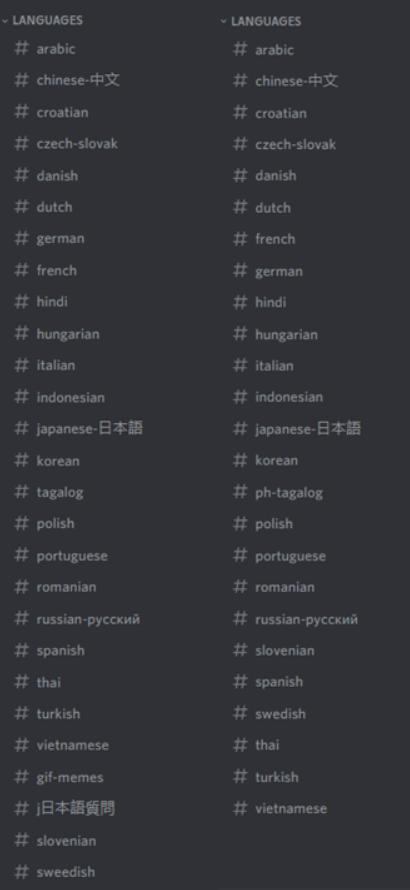 Noticed that this category's channels were intended to be sorted alphabetically? But in reality they are not sorted properly.
I don't know about others, but me myself cannot stand if something is not placed properly.
🔹
#french
should be above of
#german
alphabetically.
🔹 There are two channels for Japanese,
#japanese-日本語
and
#j日本語質問
, which I believe serve the same purpose, and one of them need to be deleted (CMIIW).
🔹
#tagalog
needs to change to
#ph-tagalog
just so that it fits the alphabetical ordering system.
🔹
#slovenian
and
#swedish
somehow ended up as the last channels, so we need to move them up to join
#spanish
.
🔹 This one is quite unique. Somehow it ended up in LANGUAGES category, although it shouldn't be.
#gif-memes
is stranded alone not knowing its purpose in life. If we could merge it with another similar channel
#splinterlands-meme
, it will be great. Reunion of lost families.
---

3. DISCORD BOTS
Bot sm-voter who lingers in #sm-voters_hut needs some minor update to make it up to date. Some of the info inside are already outdated. For example, the $quests command will give you this: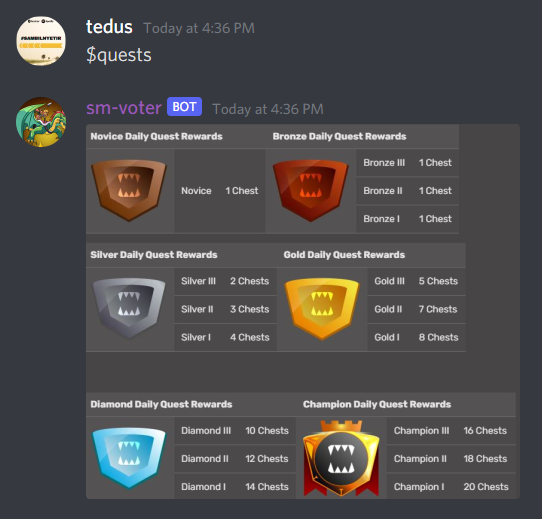 As you can see, the Gold league is not updated. The new one is as below: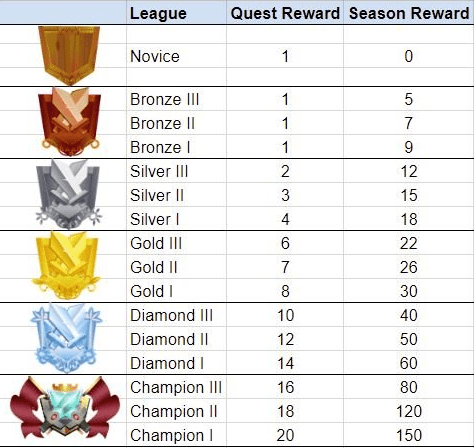 I'm also not sure $register command also still relevant now or not, as I'm not sure what was the purpose on linking the Discord account to the Hive account. I might be wrong here.
Next regarding bots, I really think you should use more moderation bots (i.e. Carl, Mee6, YAGPDB, etc.) to help auto-moderate and even to help custom tags like below.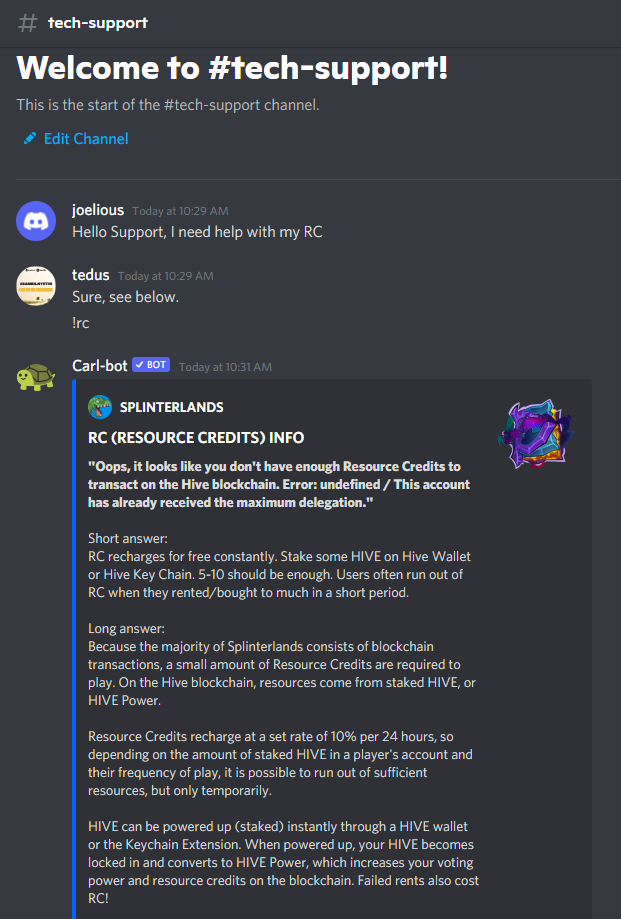 This also can be done with sm-voter bot, but again, it needs to be constantly updated to make sure the knowledge inside the bot is still relevant.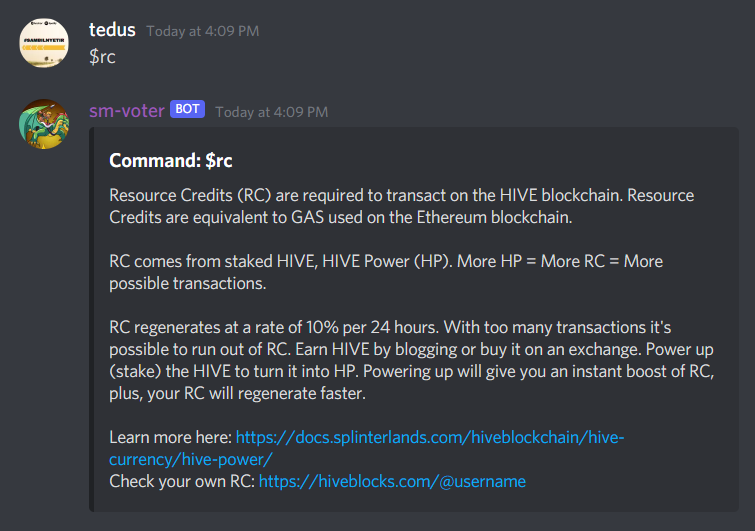 The moderation bots will also help with the Moderator team to warn, mute, and ban people.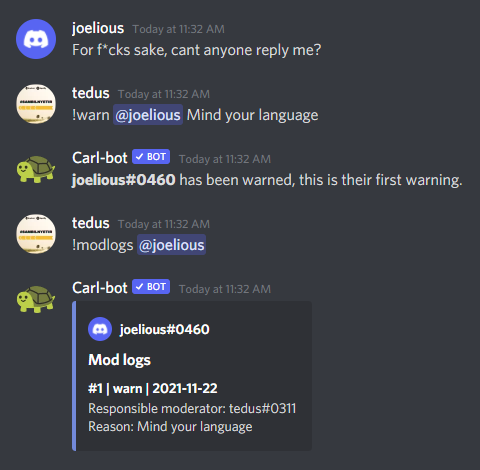 We can set a certain role (maybe black color) for users with 2 or more warnings. Just to set them apart from other users. Not saying we need to belittle them, but it's nice to know someone who got a lot of warnings beforehand.
Lots and lots of other things can be done using moderator bots, which I truly recommend the Splinterlands Discord team take a look at.
---

4. ANNOUNCEMENTS
I have given my input regarding changing the #official-updates channel from a regular channel to become a Broadcasting channel type on August, and the Splinterlands team implemented that right away. Kudos to them!

BUT, they have ignored my request to click the PUBLISH button whenever they posted in that channel. This means, whatever published there will not be published in other servers which has that channel followed. Yes, you heard it right. You have followed this channel, right? Yet you didn't see any updates in your own channel? This is why.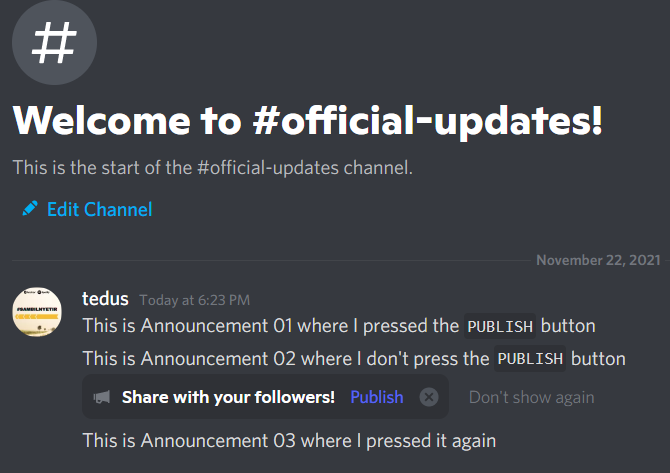 Notice Announcement 02 got missing in the server which followed the #official-updates channel? This is why those PUBLISH button needs to be clicked, everytime someone announced something in that channel. Please.
---

5. SERVER BOOSTING BENEFITS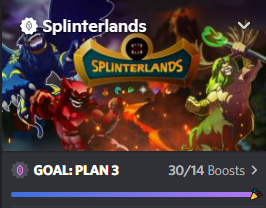 Want to share some extra special 💖💖💖 perks with your favorite community? With Server Boosts, you and your community will now be able to work together to unlock some fresh new and improved collective perks for a server of your choice each month and share those epic perks to the rest of your server community!
- Discord FAQ
Currently Splinterlands Discord Server is at Plan 3 of the Nitro server boosting benefits. What does this means? See the comparison between levels below: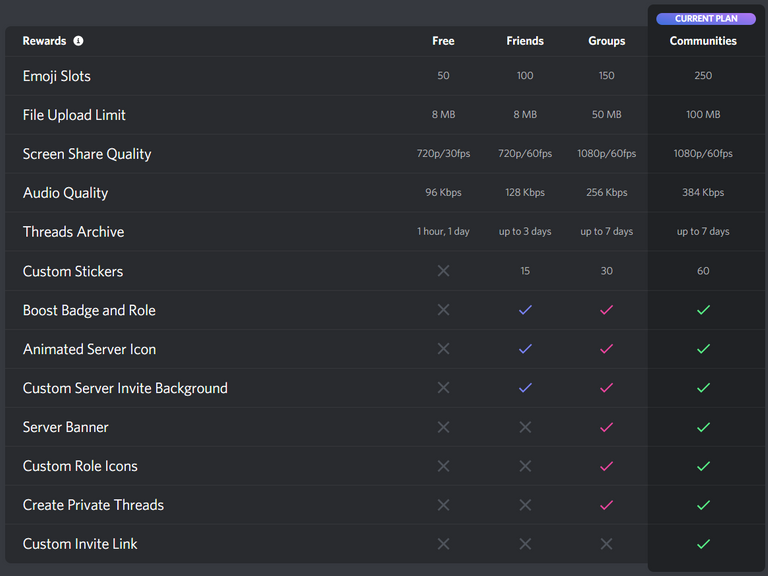 As you can see, most of the benefits/rewards have been utilized by Splinterlands team. However, not everyone knows that the last benefit, which is Custom Invite Link, also has been implemented. Splinterlands Discord server's custom invite link is discord.gg/splinterlands. I just want to suggest that the link is utilized more, maybe pinned in #discord-rules, #how-to-guides, and/or #start-here.
---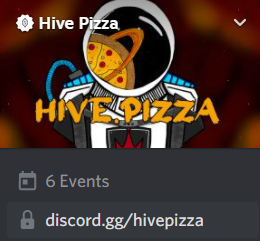 Other server like Hive Pizza puts their invite link on the very top of their channel.
I don't know about others, but I myself like this kind of setup, where you can see the invite link straight away instead of having to "Create Invite" everytime a person asked you which server to join.
Of course if there is an invite contest going on, we need to share our own invite link to be counted for the contest.
#HivePizza
will host that said constest some times after this post is published. Go check their server out using my invite link [HERE](
https://discord.gg/TgyCnyqvK7
). They have a lot of $PIZZA airdrops in their server, movie nights, gaming nights, and many more.
---

6. EVENTS
Discord has released a new feature which lets moderators set up scheduled events reminder on top of channel. See example below: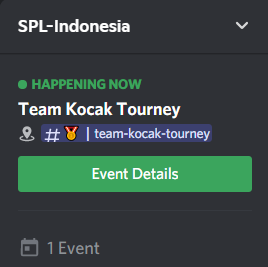 Splinterlands should use this feature for future AMAs, big events like Zensport tournaments, etc. so that every users in the server will know the upcoming and ongoing events better.
---

OUTRO
Please signup to Splinterlands if you haven't, using the link HERE.
Don't worry about not having good cards and losing your first few battles.
The whole Splinterlands community will help you up and boost you through your newbie life. 😁
If you happened to be a fellow Indonesian, you can join below Discord Server, we are more than happy to lend you some cards:
If you're not from #Indonesia, feel free to join anyway. Just be aware that we use Indonesian language inside.

Please upvote and share this post to anyone who needs it. Cheers!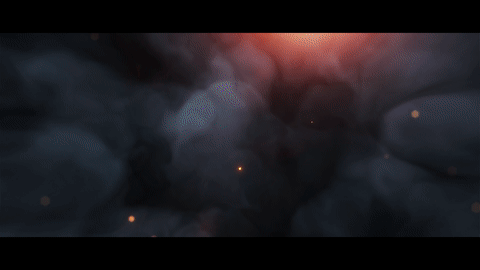 ---
---