Why Nightmare is one of the coolest monsters in Splinterlands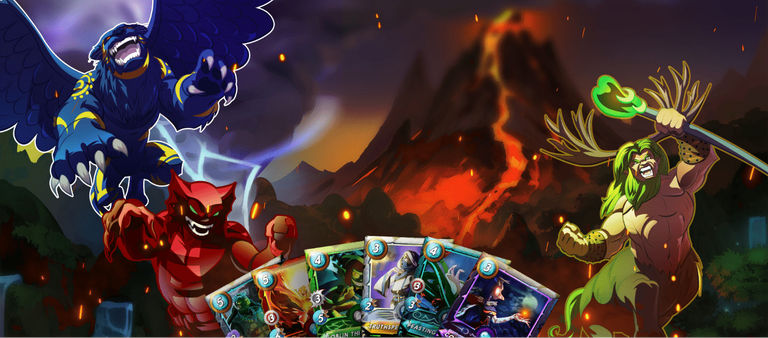 Source
Hello Splinterlands fans! Today I'm going to talk about one of my favourite cards in the game: Nightmare!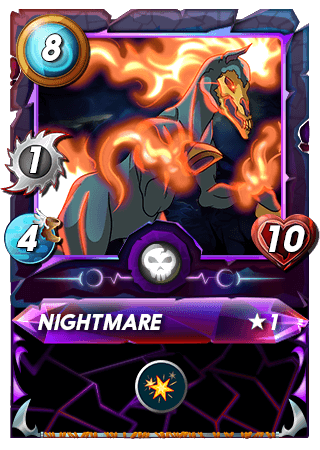 Two worlds, two Nightmares
This is not exactly a card that I play a lot, but it is still one of my favourites for other reasons, not necessarily related to actual gameplay. I will talk about the stats and some battle situations where it may come in handy, but first, let me discuss why I love this card so much.
I'm fairly new to Splinterlands but not to trading card games (TCG). I actually grew up playing Magic The Gathering (MTG) and still do sometimes, occasionally.
Even though the game mechanics of Splinterlands are completely different than those of MTG, some game aspects are very similar. This is quite common in TCG because MTG was the first of the genre, and it's quite a success, so it's only natural that many games borrow aspects from it.
But I digress. This preamble was just to explain that as soon as I started playing Splinterlands, the first thing I did was look at what cards were available on my favourite colours from back when I played MTG, which are Red and Black.
To my surprise, while scrolling through the Black cards, I found this awesome-looking flaming horse called Nightmare and it instantly made me smile because in MTG there is also a flaming horse in the black colour. Its name? Nightmare!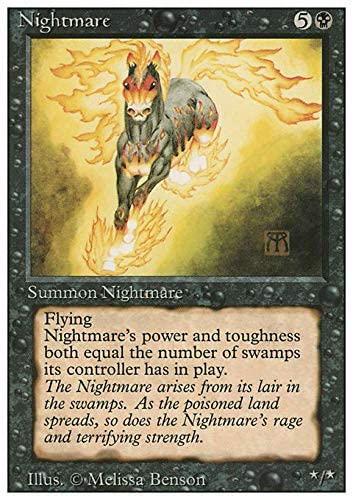 Source
How cool is that?! The game I'm starting to get really passionate about has this great reference to one of my favourite games of all time?! I'm in!
Of course, because the games are essentially different from each other, the card mechanics are also completely different, but I really dig this "easter egg".
I couldn't find an official source confirming this is intentional, but I think it would be too much of a coincidence. Coincidence or not, it made me like Splinterlands even more!
Nightmare on the battlefield
As I said, I'm still new to the game, and I'm definitely not the best person to talk strategy, but I'll do a quick overview and state my opinion regarding using Nightmare in battle.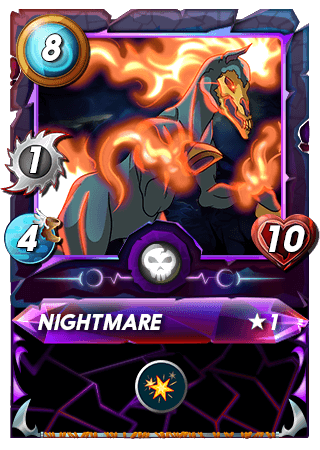 As you can see, at level 1, it's an 8 mana monster, with 4 speed, 1 melee attack and 10 health. It also has the blast ability, meaning that, when it attacks, it also deals additional damage to monsters adjacent to the target.
Its high health, combined with the fact that it's a melee monster, makes it suitable for the tank position. It also has a higher speed than you normally see on a tank. The problem is that, in my opinion, it falls short compared to other options such as the Bone Golem, which, despite having lower health, is armoured and has magic resistance.
Moreover, the blast ability is a little subtilized in the tank position since it only damages one additional target. That being said, I think Nightmare can be more useful in rulesets where, for example, no magic damage is allowed or if it's granted the sneak or opportunity abilities.
Conclusion
Even though I often don't use Nightmare in battle, I like it as a card that pays "tribute" to one of my favourite games of all time. I actually don't know if that's intentional, but either way, it makes me like Splinterlands even more!
If you also want to discover this and other incredible monsters, join me on Splinterlands, one of the best play-to-earn games out there!
---
---