🤔Splinterlands Guild Expansion😎

Originals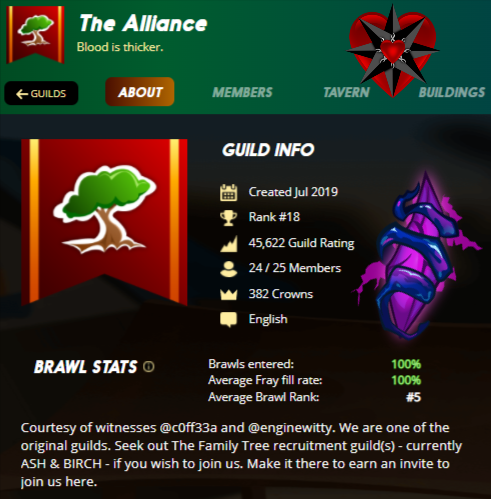 The Alliance is one of the original guilds being formed shortly after they became a reality in #splinterlands. With the help of witnesses @c0ff33a and @enginewitty, it has remained in the top 20 since forever. Our current powerhouse - @saffisara - makes sure to kick everyone's ass and challenge the champions of champions.
As more and more people want to join us and our generous guild, we have opened up 2 new 'branches' for people to get familiar with how we operate. We have The Family Tree (ASH) and The Family Tree (BIRCH). ASH is pretty well established but is seeking some active players as one will soon be moving up to our main guild - The Alliance - which is the only way to get in. BIRCH is going into only it's 3rd ever brawl and has plenty of room. We would prefer a minimum of silver tier competitors, but are patient to watch and help you grow. We do ask a few things of our players:
1) You are purchasing/upgrading your summoners and your deck.
2) You are contributing more than just your presence to the guild.
3) You respect brawl assignments.
4) You fill all your fray battles if assigned.
5) You brag about kicking someone's ass in the Tavern.
Got What it Takes?
We breed champions, there is no doubt about it. We have some extremely skilled battlers in there. We would love to have you if you can muster the gusto to identify with us for the long haul of it all. This game will adapt and be around for quite a while yet, and so will we.

Want to support the fam too?
You can!
Visit with us in the Castle!
-or-
Vote our community Witness!
-or-
Follow #thealliance curation trail!
-or-
Delegate to the family account - @thealliance!
50HP - 100HP - 500HP - 1000HP - 5000HP - 10,000HP - 50,000HP


---
---