Hive.Pizza | Witness, Development, & Community Updates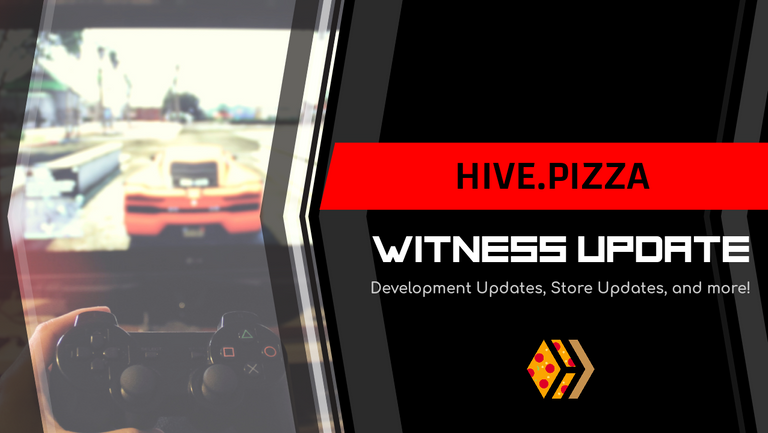 General Overview


Hey everyone!
We hope you're having a absolutely wooonderful week and that your 2022 has been off to a great start! If not, we are definitely sending you some good vibes to get through it! We're happy to continue to report positive community growth and a few milestones that continue to showcase our success. The total PIZZA wallet count has exceeded 8,000 wallets and our total Guild strength has grown to 3,000 members! That is incredible!
We are introducing an amazing number of new users to HIVE through the PIZZA project and we're getting to meet some just outright kickass people who didn't know about the amazing things HIVE and PIZZA has to offer. Many of these new users are being powered by delegation from our project account to help them explore the many in's and out's of the chain (as well as learning to do their first posts). This growth has opened the door for some new initiatives!
We're happy to announce that we will be rolling out our formal 'NewBee Delegation Program' in the coming weeks. New users will have access to more HP and will have a stronger path to success here to HIVE as they navigate the new user experience. We will be there to guide them every step of the way! If you are reading this and want to help out, please consider delegating HP to our @hive.pizza account. You will also be rewarded for your awesomeness through our daily passive PIZZA earnings program that has been in effect for almost a year now!
Website 2.0 coming along! I made a few design changes that pushed us back a little but in my opinion it will be worth it. Website 2.0 will better showcase our project and will offer better insights into the project and all of the wonderful things we have already done and are doing now. We're also gearing up for a slight re-brand reveal. We've been working hard on this and think you guys will be excited with some of the new art and brand direction we decided to go with! You guys will have tons of media assets available to use in your posts and videos very soon!
2021 was a busy year and we accomplished quite a bit. Much foundation was laid in anticipation for this year and we worked hard to discover our identity as a project. That identity will become more and more apparent to thousands upon thousands of people off-chain and to the overall HIVE community in general. There are several of you starting to step up in the community to help with this excitement and to really help drive the community-centric atmosphere we have created. You know who you are and we see you!
We are going to make some noise, crew. We have more awesome things that are in development. We have more community tools, rewards, and features almost complete. New programs are on the way. Our curation accounts are growing. The teased NFTs are coming along and the Airdrop snapshot will be announced soon.
We're going to do 2022 big and invite all of you to be along for the ride!
Now... let's go over some updates.
Witness update
Rank: 64/60
Only 10 active ranks to go before we attain our current goal of top 50! More and more people are realizing that PIZZA is not a tipping token, but a tokenized onboarding community for HIVE.

We've continued to see support roll in week over week and we cannot express how thankful we are for all of you wonderful folks. Thank you for believing in us and for your encouragement. We're going to keep onboarding new users to HIVE every day showcasing how beautiful HIVE really is through the PIZZA project. Thank you for putting your trust in us. We will continue to strive to prove you right in your vote! 😀










Discord Pizzabot Updates & Upgrades
Pizzabot is now serving 18 communities at the time of this post! Wow! It's incredibly awesome to see so many servers utilizing our technology to communicate with the HIVE blockchain for their every day HIVE needs. From market data to game data to individual player stats, the Pizzabot has something for just about anyone!

You can invite Pizzabot to your Discord by clicking on the bot profile in our Discord server and clicking the 'INVITE TO SERVER' button.



Some extensive work has gone into upgrading the Discord version of our beloved Pizzabot and some really cool new features are available! Let's take a look at some of the additional commands we've added:



Slash Command Overhaul

Introducing slash commands! Pizzabot now features a full array of slash enabled commands. Soon gone are the days of the ! command and enter the age of the slash! To check slash commands, simply enter a / character into any text channel in our community server and you will see a pop-up indicating the commands available, along with descriptions to help you along the way!
We'll be monitoring performance and watching for bugs over the next few weeks to ensure everything is sailing smoothly before fully phasing out the old ! prefix functionality. Or maybe we'll keep it... we'll see!



Hash Kings Game Command

We have built functionality into the bot to listen for Hash Kings api data calls so users can now easily check their Hash Kings profile data directly from any Discord server that has Pizzabot invited! This has actually been super nice to have around as I find myself checking my seed drops etc often through the command!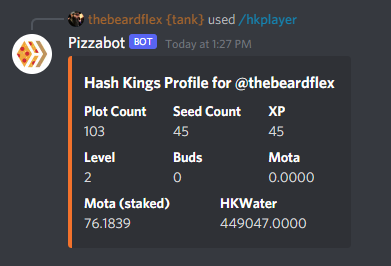 Check RCs directly through Pizzabot

We've also implemented the ability to check your account RC (and other information) directly from Discord. Not only will it give you accurate RC information, but it will also display other useful information such as the number of account claims you have remaining. Using @guiltyparties as an example, you can see the command in action below: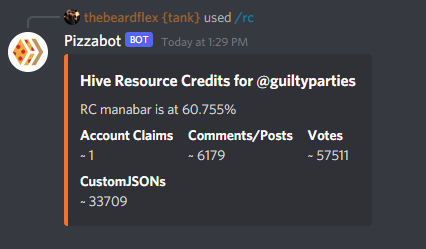 Splinterlands Commands

The PIZZA Splinterlands Guild(s) has 50 members and continues to grow. In support of this, our members and guild officers have access to some pretty cool commands specifically tailored for the Splinterlands experience to assist them in their day to day guild management. We've added a couple of new commands such as the ability to check Collection Power for all guild members and the ability to check Brawl Timers for all PIZZA guilds directly from the Discord server. We've got even more awesome stuff planned for you guys! Just wait!!

Hive Pizza Video Game Store Update
We offer Hivians a way to buy video games on-chain without needing to ever go back to fiat and right from the comfort of your Keychain extension/app! This initiative is bringing new gamers to HIVE as they seek some of the attractive deals we have along with a decentralized way to buy video games without giving money to big corporations.

The hive.pizza video game store continues to grow, offering new titles almost weekly now at this point! We're currently working on Website 2.0 which will also feature an enhanced shop to make your shop experience a bit more pleasant! We're researching new opportunities to bring you more awesome titles and even potentially hardware/software in the future through our partnerships!



Here is a list of video games added this past weekend:

Darkest Dungeon
Warhammer 40,000: Regicide
Book of Demons
Mystic Vale
A Long Way Down
Deep Sky Derelicts
Spirit Hunter: Death Mark
Pumped BMX Pro
Phantom Breaker: Battle Grounds
What the Fork
Project Wingman
John Wick Hex
Syberia 3
PGA Tour 2K21



We built new automation into our Discord that will now detect new products as we add them and alert you in our Pizza-Store channel, so you never miss an opportunity! As you know, our keys are currently limited and do not always stay in stock for long!



Here is a screenshot of the product stream in action: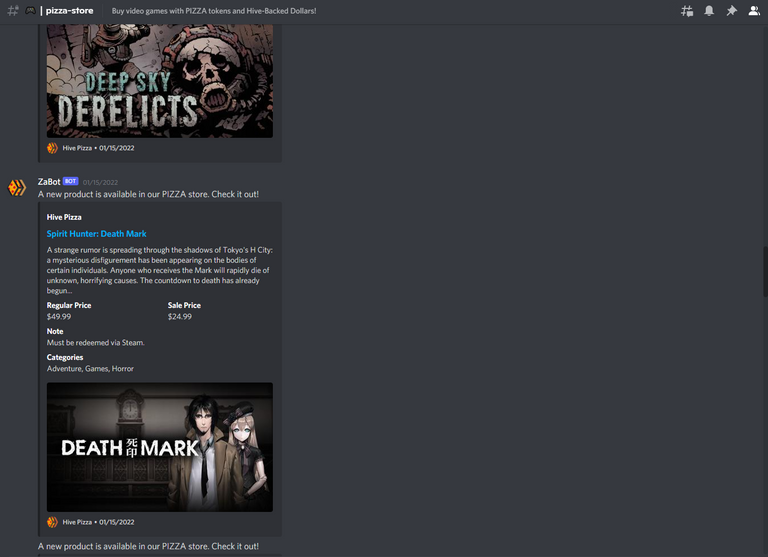 Pizza GIF War 2022 Update
This past week we ran the first PIZZA challenge of 2022. Participants were tasked with creating community-centric and PIZZA token themed GIFs and boy did we received some absolutely outstanding submissions. It was awesome seeing the community work together to ensure everyone knew how to create GIFs and what app/site they should use. Even though financial gain was at stake, true heart of community was shown as everyone came together. In the end, that alone made this challenge so very worth it!
We've entered the judging phase and to be honest, there were far more submissions than I actually anticipated. We may need an extra day or so to get these results wrapped up but we will try to have the results posted by Friday at the latest.
With that said, the community voting starts now. Please head over to our Discord server and click on the pizza-gif-contest channel just beneath the general-chat channel. Please emoji all of your favorite GIFs. We will monitor the votes to see where the community favorites are and will use this in our final judgement.
Reminder! We will be uploading these GIFs to our official accounts so we will be looking for high quality submissions that capture/foster PIZZA token community and culture!
Good luck participants!
Pizza Gaming Guild Updates
Our active Guild is growing to over 3,000 members strong and shows no signs of slowing down! Our individual game guilds have also started to explode and we're starting to fill up quickly! Our team is working on a plan and a program to expand the level of gaming that occurs within the Pizza Guild and we think everyone will be excited overall once we make these announcements. For those already in the Splinterlands Guilds, you will probably start to see elements of this either already, or in the coming weeks. The Pizza Guild is going to get even larger and even stronger.
A few roster updates:
We've had a small shuffle and have 8 slots total left across our guilds. If you are an eager Splinterlands player who would like to be a part of a serious and competitive team that works together, make sure you join our Discord server and reach out to a Guild Officer!
We have a very active Idle Miner Guild that has reached max capacity. Thank you to all of our active guildies and good luck in all of your rebirths! If you missed out on this, fear not! We have plans of extending the guild soon!
Our Exode Guild is also full. We will be doing an assessment of players in the coming weeks to both sort out inactive players but also to ensure the guild is in alignment with the new program we will be rolling out. Stay tuned! We're gonna go big!
Staking Rewards Quick Update
We're getting super close to finalizing some of our plans for passive staking rewards. We think that the plan we're putting together will not only be attractive but will also incentive holders to proactively get out there and talk about the project to raise awareness. I believe within the next 1-2 posts we will have a solid plan ready to talk about openly as we get ready for release. Thank you again for your patience as we work towards this launch. It's a very big change PIZZA and we want to make sure we get it as right as we can the first time!


MISC
Tournaments

PIZZA is host to a bi-weekly Chess tournament hosted by local PIZZA favorite @cryptoniusrex with several great prizes that include a custom-made NFT by @tygertyger. You can read more about the most recent tournament and the results here.
We recently sponsored an extreme Splinterland tournament that was hosted by the awesome @drabs587. PIZZA donated over 2,000 PIZZA for rewards with 1,000 going to 1st place, 700 going to second place, and 400 PIZZA going to third place. Congratulations to @enervaugn @blueberr and @silver-edge in your victories! You can read more about the tournament and final results in Drabs post here.



Giveaways

We have several weekly giveaways in our [Discord server] to reward engagement for our stakers across all tiers. Giveaways typically start at 200 PIZZA tokens and go up in tier for there. This past week we gave away over 4000 DEC, 50 SPS, Discord Nitro, Exode NFTs, Rising Star NFTs, HP Delegations, and more! If you are a PIZZA holder (or want to win some awesome free loot) make sure you join the Discord server!



Weekly Reward Raffles

I'm 1 week behind on the weekly rewards and this post is already massive. I will instead do a post specifically for our weekly rewards this week and backfill the rewards from last week! We know a lot of you look forward to these weekly raffles. Don't you worry, they're still here! Thanks for your patience guys. I'm almost caught up from that murder work period I had. Almoooost there!



Holiday Album

For those who contributed music for the 2021 hive.pizza Christmas Album, we've counted up the donations and will be sending it out to you in swap.hive within the next 24 hours of this post going out. Thank you again for getting involved everyone! We're going to do another community album soon! If you missed it, you can still listen to it for free on our website at https://hive.pizza/holday

Weekly Level-Up Crew!
We recently built more automation tools that speak with the HIVE blockchain in-order to assist our project with level up's and down's. We'll now also be acknowledging those awesome Rank Up's during our witness update reports! You guys are awesome! Welcome to your new rank!


We see the Cartel entered the Champion's Club! Are you in the Champion's Club yet?


Below are the holders who ranked up this week and the ranks they achieved! Congratulations on your milestone!



EARN PASSIVELY BY DELEGATING TO PIZZA
Please consider delegating your HP to our @hive.pizza curation account. Not only does it help our project grow, but it also allows us to further ramp up our onboarding and delegation program as well as our curation program. The Pizzabot you know and love also consumes more and more HP every day which has to come from our curation account. Not only this, but you will farm your share of the daily $PIZZA rewards pool!



You can also check out the HIVE.PIZZA website here.
Buy $PIZZA
Leodex
Tribadex
Hive-Engine

Join the Discord and $PIZZA NATION

Join our curation trail here
Vote for us as Hive-Engine witness here
Vote for us as HIVE WITNESS HERE
---
---