hive.pizza | Witness, Scholar, and event updates!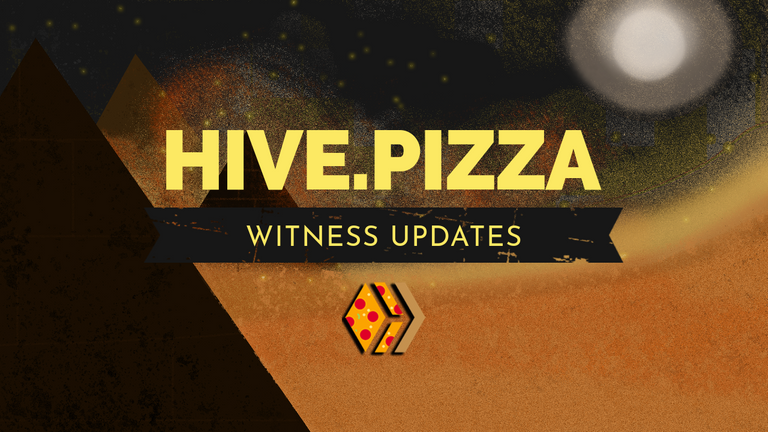 Hey Pizza Crew!
We hope you are off to an absolutely wonderful week and that March is treating you well! As usual we have been incredibly busy in the background and are working hard to execute on some more items we have slated for Q1 and for Q2 of 2022. I was talking to a few of the PIZZA crew over in the Discord server about how challenging it can be to quantify the time @hivetrending and I spend working on PIZZA and HIVE related stuff in the background and how hard it can be to include all of the moving pieces of our project in each update. After considering that conversation a bit I think we'll try a slightly different approach very reminiscent of how we used to post.
Rather than one long project post a week, I am going to really focus on trying to deliver on two project posts a week that are easier to digest for the reader and hopefully allow me to cover more ground regarding the project. Our community has grown to be one of the most active communities in the HIVE ecosystem and as such we have been feeling the need to introduce a second community post anyway. This would allow us to further dive into all of the events, shows, games, and more that we have going on over in the PIZZA community so the timing kind of fits.
It's crazy to think we need several posts a week to even try to cover all of the events and updates we have going on over at PIZZA and we are proud that you are a part of it!
Well, let's jump in!

Witness Updates
Rank: 63/60
We are getting SUPER close to ranking up again thanks to all of the amazing support we saw come in over the past week. Thank you from the bottom of our hearts for believing in this project and community. We're building something amazing and I am truly humbled at what we've been able to accomplish!





Pizza Guild Scholarship Program Wave 2
This past month we launched the initial phase of our Guild Scholarship program. This means that our 'Scholars' receive free game asset delegations to use for play2earn games such as our HIVE partner, @hashkings while taking home most of the earnings! The launch of this program was an overwhelming success! We have concluded the initial phase period (super shoutout to @dibblers.dabs for the assistance around some of the backend work that went into this) and are gearing up for wave 2!
Next Sunday (March 13) we will begin reviewing applications for wave 2. If you have not already, we recommend submitting the Scholarship application that can be found in the Scholar section of our Discord server. Keep in mind, we do prioritize those who have PIZZA staked and those who are active in our Discord community when considering applications. If you are just now joining us, I recommend chatting with us for a few days before submitting your application!
The next set of Scholars will continue to receive free asset delegations so that they can maximize their earnings! We will announce the next set of Scholars on March 18 (the following Friday as usual).


Splinterlands Guild
For those who don't know, we have 3 Guilds that represent PIZZA in Splinterlands with a total of 50 members at time of this writing! It has been amazing watching our teams assist one another in becoming better champions over the past year and becoming stronger and stronger in our brawls. Over the past few weeks we've had a particular PIZZA champion stand out and wanted to recognize @sweny for all of the incredible work they have been putting into Guild 3! Great job! We've sent a gift of appreciation over your way!


Splinterlands Guild Recruiting
Those of you who may be interested in joining our team and being a part of something awesome, we do have a few slots available! We are very active in brawls and help one another out with strategy. Whether you're interested in being competitive or enjoy the casual side of gaming, we have a place for you! Please join our Discord server and let us know if you'd like to be a part of the crew!


Misc
We wanted to take a moment to shout out @nane-qts for all of the amazing work they have been putting into creating things (such as post assets) for the Guild and PIZZA community. You are truly an outstanding member of our community and we wanted to say thanks!
With that being said, we're working on more ways to better recognize all of the amazing things some of you are doing to help our community grow. We know there are many that have not been mentioned who put in time and effort. We see you, we hear you, and we very much appreciate you! Thank you for all you do!
If you stake PIZZA tokens and you have not already started participating in our engagement giveways, you are missing out! Each week we have 10-20 giveaways for our stakers (and even a few for non-stakers) who are active in our community and participate in dialogue! You can win anything from PIZZA, 1UP, STARBITS, DEC, SPS, to NFTs such as Hash Kings land plots, EXODE NFTs, and more! Don't miss out on these awesome opportunities!
Okay, that's a wrap for now! Stay tuned for the second post coming out later this week that will go over more of the happenings going on around the PIZZA project and community!

EARN PASSIVELY BY DELEGATING TO PIZZA
Consider helping our onboarding and curation initiatives by delegating your HP to our @hive.pizza curation account. Not only does it help our project grow, but you will farm your share of the daily $PIZZA delegation rewards pool! Delegation rewards are paid out in liquid form to your wallet each day.



We're almost 4,000 members strong
Are you a part of the Pizza Guild yet?
Join the
Pizza Guild Discord Server
Visit the
Pizza Guild Website

Join our curation trail here
Vote for us as Hive-Engine witness here


Vote for us as HIVE WITNESS HERE
---
---