hive.pizza | Witness Updates and Community Happenings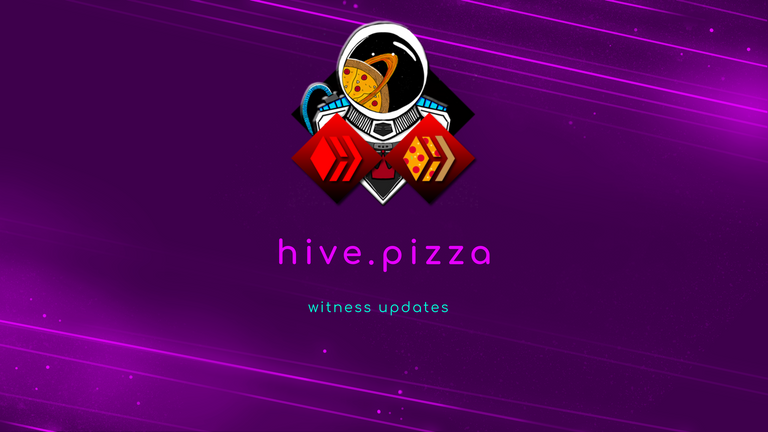 Hey everyone!
It has been a crazy but fun week and as always, the PIZZA project and community has been super busy! Let's go over some of the happenings over at PIZZA token:
Witness Update
We're excited to announce that we've increased another Witness rank and continue to work towards our goal of being a top 50 HIVE Witness, we are getting so close! Huge shoutout to everyone who has voted and has helped us get this far. If you have not voted for PIZZA and want to support an active project that is working towards making HIVE a better and more awesome place every day, please consider voting for pizza.witness (link at the bottom of post)!

Infrastructure Expansion
We're excited to announce that we're building an additional server that we will rack to support the growth and future operations of the PIZZA project! This will compliment our existing hardware lineup and will potentially serve as another HIVE backup node to further strengthen our ability to help power and secure the integrity of our network.
Hive-Engine Witness Node
As many of you know Hive-Engine experienced some complication this past week that lead to interruption in your normal network traffic. Our team (primarily @hivetrending, best robot ever) worked tirelessly through the night to ensure our node was online and contributing to the network. During the madness, we went ahead and scaled the server up, doubling our resources and capacity for that server during the downtime. We're back up and running stronger than ever. Please consider voting for us as a Hive-Engine witness on Tribaldex under Witnesses.
Diesel Pools
This week we've added more rewards to our liquidity pools. Here are the new additions:
1.5 Million STARBITS have been added to the PIZZA:STARBITS diesel pool
40 INDEX has been added to the SWAP.HIVE:PIZZA diesel pool
150 APE has been added to the SWAP.HIVE:PIZZA diesel pool
100 SWAP.HIVE has been added to the SWAP.HIVE:PIZZA diesel pool
18482.09 DEC has been added to the SWAP.HIVE:PIZZA diesel pool
For those who don't know, most of the token rewards in the SWAP.HIVE:PIZZA pool are compounding tokens that continue to produce weekly or daily rewards, such as BRO, UTOPIS, INDEX, or APE!


At the time of this post here are the current APRs:
SWAP HIVE:PIZZA - 110.35%
PIZZA:DEC - 601.62%
PIZZA:STARBITS - 152.641%
PIZZA Twitter Account
In an effort to grow our community and invite more off-chain users to HIVE, we've created a Twitter account that will be focused on HIVE and PIZZA happenings! Please consider tossing us a follow if you are still on the Twitter-verse and want to help us onboard more users to HIVE! You can follow the official hive.pizza Twitter account here.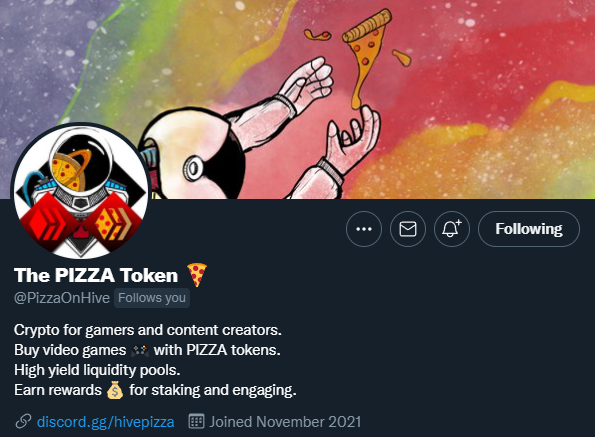 PIZZA Chess League
Do you enjoy games? Do you enjoy Chess? Come join the PIZZA Discord server to participate in the first PIZZA Chess Tournament hosted by @cryptoniusrex! There are prizes and an EPIC NFT for winners that has been custom crafted by the wonderful @tygertyger!
Date: December 5th 1:00pm PST


Community Events
We have several community events that just concluded and many more coming right up! If you're not in the PIZZA Discord server yet, you are certainly missing out! Here are some upcoming events:
Nov 26th 2:00pm PST

Play Trivia and win prizes! Last week we gave out over 300 PIZZA tokens during trivia!



Nov 27th 3:00pm PST

PIZZA & Movie Night! Movie is determined the day of viewing by the community. Make sure you're in the Discord server and have the movie role for a ping and to vote!



Nov 28th 1:00pm PST

Bi-Weekly Poker Tournament I. Come celebrate the launch of our poker tournament with some digital poker and score some awesome prizes!



Dec 3rd 2:00pm PST

Checkers Tournament. Tournament will progress in rounds of 6 players! Brackets TBD based on interest!
PIZZA NFT
We still have some editions available if you have not scored your copy of our latest NFT!
You can find the NFT available here:
https://nftshowroom.com/thebeardflex/collection/thebeardflex_pizza-collectibles_interstellar-za
Discord Giveaways for Stakers
We have several giveaways going on in our Discord server for those who have 200+ or 500+ PIZZA staked! From Fortnite game keys to Exode starter packs, there is always something for everyone! Stake those PIZZA tokens and get in here for some awesome LOOT!
--- > I WANT LOOT! < ---

REWARDS
Discord Photo Engagement
TIE @mcgilli | @cryptoniusraptor


| TIE - 10 PIZZA | TIE - 10 PIZZA | |
| --- | --- | --- |
| | | |
Top 10 Staked Leaderboards
Note: Next week will be the last week of the current top 10 rewards as you know them. We will be announcing tokenomics changes that we believe are necessary to strengthen the project, next Sunday.


Date: 11/21/2021
Token: #PIZZA
This weeks bonus: 6%


You can buy $PIZZA on LeoDex, TribalDex, or Hive Engine!


@pizzaconnection @cooperclub @stickupboys @dadspardan @dibblers.dabs @pizzapool @shauner @hykss @pockettrader @brofundholdings
Lucky 5 Weekly $PIZZA Holders
(randomly chosen weekly from all holders with >= 1 $PIZZA in their wallet)
These lucky winners have won 3% of their staked $PIZZA holdings value back!
@jacuzzi @nobutsd1974 @thaishps @ace108 @apprentice001
BONUS 5 Weekly 500 $PIZZA Holders
These 5 bonus winners are drawn from holders with >= 500 $PIZZA
Congratulations and thank you for locking up your tasty za! Enjoy your bonus rewards of 3%!
@polarmystro @dynamicrypto @steem82868 @trentonlundy1 @mcgilli
Daily Winners
Congratulations! You have won an instant 4% APR of your staked $PIZZA holdings back in additional $PIZZA!
@mr-dingleberry @thecbp-hiver @amphlux @holoferncro @cryptoniusrex @finris @mairapanelo

DELEGATE TO PIZZA
You can also delegate your HP to our @hive.pizza curation account and farm your share of the daily $PIZZA rewards pool! The reward pool increases 10 tokens every 10k HP that is delegated to the account!



You can also check out the HIVE.PIZZA website here.
Buy $PIZZA
Leodex
Tribadex
Hive-Engine

Join the Discord and $PIZZA NATION

Join our curation trail here
Vote for us as Hive-Engine witness here
Vote for us as HIVE WITNESS HERE
---
---