hive.pizza | Witness Updates & onboarding users to HIVE!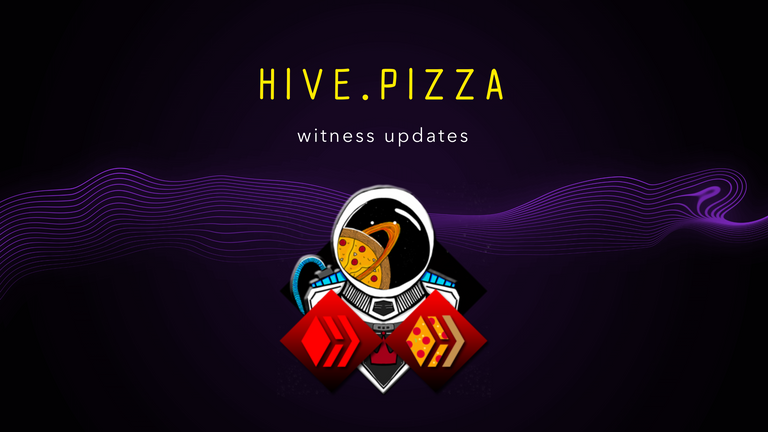 Hey Pizza Crew!
We hope you all have had a most excellent week and that the Holidays are treating you all well! Over the past couple of weeks/months we've been building a super strong community and a network of opportunities for people to both discover and learn about the HIVE blockchain. As many of you know (or if you didn't), one of PIZZAs prime objectives is to build additional value propositions / tools for HIVE and to become a core onboarding service for the chain, exposing thousands upons thousands of new users to HIVE!
Today we'll go over a few of the cool initiatives that we have going on to expose off-chain users to HIVE and to further build strong community and value at PIZZA. Let's jump in!
Witness Update
Rank: 69/63
We're still working towards our goal of top 50. Thank you to everyone who has supported us along the way and have helped us achieve what we already have in such a little amount of time. You guys are amazing and drive us to be better and to make HIVE a more awesome and beautiful place every day!
HIVE truly is special and we are committed to building here long-term.


Now let's go over some of the cool ways we're building community and bringing new users to HIVE through PIZZA!
External Advertising
Using targeted paid advertising opportunities, we have been attracting new users. We've been very selective in these paid advertising channels and are ensuring that the channels either share a close niche interest or see large volumes of traffic.
Outside of PIZZA we have a few additional side ventures that we're advertising on to direct traffic. These are not as direct and utilize strategic call to actions.
We're also working on expanding traffic through SEO opportunities in our website and various online channels.
Community Events
Every week our community acts host to a variety of events that offer something for everyone, even if you're an off-chain user unfamiliar with HIVE. Through these events, we can introduce new users to the wonderful world of HIVE.
Not only does this introduce off-chain users to our blockchain community, but it also brings our own users together, building a stronger community through special interest and fun.
Splinterlands Guilds
We have 3 active and AWESOME Splinterlands guilds that are starting to absolutely dominate! We've helped many new HIVE users who found the chain through Splinterlands learn more while helping those who yet to experience Splinterlands get started! Our teams are seeing great placements in their Brawls which is also increasing visibility and awareness for the project!
Linking to other projects
While teaching users about blockchain, we introduce them to the various projects throughout our ecosystem. The PIZZA project is passionate about partnership with the various blockchain games that HIVE has to offer and seeks new opportunities where available. PIZZA and games belong together!
Video game store
We've built an awesome video game store where gamers can buy games using their PIZZA tokens or HIVE-Backed Dollars! The goal here is to both offer a popular product that is enticing to off-chain users and also give on-chain gamers a place to buy games without having to use fiat or buy directly from corporations.
Music Store
We're also building a traditional mp3 music store that is also powered by HIVE and PIZZA. In doing so, we will showcase the possibilities that musicians have through HIVE in building communities and earning money for their creativity. We're currently focusing on building the foundation of what will come with current HIVE musicians and will use this to demonstrate value for off-chain artists.
We'll also be partnering with music based communities/projects to really build some excitement around music here at HIVE.
NFTs
As we all know, NFTs have taken the crypto space by storm! We're working on what we believe will be attractive NFT sets that will not only look amazing, but will also have functionality. Stay tuned for more information regarding this 😊
Website 2.0
The PIZZA website has seen some tremendous traffic over the past few months and we are working to improve website optimization for traffic and scalability. We've made back-end improvements over the past week that should improve your surfing and check-out experience and are currently working on a total front-end overhaul of the website. We're calling it Website 2.0 which is totally super original haha.
Website 2.0 will not only have improved speeds and SEO optimization, but will also include the first stages of our onboarding experience and gamification system for the website. The PIZZA team is building out a HIVE education experience (including knowledge base) that will teach new users about the blockchain and introduce them to all of the wonderful things HIVE has to offer, all the while offering rewards that will exist on-chain. We expect this will be popular with existing users as well!
Sharing PIZZA
The PIZZA team and community have been hard at work sharing PIZZA off-chain. With our 3rd party integrations and partnerships, we have the ability to share PIZZA tokens off-chain. Through this initiative we are introducing new users to HIVE almost everyday!
We're working on other methods of sharing PIZZA. If you have a method for sharing PIZZA off-chain, please reach out!
Servers
We own several dedicated servers that are racked in weather-controlled datacenters. These servers give us the ability to host many private and public video game servers (which we do through another project that we will be bringing to HIVE soon).
Through these servers, we're beginning to introduce gamers and content creators to HIVE and the possibilities ahead of them! We're also doing some additional customization to bring HIVE to our gamers! For example, in our GTA V FiveM roleplay server, we have a working virtual HIVE trading system! It's only virtual, but it will introduce our gamers to HIVE through the game!
We have many servers, but here are a few that we have been developing to be a bit more HIVE oriented:



FiveM
Minecraft
DayZ
Rust
Diesel Pools
DeFi seems to be everywhere you look these days. PIZZA has invested in several swap liquidity pools to not only bring HIVE users additional ways to move their tokens around, but to also give on and off-chain users a DeFi experience here at HIVE where they can provide liquidity and experience some of the higher APR % that you may see across the crypto space. We utilize trade deals and our various income streams to purchase and/or provide rewards for these pools or in some cases, even PIZZA.



Our current pools are as follows:



SWAPHIVE:PIZZA
PIZZA:DEC
PIZZA:STARBITS
PIZZA:ONEUP
The PIZZA project has even more stuff going on outside of this list. We've released a browser extension for HIVE, a wordpress plugin for Hive-Engine, several data streams that visual the blockchain in-order to help users better understand the actions that are occurring beneath the hood, and even more (such as games ;) ).
We invite you to join us and to be a part of one of the fastest growing communities on HIVE. We're in over 7000 wallets, we have over 2000 Discord server members, and this is just the beginning.
Welcome to PIZZA!

REWARDS
Discord Photo Engagement
1st @shauner | 2nd @dajokawild | 3rd @drunksamurai


1st - 10 Za
2nd - 7 Za
3rd - 5 Za
Lucky 5 Raffle Weekly $PIZZA Holders
(randomly chosen weekly from all holders with >= 1 $PIZZA in their wallet)
These lucky winners have won 3% of their staked $PIZZA holdings value back!
@atexoras.pub @randumb @aung.kyaw.htet1 @willsaldeno @wiseagent
500+ Tier Raffle for $PIZZA holders
These 5 bonus winners are drawn from holders with >= 500 $PIZZA
Congratulations and thank you for locking up your tasty za! Enjoy your bonus rewards of 3%!
@balte @marshmellowman @polarmystro @shmoogleosukami @kennysgaminglife
Daily Winners
Congratulations! You have won an instant 4% APR of your staked $PIZZA holdings back in additional $PIZZA!
@uncorked-reality @dksart @jotakrevs @callmemaungthan @druckado @mvl2304 @hatoto

DELEGATE TO PIZZA
Please consider delegating your HP to our @hive.pizza curation account. Not only does it help our project grow, but it also allows us to further ramp up our onboarding and curation services. The Pizzabot you know and love also consumes more and more HP every day which has to come from our curation account. Not only this, but you will farm your share of the daily $PIZZA rewards pool! Current APR is between 18-21% paid in liquid PIZZA to your wallet every day!



You can also check out the HIVE.PIZZA website here.
Buy $PIZZA
Leodex
Tribadex
Hive-Engine

Join the Discord and $PIZZA NATION

Join our curation trail here
Vote for us as Hive-Engine witness here
Vote for us as HIVE WITNESS HERE
---
---