hive.pizza | Witness Updates: NFTs, New Tools, & more!
Hey Hivers!
We hope you've had a wonderful week! We sure have!
Witness Update
Our Node was down for approximately ~2 hours while we performed system upgrades today.
We're currently ranked 66 and are just behind dBuzz! Thank you everyone who has voted for our witness and has helped us get this far!
We're on the road to top 50!



Staking Rewards
Those who stake their PIZZA tokens are already enjoying daily and weekly reward drawings alongside additional Discord rewards such as free game keys or additional tokens!

Here is an example of a current giveaway drawing for those who have at least 500 tokens staked and are in our Discord!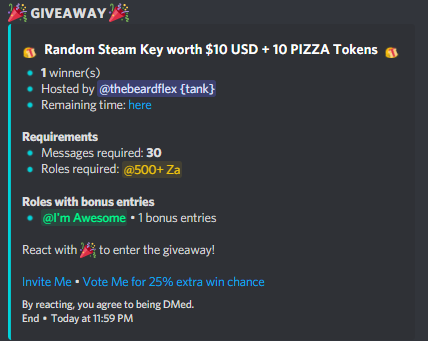 We are preparing a large announcement that will allow PIZZA holders across the blockchain to earn more rewards through staking.
If you have been waiting for a time to get into PIZZA, this may be that opportunity. We will be making the announcement in the coming days! Start locking up those tasty PIZZA tokens!!
New browser extension
Alongside our awesome HIVE dApp Menu extension, we've put together a cool news widget that will not only pull all of the trending #hivepizza posts, but also display all on-chain posts from @hivetrending and myself, so you never miss a project post!
We're just about ready to submit it to the app store. Here is a sneak peak: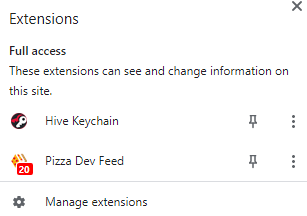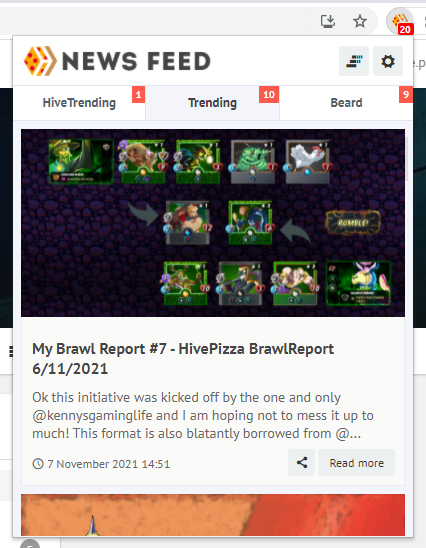 HiveFest teasers
We're getting super excited to present for you at HiveFest this year and have some goodies lined up!
Our tentative time slot will be 8:00 UTC on Friday November 12th (12pm PST).
If you've been curious about some of the bigger vision items we've been working on, make sure you attend the event or join our Discord for our after-event recap!
Limited Run NFT
We have released a new limited run NFT that can be purchased on NFT Showroom.
The NFT edition is limited to 20 prints and is available for 15 SWAP.HIVE.
The 1st edition was sent to @stickupboys for winning the Discord contest we ran this week!
All funds from this limited run (aside from a small % I will send to the artist who worked for free) will go towards the minting of a larger PIZZA NFT project we will be announcing in the next few weeks!


You can view the NFT on my NFT Showroom profile below! There are only a few editions left, so get them while you can and support an awesome local HIVE project!
https://nftshowroom.com/thebeardflex/collection/thebeardflex_pizza-collectibles_rings-of-za
Exode Coalition
We are happy to announce our new EXODE Coalition in the PIZZA Discord!
To celebrate the bringing together of the Alliances of [PIZZA], [MELN], and [OEA] we've been hosting a weekend giveaway with some free starter packs (with some extra entries simply for declaring whether or not PINEAPPLE belongs on PIZZA or not!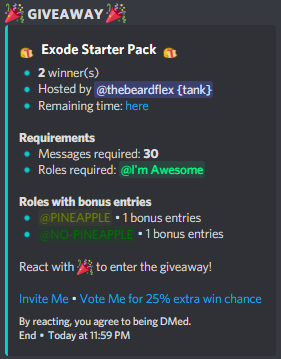 If you're an EXODE gamer or you're interested in possibly the next 'big thing' for space games in on-chain, we welcome you to join our Discord and growing number of Exode players! We welcome you with open arms and tons of help to get you through your first missions!
Movie Night
We had another successful community movie night this week! Big shout out to @creodas for coordinating and hosting!
This week we continued our 'cheesy' horror selection with the Leprechaun 2 where we laughed and cried at how awful it was together!
If you love movies or spending time with friends, come join us in our Discord and hop in on some movie nights!
Crab Games Winners
This weekend we hosted a Crab Games competition (a play on Squid Games) for our community (thank you @batgirlog for helping get this together) and had a blast competition in some dangerous games against one another!
Everyone who participated received some PIZZA tokens for their engagement but in the end, the great times were the best reward!
Here are a few screenshots of some of the game winners: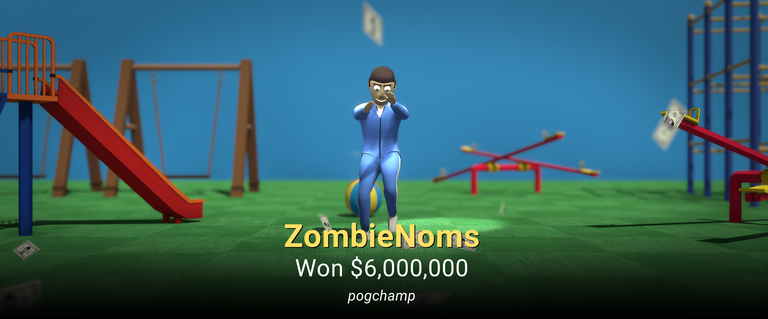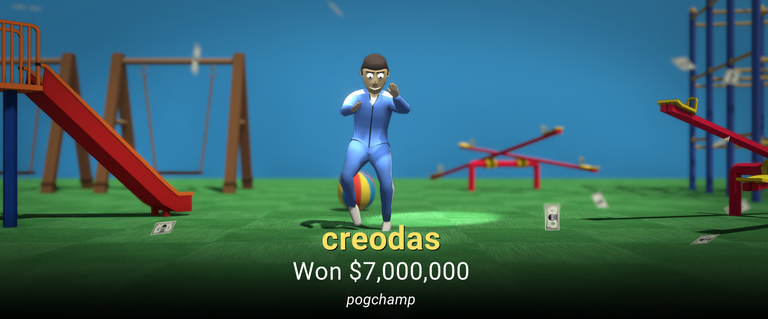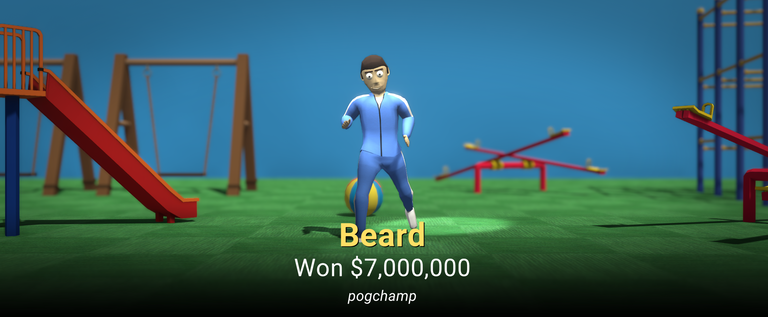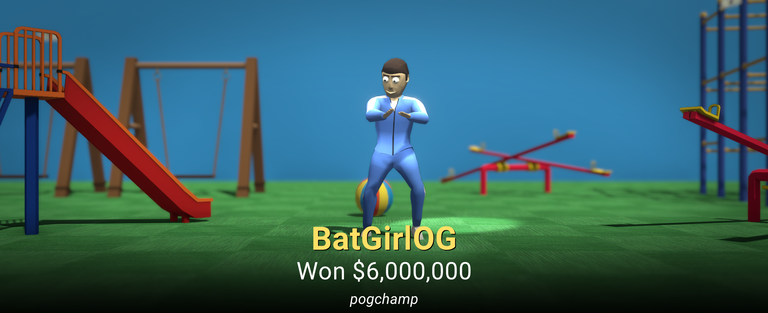 This game is a riot! We will probably play again next weekend!
We've also started playing some community PIZZA poker. You are welcome to join us!
DayZ Server Updates
Thanks to @ghostlyxknight we have some new updates over on the community DayZ server! It looks like Ghost has spent some time rebuilding loot tables and airdrops to make things a bit more exciting!
Reminder: When raiding a base you should not destroy a players base. Destroy their doors and whatever you need to get to the loot but there is no need to rekt the whole base you goons!
Discord Referral Contest
We run tons of contests and giveaways over at PIZZA and this week we ran an awesome Referral Contest!
@stickupboys won 1st Place and took home the glory but the competition ended up being pretty awesome!
Everyone who participated and had at least 2 successful referrals will receive 10 PIZZA tokens.


1st Place Prizes
1st Edition PIZZA NFT
35 Liquid HIVE
65 PIZZA
A random gold SPL card
VersedMoney (send me your HIVE username!)


We will reset the leaderboard in preparation for our next competition! Thank you everyone for participating!
Dibbs purchases some groceries
@dibblers.dabs successfully made it to a grocery store this week and was able to procure some groceries. How adventurous of him! We can only strive to live so dangerously! 😂
HiveTrending - Still not sure if bot or not
Just as the title says. We're still not sure if @hivetrending is really a robot or not.
If you can help us confirm if @hivetrending is or is not a robot, please reach out to us in our Discord server asap!

TOKENOMICS
| Circulating Supply | Staked | Burned | Max |
| --- | --- | --- | --- |
| 715,574.42 | 574,975.46 | 900,430.930 | 100,000,000.00 |

---
Wallet Status


5942 wallets hold $PIZZA
0494 wallets hold >= 20 $PIZZA (bot access level 1)
0085 wallets hold >= 200 $PIZZA (bot access level 2)
0030 wallets hold >= 1000 $PIZZA (badass level)
0013 wallets hold >= 10,000 $PIZZA (baron level)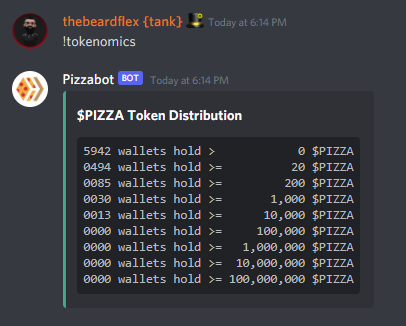 REWARDS


Note: There will be some changes coming to rewards in the coming days that will see more opportunities for holders to earn through staking! Make sure you're locking your tokens up!


Discord Photo Engagement
1st @shauner | 2nd @cryptoniusrex | 3rd @an-man


| 1st Place Winner - 10 PIZZA | 2nd Place Winner - 7 PIZZA | 3rd Place Winner - 5 PIZZA |
| --- | --- | --- |
| | | |
Top 10 Staked Leaderboards


Date: 10/25/2021
Token: #PIZZA
This weeks bonus: 6%


Want to get in on the action and secure your own weekly bonus rewards?
You can buy $PIZZA on LeoDex, TribalDex, or Hive Engine!


You can earn up to 10% back in the form of $PIZZA and other tokens by knocking our current leaders out and claiming your spot among the top!
@pizzaconnection @cooperclub @stickupboys @dadspardan @dibblers.dabs @pizzapool @shauner @hykss @pockettrader @brofundholdings
Lucky 5 Weekly $PIZZA Holders
(randomly chosen weekly from all holders with >= 1 $PIZZA in their wallet)
These lucky winners have won 3% of their staked $PIZZA holdings value back!
Remember, the more you have staked the more you can increase your lottery winnings! You can also secure guaranteed weekly winnings by being in the top 10 staked holders list! The rewards are up to 10% back weekly for our top 10!
@sinistry @davidesimoncini @aerokossasjc @luizeba @josueprime
BONUS 5 Weekly 500 $PIZZA Holders
These 5 bonus winners are drawn from holders with >= 500 $PIZZA
Remember, the more you have staked the more you can increase your lottery winnings! You can also secure guaranteed weekly winnings by being in the top 10 staked holders list! The rewards are up to 10% back weekly for our top 10!
Congratulations and thank you for locking up your tasty za! Enjoy your bonus rewards of 3%!
@juanmiguelsalas @marshmellowman @efastromberg94 @steem82868 @kennysgaminglife
Daily Winners
Congratulations! You have won an instant 4% APR of your $PIZZA holdings back in additional $PIZZA!
@xginste @barbarzynca @sovstar @sharklize @a1-shroom-spores @weldmaster @danilogus

DELEGATE TO PIZZA
You can also delegate your HP to our @hive.pizza curation account and farm your share of the daily $PIZZA rewards pool! The reward pool increases 10 tokens every 10k HP that is delegated to the account!



You can also check out the HIVE.PIZZA website here.
Buy $PIZZA
Leodex
Tribadex
Hive-Engine

Join the Discord and $PIZZA NATION

Join our curation trail here
Vote for us as Hive-Engine witness here
Vote for us as HIVE WITNESS HERE
---
---