Spreading the word :D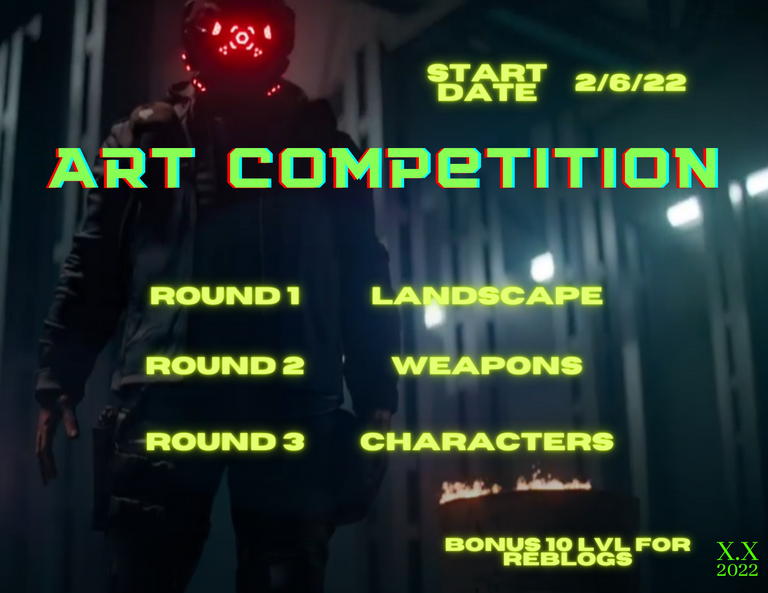 This competition is running for the 6 weeks. Artists will have the opportunity to post there Psyber X fan art in 3 different categories. Starting on February 6th we will start by a landscape theme, then the next round will be weapons themed and finally character theme. You are encouraged to use your imagination and will have resources on discord to get an idea of what the world of Psyber x looks like.
Artithon contest rules.
As an artist you will be allowed to post as many peace of art as you wish and may win in multiple rounds. You must submit your art on the Peakd post designated for the competition. The post will then be reviewed for inappropriate content and if passable will be posted on the Psyber X official discord for public voting. If you chose to make multiple works of art the likes will be added together at the end of the round. You can only post the same picture once. No double posts. Even on the next round.
Inappropriate content would be violence toward children, pornographic images, or anything showing of prejudice toward race, gender, or religion.
Votes on discord are the only votes that count toward wining in this competition. Depending on the participation level it may take time to add all the votes. We will declare the winner of the round and pay out as soon as we can. Hopefully within 2 or 3 days depending on my schedule and participation. Could get 0 pictures could get hundreds. I can't predict the future but I can assure you I will try to do my best to make rewards payout and winner announcement be as timely as I possibly can.
Conduct is important as well. Remember art is subjective. Attacking someone else's peace of art or harassing other participant in order to hedge your opportunity of winning is a big no go. critiquing I understand, but there is a point in going too far as well.
Winners will receive LVL as a reward per round.
1st - 10,000 LVL
2nd - 5000 LVL
3rd - 2,500 LVL
Reblog reward will run till the 6th and is planed to be payed out the 6th.
Transparency & Rules
Psyber X Discord
---
---