Social Media Challenge! Theme Card - Tenyii Striker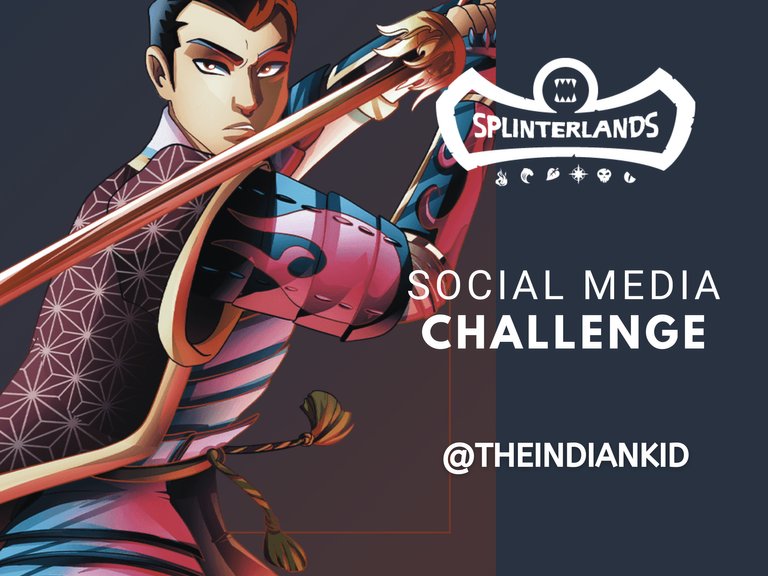 ---
Hello guys, this is my entry to the "Splinterlands Social Media Challenge!". If you want to participate and or read more about the challenge, click here.

TENYII STRIKER
| THEME CARD | |
| --- | --- |
| EDITION | CHAOS LEGION |
| RARITY | RARE |
| ELEMENT | FIRE |
| LEVEL | 8 |
| MANA COST | 5 POINTS |
| ATTACK | MELEE |
| ABILITIES | SNEAk+DODGE+BACKFIRE |
TENYII STRIKER is a rare monster card that made its debut in the Chaos Legion edition. Its element type is fire and it comes at a cost of 5 Mana which makes this card a suitable option for the tank position as well. It is a go-to option in low-mana to mid-mana battles as well. It grabbed my eyes for a fairly simple reason - attack type and the damage it can withstand.
Speed - Striker, as the name says, comes with a good speed as well. 4 units of speed allow this mighty warrior to get quickly involved in the battles. If accompanied by a speedy summoner, it can deal good damage to the enemy monsters in no time. I like monsters that have good health and can be quickly deployed too.
Health - The second thing after speed that I worry more about is health. Striker can fairly withstand a couple of damages as well. 7 units of health allow me to keep this card in the front, with an evil grin on my face.
Attack - Melee's attack of 5 units can be real trouble for the front-row enemy monster. It can take care of the front-row monster, and as health is more here, back-row monsters won't have to wait for more for a blade hit.
Abilities - Ability is what defines a monster and keep it unique from other. With good health, better speed, and fair melee units, abilities really present this monster as a good challenge in a battle.
Sneak - This ability gives this monster's blade a chance to hit the last monster in the enemy's deck. If an opponent is trying to bluff the battle with a good, low-heath card, rest assured that this monster is going to blow the bluff. This ability also sets the first attack on the last enemy monster.

Dodge - Although Tenyii is a tank, it can doge melee and range attacks. It has an increased chance of avoiding attacks, which can help tenyii to remain in the next rounds of battle as well.

Backfire - You Miss, I hit. If an enemy monster tries to attack and gets failed in it, then tenyii will hit it back in no time. The striker not only escapes but knows how to deliver the returning gift.

Level-Up Stats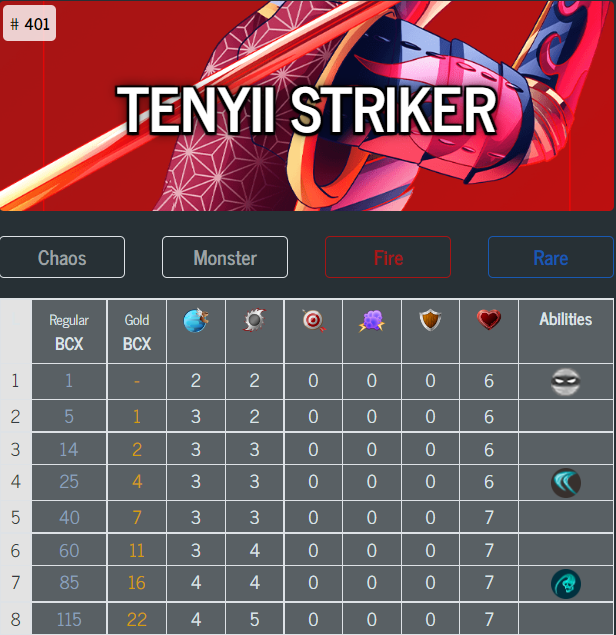 As per stats, the highest level this monster can reach is 8 and at level/rank 7, Tenyii receives its all abilities. Finally, at LvL-8 this card attains its maximum health, attack, and speed units too.
---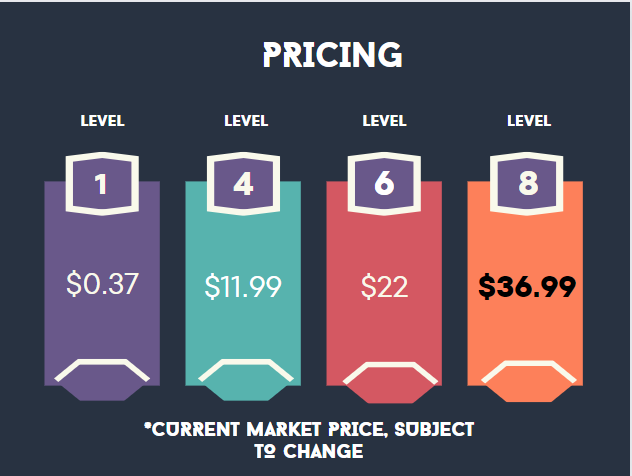 Final words
Tenyii Striker is an efficient monster both on pricing and battle as well. Tenyii delivers fair attack damages and with its backfire + doge combo, it gives a return gift to enemy monsters. As it starts its first attack on the last enemy monster, any bottom-row tricks of the opponent will be well taken care of. Currently, you can buy the cards at the above-given prices, although certain fluctuations in the prices are expected.

Splinterlands is a popular NFT-based play2earn game. If you have not joined the game yet, then you are missing a lot of fun. You can join by using my referal link.
Note:
| SPLINTERLANDS.COM | SPLINTERSHARDS (SPS) | BLOG | DISCORD | TELEGRAM
https://images.ecency.com/p/3RTd4iuWD6NUeJEn5AVrJUoyatFqBqfcCJi1N7UixR4g2KPKN7w8NpZL7qrJ4ETeGdj5C8fSCmkKo5DjrHr5ohicsPyafqWykbEf2DJMmZXRj6KPc8h1i3nkDcZ2Pkr3GYbpXLiL6DE2GcroJQkcPDPQr5xvr24NSvxiNPEkTCWvKg.webp?format=webp&mode=fit
---
---