New Guild: Wombat Warriors (seeking Australian recruits).
Wombat Warriors Guild

Hi everyone!
This is my first post here on Splintertalk, so I thought I would do a very quick introduction.
Some Hive users will already know me by my alt account that turned main: @shaidon.
You'll see me answering Splinterlands based questions in the Official Splinterlands Telegram.
As a member of Hive Australia, #hiveaustralia, I decided to create a guild for Australians only.
However, since a few people have left the guild to chase their own pursuits, this means that there are a few vacancies for active players.
In order to join this guild there are some basic criteria:
You need to be either born in or live in Australia. All you need to do is supply proof that you live in Australia either in the comments or by DMing me in the telegram if you don't feel comfortable.
It doesn't matter what your genetic background is.
Next, I require a 1000 DEC per season rental fee, payable the day after the season ends.
All proceeds raised go towards upgrading buildings like the Hall, the Arena, the Barracks and the Store.
Membership is by invitation only, so why not apply today?
Wombat Warriors guild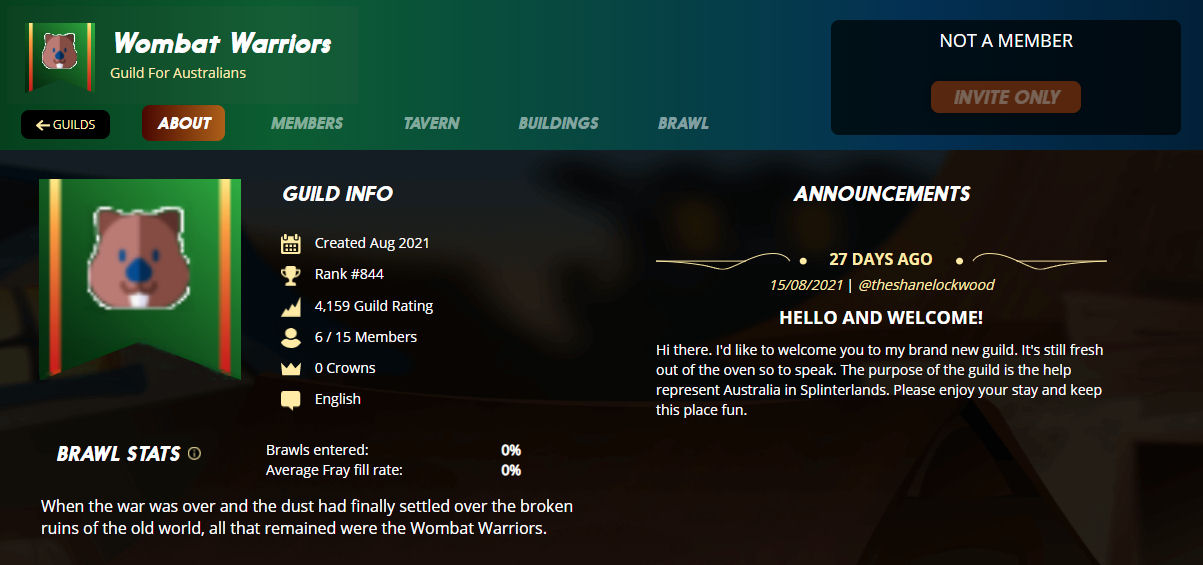 #splinterlands
#spt
#hiveaustralia
#hiveaus
#silverbloggers
---
---