THGaming 2022 Yearly Review - Growth, Tokenisation, Partnerships and Future Plans.
As 2022 draws to a close, it's important to look back at the year and ascertain how well we did as a p2e gaming guild. This will be a summarised account; it's been a busy year, and we don't want to bore our readers with a 5000-word article. Here you will find our achievements, important token updates, social media numbers and plans for 2023 and beyond.

Tokenisation - Feb 2022
After minting the $THGAMING Token in February of this year, we had some early buy-ins and saw our wallet numbers expand rapidly. It's been an incredibly difficult year for crypto as a whole, but we've managed to find a sober distribution policy for $THGAMING and controlled our tokenisation (Token Economy) as much as humanly possible, with just over 3% minted.
IMPORTANT 2022 TOKEN UPDATES:
To prepare for the next bull market, we'll continually develop use-cases for $THGAMING to increase demand for our token. We have plans to increase distribution (minting) mechanisms once the $HIVE (crypto) market and the robustness of $THGAMING can handle this.
---
Partnerships and Collaborations
When we first launched the $THGAMING token, it was with plans to develop slowly while rewarding our gamers with upvotes for quality Hive posts and exclusive gaming perks. Due to the massive amount of support on Hive, we have secured the following Partnerships (P) and Collaborations (C) :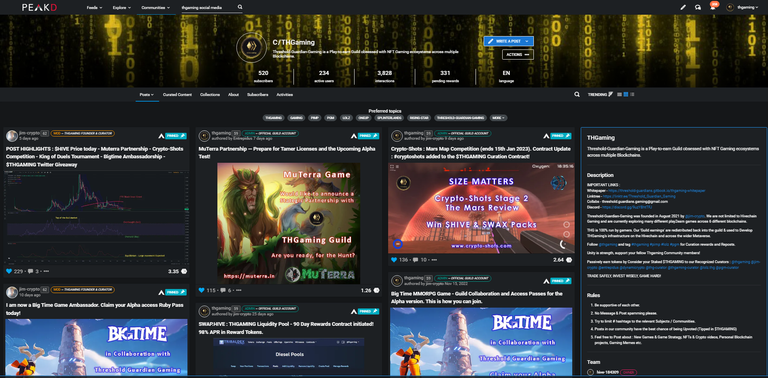 Want to use $THGAMING tokens to passively earn? Read this post from our Hive Community (above) : 'Passive Rewards, Use-cases and Recommended Curators'.
---
2022 Social Media Numbers & Growth
In April we evaluated our Social Media numbers in This Post, so feel free to read it. Using this previous post as a basis, we've summarized and compared our growth (below) across our major SM Channels. We also have our own Twitch Account but have not started streaming there, yet. We currently prefer to support already established Play2Earn streamers from within our guild.
All social media accounts can be found on our Official Linktree Page.
---
Future Plans, 2023 and Beyond
We will continue to increase use-cases for our token, incorporating $THGAMING into more gaming economies. The bigger we grow as a guild, the more games will want to work with us, and it is my belief that one day $THGAMING will become a Hive Utility token usable in many different gaming ecosystems. Once we have considerable Hive support, we will look at expanding our cross-chain strategies, traversing into popular gaming chains such as $WAX, $ETH, $MATIC and $BNB.
In 2023, we will strive to connect with more games and relevant crypto platforms on $HIVE as well as other blockchains. This includes taking the time to research each project thoroughly and never go 'all in'. Many projects will fail in the long run, and we don't want to be dragged down with them. We will endeavor to bring opportunities to our Guild Members and will never use the $THGAMING token as leverage in loans (this is what destroyed the FTX Exchange recently). We will continue to self fund our own development, manage our crypto assets carefully, and help to build up and support the Hive chain as much as possible. Our success relies on $HIVE's success, and perhaps one day @thgaming will be integral to the Hivechain's development and expansion.
---
Wrap Up
As always and MOST IMPORTANTLY, do not spend any money / crypto you can't afford to lose! The global crypto market is undergoing what could be a long term bear cycle (more sellers than buyers), and everyone should be preparing for the long haul.
During the current bear market, Threshold Guardian Gaming will continue to innovate and collaborate while rigorously developing our token, guild and economy.
If you would like to join THGaming and explore the #metaverse with us, our social media links are below.
Trade safely, Game hard and have a fantastic New Year! 🚀
THE END
---
Linktree Official - All Social Media links

---
---