I claimed my first PolyCUB airdrop today & Farming more CUBS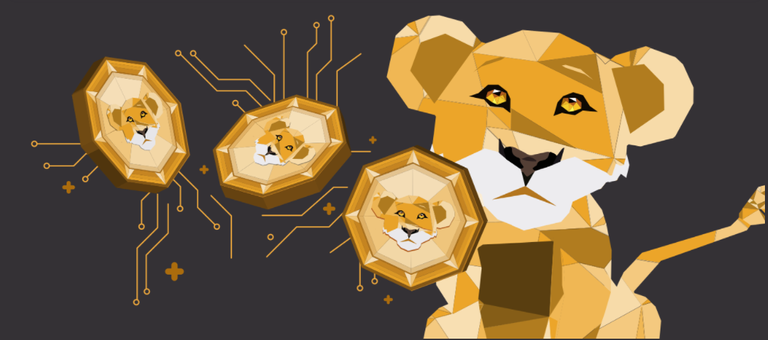 Former Happy CUB farmer!
Although I had quite a nice bag in the CUB farm from the second week I think it was, I felt at some point that I could not leave the funds on the farm because at that time I knew we needed to cash out more crypto to fiat soon. Even though we weren't farming from the very beginning, and missed out on the really high APY's, at least the funds we put in there had made sweet profits and I pulled it out at the perfect time when it was still $3.30 if I remember it correctly. Although more crypto went down, and not all these funds were put into something stable, at least I did some damage control and could say goodbye to the CUB farm without regrets.
If we wouldn't have needed the money, I'd probably left the farm running for a long time, but that just wasn't how it was at the time. Such is life, and although I feel bummed when it happens, I do not allow myself to regret that for long as I just did what I could do and had to do. C'est la vie!

The PolyCub Sooniverse
At some point, I was honestly really happy that the team was working on a CUB farm but this time on Polygon. Even though BSC fees started off dirt cheap once, I now often have to pay 1 to 2 bucks for just a claim transaction, which is not always worth it and I often don't realize that I paid that until it's too late. But hearing that CUB would come to Polygon was exciting. At some point, it was announced that there would be another release first, the CAKE pop IDO, and the Polygon launch was postponed until further notice. It was around that time that I decided to take a step back and not follow all updates constantly and check it out when it was near launch time. And this is what I did, I read about PolyCub, obviously, but I never tried to understand what all the fuzz is about. I just hoped that it was going to be awesome and would see how I could benefit from this launch when the time was near.

Airdrop details were announced
And I decided to buy CUB again and put them into the Kingdom. They were now at 10% of the price from when I sold CUB last year and I managed to buy about 700 of them in a few weeks. I assumed the 700 I bought weren't really going to give me a nice airdrop, but I had to try anyway. And I'm so glad that I did!! Because today it turned out that the airdrop was higher than I expected!

As you can see, my CUB in the kingdom has a value of 274 dollars and the airdrop is 270 dollars in value. Now, that's what I call awesome!

My first daily airdrop currently holds a value of $5.75 so that's not bad! I expect it to go down a lot though as they arrive liquid and some people will probably dump them as the farmed PolyCubs are locked for a few months.

I wasn't planning on adding liquidity to the farm
And didn't even check anything else yesterday besides the number of tokens I would get for the airdrop. Maybe I should have checked the farm's APYs but at least I did that this morning. I decided to move my DEC from HE where I receive the SPS airdrop to PolyCUB to add liquidity to the farm paired with USDC. I actually just wanted to buy LEO first, and move them out, but there were like 100 LEO for sale the rest was dust. Maybe they were there but much more expensive, I don't know. It made sense that people grabbed them all for the launch though. So my plan B was moving DEC via Splinterlands and then swapping to USDC, buying PolyCUB from half of it.

Now that I decided to add to the farm, I was waiting impatiently
I accidentally closed my Splinterlands screen where the confirmations were shown of the transfer and decided to just wait a bit. A bit turned into an hour, and then 2 hours, 4 hours eventually it was 6 or 7 hours until I had the DEC in my wallet. Meanwhile, I decided to move a few other crypto bags, that already made a profit and not doing anything anyway. My first LP added was just worth 50 or 60 bucks and it was amazing to see how you can have such a great return from a tiny amount like that. I also had some liquid hive that I wanted to add now as my DEC was still nowhere to be found, but I was afraid that the LEO would get stuck or something. As it was just worth 40 bucks I decided to just take the risk and all went smooth thankfully!

When my DEC finally arrived, the value had dropped
But knowing that it would be printing nice PolyCUBs, I didn't really mind. Adding that bag to the LP, was boosting the harvest a lot, and I was very pleased to see how the rewards remained high, even though the value of PolyCUB dropped below the 4 bucks at some point. I don't understand much of the maths behind the PolyCUB value, I read it but I can't comprehend, lol. It's fine though, I was not intending on taking out the rewards and leaving them on the farm for as long as possible. The penalty will only force me to have diamond paws! Which is great! This is the current status: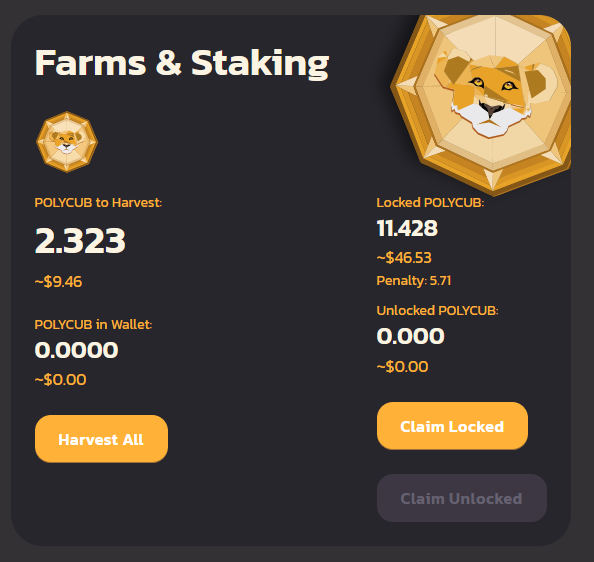 As you can see, I've "earned" 55 bucks during the day by letting adding liquidity to the farm. It would have been much higher if the DEC arrived this morning because it went down from 19k to 10.5k APY already by the time of this writing. Yet, I just try to enjoy seeing the harvest grow, and hopefully, the value will also stay intact and won't crash a lot due to sellers.

One thing isn't clear to me
That's actually not true, I mean, there's more that's not clear to me, but as time goes by, I will start to understand the mechanism better over time, I'm sure. The thing that I didn't find a direct answer to yet, maybe that's because I was looking at the wrong places though, is about the 90 days lock period. By accident, I read a response to @onealfa when this was discussed, someone (forgot the name, sorry) mentioned that you should harvest to start the 90 day period. So after that, claimed the harvest and hoped to find out more details later.
I wonder if I can now withdraw the part I harvested at that moment only in 90 days? Or is this a one-time thing, counting for my complete liquidity? I hope my question is clear and makes sense. I'm asking because I wonder what the best approach is, harvesting once a day, or maybe once every few days? I guess every few days will make me miss out on compounding effects.
I hope someone has a pointer where I can find the answer or just mentions it in a comment, either way, I'd appreciate it!

Credits
The text divider is my own design, where I sometimes use images from Canva Pro or in other cases, my own images.

Let's Connect
If you want to connect, you can give me a follow on my socials. For inquiries, you can send me a direct message on Discord.

My Referral Links:
Posted Using LeoFinance Beta
---
---