My 2022 Hive Goals Update #10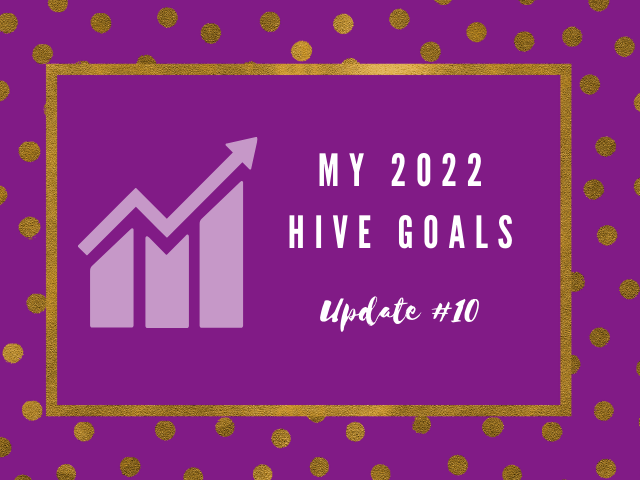 My 2022 Hive Goals
While sometimes it may not seem like it, I'm very much focused on building my Hive stakes in general. You may have noticed that I finally upped my post count again, not sure if I will ever be able to reach the count I envisioned for 2022, but I'm not going to worry about that one goal yet, instead, I will focus on the stakes that have most of my attention when it comes to growth on Hive. Once our life is calm and I can sit back and relax a bit more in Spain, I will think of a plan to catch up on the HBD savings as well as the post count. For now, they are not important as I only have so much time a day and need to keep things simple where I can.

Hive Power
My current Hive power stake is 2155.172, which is not even half of my goal for this year, but I know I will be able to reach my goal by the end of the year as I have a little plan for that. For the next few months, it will be growing through rewards from blogging only, which is slower but fine for now. So 50% of my earnings are going into Hive Power constantly, while liquid HBD is going towards our costs of emigration 100% at least for another month. Once everything big is being taken care of, I will stop doing that. It's more a safety net that I'm building with those earnings which bring me peace of mind. Which is very important as well!

Hive Engine stakes
I delegated quite a few tokens to the OneUp cartel accounts to ease my mind as well as find curation rewards even if I don't have time to use my stakes. I'm going to add LEO power to the delegations too as I have so little time to vote and feel the stake can be used more efficiently. It's pretty nice to be able to compound every day and see the rewards go up as well as the stake grow.
I surely did not forget about Splinterlands as well as LEO here, they are just currently a bit slower than they were in the first months of the year, simply because I have to make sure that real life is taken care of first, while I was first constantly adding SPS by buying it weekly and writing a lot more on Leofinance than I can currently. But both aren't forgotten.

CTP Goal
In the past week, I've added CTP to my Listnerds account as I wanted to hit the magic 5000 CTP stake there. For every 5000 CTP you stake, you receive 1 Listnerds I think as long as the airdrop has Listnerds unclaimed. My total stake in CTP tokens is now 12704 CTP. Pretty sweet taking into account that my year goal was 10000 CTP in the first place. Still not setting new goals, adding them as I go and we'll first see where I'm at once I'm settled down in Spain before I think about the goal for the rest of 2022.

Listnerds
My biggest earner on Hive is still Listnerds and I don't see that changing anytime soon as it's something I went all-in on and it's great to combine the Hive writings with the Listnerds emails as well to up the engagement. I'm still the number 2 stakeholder in Listnerds and have 3942.092 Listnerds staked currently, which makes me very happy! This should have been a lot higher already but there's been a problem since yesterday with the payments so once this is sorted out, I bet there will be a boost of a few hundred Listnerds all at once. Either way, the journey has been great in terms of connecting with people, and earnings as well as learning about a totally different industry. Even though I'm not your average marketer I think I've learned a few things here and there.

Listnerds team recruitment
I have room for awesome content creators in my team, just click here to sign up under my link. Our team already has 43 people in it and I'm working on organizing a new Team Discord where we also focus on educating people about Listnerds as well as Hive for those that can use a few tips here and there. Interested? Join our team and once the new discord is all ready to go, team members will be invited. I'm also planning on doing giveaways in the discord server only in the future.
That reminds me, the winner of my last giveaway will be announced this week. Time is tight currently, so this was pushed back a bit, but not forgotten.

Previous Hive Goals updates

Credits

Let's Connect
If you want to connect, you can give me a follow on my socials. For inquiries, you can send me a direct message on Discord.

Social Media Management Portfolio:

My Referral Links:
Posted Using LeoFinance Beta
---
---