My 2022 Hive Goals - Weekly Status Update #2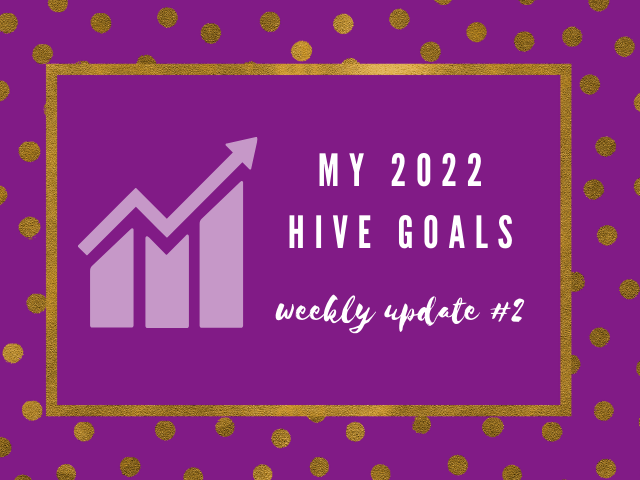 Sunday means Hive goals day!
Another week has passed where I've been trying to be on top of my targets and Hive goals. I've honestly been buying constantly and have seen a few stakes grow nicely this week. Sunday means that I will check the balance and get ready for another week of stacking. When another week has passed it also means that I'm a bit closer to some of my 2022 goals. Let's see what I've managed to buy this week.

Please don't mind all the colours lol, I still didn't decide what I want the sheet to look like, so I'm just adding info and marking it green once I reached the goal for the week.

Hive Power
I started with 1551.15 HP last Sunday and needed to earn 67.62 HP this week to stay on track.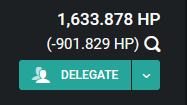 This is the result of last week, meaning I earned 82.728 Hive Power this week. Great! To accumulate more, I've been writing a lot and will try to keep this up so that I will earn at least my weekly goal in Hive power.

Leo Power
I haven't written daily on Leofinance last week, but I still managed to accumulate 61.461 LEO in the past week. My weekly goal was 42.87, so that went well. The HP delegation to @leo.voter helps a lot here, even when I have less time to write finance related articles, I can still fairly easy manage to reach at least my target for the week.

I will soon start buying LEO here and there as well because I really want to reach the 1000 LP sooner rather than later so that curation rewards will go up.

Splinterlands $SPS
This was a good week for my Splinterlands target! Last week I ended the week with 4483.35 SPS staked, and this is the current balance:

I've managed to up my daily voucher drop a bit during the week by adding a nice 872.65 SPS to my stake. While a dropping price would usually stress me out, I'm getting more excited the harder SPS drops currently as it means I can buy MOARRR! Currently, I find it very appealing buying SPS due to the tiny bit of extra vouchers I get each day and of course the few extra SPS I get for staking help a little towards reaching my goal.
I'm now working towards a middle goal of 7500 and I hope to be able to reach it within two months tops. For me, the price can stay low for a bit longer so that I can buy more haha.

CTP
Last week I started with a stake of 3499.762 CTP, today I have 3737.195 CTP staked.
My weekly target was to buy/earn at least 127.46 CPT, which I have managed to do, a little more. As I was so focused on adding SPS, CTP faded to the background a bit this week. I will most likely buy these more often in the next weeks. Thankfully, I'm still on track!

LVL
I'm very happy that I bought 25k of these before last week because I've been watching the price of LVL a bit: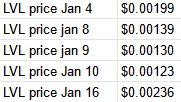 Too bad I only bought the minimum to reach my weekly target before this happened.
I managed to buy a little more than 3500 while my target was just under 3500. Another one is done and dusted.

WIT
I added WIT to my list as I wanted to get 100k of these after getting a 10k airdropped and seeing a few nice payouts in the meantime. I checked WIT's price and if it stays as is, I can get there within a reasonable amount of time while not having to stop buying the other tokens I'm focused on.
I went from 10k tokens last week to just a little under 25k this week. My weekly goal to reach 100k this year would have been about 1500 only, so I'm doing great here. I hope to reach the 100k soon-ish depending on the price in the market. They are good for weekly payouts and I'm very curious to see my next payout.

Post Count
With my 2022 goal post count at 500, I believe I started the first month of the year fairly well. Both weeks I went beyond my goal, with 11 posts on the counter this week, where "only 9.55" were needed. I'm trying to go a bit past my goal when I can to not fall behind but get the weekly target down instead.
I'm still very confident that I will reach my target by the end of the year!

HBD Savings & Liquid Hive
These two still remain in the background this month due to the @Splinterlands CL release and because I want to buy ChiFiBots packs in the presale from NFTStudios. Although I'm falling a bit behind on these two goals, from which the HBD savings has priority, I don't mind as I will catch up next month. I just start earning interest a little later as planned.
Why did you have to do the presale in the same month as Splinterlands @flauwy? :-) Such a headache these weeks. LOL. I will honestly be glad if January is over so I can breathe and know that I got in with some CL packs & managed to buy some ChiFiBots packs as well.

Previous Hive Goals updates

Let's Connect
If you want to connect, you can give me a follow on my socials. For inquiries, you can send me a direct message on Discord.

My Referral Links:
Posted Using LeoFinance Beta
---
---