My 2022 Hive Goals - Weekly Status Update #3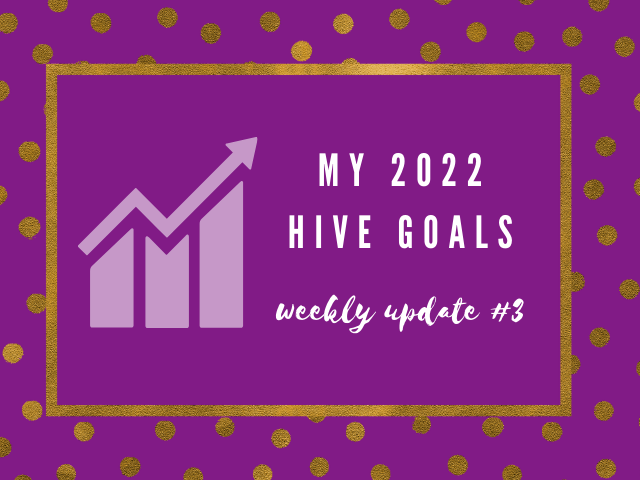 Better format Hive goals updates
Thanks to @behiver's help, I learned about the table option in the Leofinance editor. I think it looks so much better to use tables in the progress posts compared to just throwing the numbers out there. I just didn't have a clue how to do that so I just asked him last week, and guess what, it's super simple! The table will change a bit over time probably as I didn't find the right titles for myself just yet. But at least it looks a lot better! Making progress here as well, haha.

Let's see where I'm at today with my 2022 Hive goals
I'm very pleased with this table as it's clear where I'm at and how far I'm away from reaching my goal(s).
| Asset | 2022 Goal | Current Holdings | Current status | Previous Holdings | Weekly Progress | New Weekly Goal |
| --- | --- | --- | --- | --- | --- | --- |
| Hive Power | 5000 | 1702.097 | 34.04 % | 1633.878 | + 68.219 HP | 67.30 |
| Leo Power | 2500 | 421.605 | 16.86 % | 375.316 | + 46.289 LP | 42.42 |
| SPS | 10000 | 6236 | 62.36 % | 5356 | + 880 SPS | 76.81 |
| CTP | 10000 | 4120.871 | 41.20 % | 3737.195 | + 383.676 CTP | 119.98 |
| LVL | 200000 | 35521.81 | 17.76 % | 28500.31 | + 7021.5 LVL | 3357 |
| BRO | 250 | 112 | 44.8 % | 112 | + 0 BRO | 2.82 |
| WIT | 100000 | 34956.22 | 34.96 % | 24852.32 | + 10103.9 WIT | 1327.42 |
| CHAOS | - | 53 | - | 0 | + 53 CHAOS | - |
| Post Count | 500 | 34 | 6.8 % | 25 | + 9 POSTS | 9.51 |
| HBD Savings | 2500 | 0 | % | 11.791 | + 0 HBD | 51.02 HBD |

Frontrunner: SPS & Chaos Legion Packs
I'm still very focused on buying SPS as soon as I receive a payout. Why? Well, instead of seeing my daily voucher rate go down, it keeps going up. Today I received 0.523 Voucher, but I'm hoping to climb as close to the 1 full voucher each day as I can get. With my current holdings at X SPS, I think when I reach the 10000, I should be at least close to it. If the price of SPS stays low, I will most likely try to buy more of them while I can afford it and reach my 2022 goal much sooner than by the end of the year. Meaning, I will set another goal for myself after that. But, first, let's get to the 7500 SPS, that's my personal soft goal for the next week(s).
As you may have noticed, I added Chaos Legion packs to my holdings as well. I bought a little less than 70 packs, opened some and now I want to keep at least 50 for the long term as an investment, while I'm allowing myself to open anything above the 50 packs. Currently, I have 53 of them because I'm aiming to buy some each week, without having a certain goal on the number of packs I want to hold. After all, I don't know how quickly they'll sell out and don't want to put more pressure on it. I do enjoy the extra airdrop points coming from packs though, it's another 300 points per pack for holding them.

Hive & Leo Power
With the price of $HIVE below a dollar now, I already noticed that my pending HP rewards went up compared to before the dip. I don't mind to be honest, because it feels kind of nice to be able to go above my weekly goal of HP earnings as I still intend to reach this goal solely by earning through publishing content. In case I should fall short later this year, and start struggling to reach my 2022 goal, for example, if Hive were to reach new ATH's, then I can always decide otherwise.
The same goes for my Leo Power earnings, I'm not buying these currently as I'm earning it through publishing content and from my delegation rewards to @leo.voter. It's just a few LEO each day from the delegation, but currently, I"m falling short on VP so I won't add any more to the delegation until I opened a few new accounts focussed on tag specific curation. This is on my to-do list for next week, and I will review then if I can miss some more HP to up my LEO rewards.

CTP
With my new journey on Listnerds, I will need to give it some thought and consider how much CTP I'm going to stake on my main account, and how much is going to be used as a Listnerds stake to earn daily staking rewards. I will probably separate these two next week in the goals, but I'm not sure yet how exactly, so I will think about that. Currently, only my stake on HE is counted, and the stake on Listnerds is very small. Who knows what changes this week, though.

BRO & HBD savings
Let's start with BRO, I will take BRO as my weekly payment the last week of this month and will continue to do so once a month. That's the plan for now and this way, I will (hopefully) end up with even more than my anticipated goal for 2022.
I have taken out the 11 something HBD last week to add to my Splinterlands Chaos Legion pack purchase as I wanted to add a few more packs. I know my weekly goal will keep going up because I didn't constantly add HBD to my savings from the first week, but I don't mind dedicating some full payouts in the future to catch up on the goal. Currently, HBD earnings are going down where our HP earnings go up, so this is not the time to focus on that. For now, I'm on pause saving HBD, and focusing on the short term rewarding stakes instead. If I have 10 bucks to spend, and I put that into SPS, it will be rewarding instantly from staking rewards as well as a higher voucher drop rate tomorrow. Therefore, I will be leaning more towards building that stake in a high pass before I'm really going to get into the savings mode that is meant for long term rewards.

CUB & Listnerds
I'm considering adding CUB as well as Listnerds to my goals list because I have bought a (small) bag of CUB in the past week. I'm trying to benefit at least a little from the upcoming polycub airdrop for CUB holders in the Kingdom. On top of that, it's another source of slow and steady passive income to add to my list. As I bought them before the huge dip at $0.30, and now I can DCA it a bit by buying them at a lower price. Win-win. I'm hoping CUB will stay a little low until I bought some more.
Some of you may have read my first tutorial about Listnerds to add another sweet stream of passive income to my list for the year, this is very recent and therefore I haven't made a solid plan yet to add Listnerds to my goals. This will become clear in the next week(s) though. If you're interested in building a solid passive income stream by joining my team, please check out my last post where you can win a Hive Punk if you are in the first 25 members of my team.
That's it for this week, thank you for stopping by, next week is an exciting one as I will review how this first month of 2022 has been and decide what has priority in the next month. Have a lovely day!

Previous Hive Goals updates

Credits

Let's Connect
If you want to connect, you can give me a follow on my socials. For inquiries, you can send me a direct message on Discord.

My Referral Links:
Posted Using LeoFinance Beta
---
---