My 2022 Hive Goals - Weekly Status Update #5
My 2022 Hive Goals - Weekly Status Update #5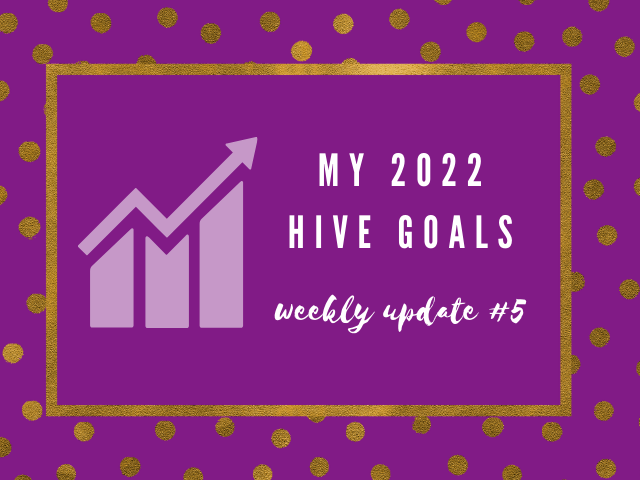 Overall a good week
Although I missed 3 days of payouts as I hadn't been able to publish anything for 3 full days in the previous week, I still think this week was valuable. Although I didn't reach my Hive power weekly target, I almost had double the weekly needed amount of LEO and I was able to buy almost 1000 SPS this week! What's not to be seen in this table (yet) is the CUB that I also bought some more this week, and I want to make that a weekly habit as well from now on.
After carefully considering how much money I want to have locked in fiat and/or stable coins now that months will fly by sooner than I realize, I decided to put 50 dollars of HBD into savings again each week. I first wanted to take out 50 dollars each week and move it into fiat, but I realized that I might as well profit from the 12% APR on HBD instead. At some point, when we're getting closer to the summer, I will probably slowly move out some HBD from time to time to lock this into fiat so nothing goes wrong when the market decides to crash (which of course, hopefully, won't happen by then haha). If for some reason my HBD savings aren't all needed for our move, I will be happy as I won't have to start from scratch again to build towards my goal of 2500 HBD in savings.

Current Holdings
| Asset | 2022 Goal | Current Holdings | Current status | Previous Holdings | Weekly Progress | New Weekly Goal |
| --- | --- | --- | --- | --- | --- | --- |
| Hive Power | 5000 | 1803.57 | 36.07 % | 1772.29 | + 31.28 HP | 68 |
| Leo Power | 2500 | 542.441 | 21.70 % | 455.8 | + 86.641 LP | 41.65 |
| SPS | 10000 | 7744 | 77.44 % | 6777 | + 967 SPS | 48 |
| CTP | 10000 | 6246.566 | 62.46 % | 6103.925 | + 142.641 CTP | 79.86 |
| LVL | 200000 | 40170.77 | 20.8 % | 38825.90 | + 1344.87 LVL | 3400.62 |
| CHAOS | - | 55 | - | 53 | + 2 | - |
| Post Count | 500 | 46 | 9.2% | 38 | + 8 POSTS | 9.65 |
| HBD Savings | 2500 | 0 | 0% | 0 | + 0 HBD | 50 |
| BRO | 250 | 112 | 44.8 % | 112 | + 0 BRO | - |
| WIT | | 100067 | 100 % | 100000 | + 67 WIT | Reached |
| LISTNERDS | 1500 | 119.790 | 7.99% | - | +119.790 | 29.37 |

Hive Power
As I mentioned, I haven't reached my Hive Power goal last week, which is fine as I have been on top of my goal each week and this is exactly the reason why I'm doing this. I know that there will be weeks that other things have priority or that I'm ill or whatever, 3 days without earnings should not mean that I need to stress about my goal for the year. Evaluating this constantly means that I will notice in time if I have to up my game or not. I'm happy with how it's going now and even happier to say that my pending rewards for the next week look a bit better so I'm hoping to reach my weekly target again next week. If not, I will probably add a bit of HP from other earnings.

SPS soft goal reached
I set myself a goal of 10k SPS for this year, which I will try to achieve this month, and from there evaluate. It's been an absolute pleasure seeing the daily rewards go up, especially the voucher drop rate increase each day instead of decreasing. I've been very motivated to fill the bags even more now that SPS is still this cheap.

I passed the soft goal of 7500 some days ago and now I'm already 244 SPS richer compared to that day. I almost bought 1000 SPS this week and if possible, I will probably keep up this rate until 10k is reached. As SPS has already ticked the 1 dollar mark before, I can only hope once the market starts going up again that SPS will go past the 1 dollar. If not, at least I'm earning more SPS every day and collecting vouchers for Riftwatchers later this year.

CTP
My CTP stake contains 2 stakes now, one normal stake to vote and the other on Listnerds. The one on Listnerds also earns me a daily part of the reward pool, which is great. Now that my voting stake for CTP talk has gone past 5000, I'm trying to add more to the Listnerds stake first to get a nice round amount there. I will also delegate some HP soon to earn more CTP rewards and help out the CTP community account to vote on active users in the tribe.

Listnerds in my goals list
I mentioned last week already, that I was going to add Listnerds to the goals list soon. I just had to think about how high I'd set the bar for that one as Listnerds costs a whopping 2 Hive each currently. But with my stake, I'm also earning some Listnerds every single day, so therefore I thought my goal of 1500 Listnerds by the end of the year should even be reachable if I don't earn any Listnerds on the platform from emailing. Currently, I can't predict how many Listnerds on average I'd earn each week as I haven't had a payout yet. Hopefully, this will be a bit clearer next week. Either way, I'm going to fill in the weekly stakes and keep track of them from now on.

Leo Power
I'm very happy to see some more votes on my last Leofinance articles. Even with the annoying bug where tags have been removed several times after publishing, my Leo votes have gone up. This makes me happy as more content is finance-related so therefore it's nice to see the posts not getting stuck at 2 LEO in rewards. I really hope this tag bug will belong to the past as I've noticed that you barely get noticed by the @leo.voter account if you aren't posting on Leofinance.

Views & Engagement going up!
I've noticed since I started publishing my Listnerds Newbies Guides, that there have been more views on the posts & the engagement rate has gone up sign fatally as well. These don't seem to be Listnerdies only because I also see more die-hard Leo content creators appear on my posts lately, which I truly appreciate! I really think that my decision to start writing the guides on Listnerds will be good for views even after the payout window has closed. People seem to enjoy the content and think it's useful and therefore I feel that these guides will be used by newbies in the future as well, which brings visitors to Hive/Leofinance. I'm linking them in the footers so people can find them back easily until I've found time to also publish them on a website. For now, I really don't see how I can find the time for that so this could take some months as other things have priority.
Anyway, seeing the engagement go up is wonderful, I love it. Keep those comments coming, please!

Previous Hive Goals updates

Credits

Let's Connect
If you want to connect, you can give me a follow on my socials. For inquiries, you can send me a direct message on Discord.

My Referral Links:
Posted Using LeoFinance Beta
---
---