My 2022 Hive Goals - Weekly Status Update #7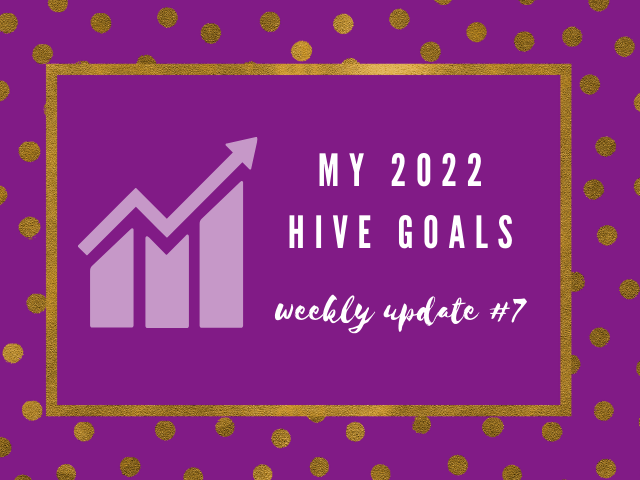 A shorter week
As I published my last update on Monday instead of Sunday, this week's report is not covering a full week but I wanted to get back to Sunday reporting as per usual so I will show you this week's numbers today. It was getting a bit of a pain filling in the table each week, therefore I've removed the completed goals from the table and made a separate note for those. If I decide to add a new goal for these tokens, I will add them to the table again though. For now, I wanted to simplify it a bit.

SPS Goal Completed!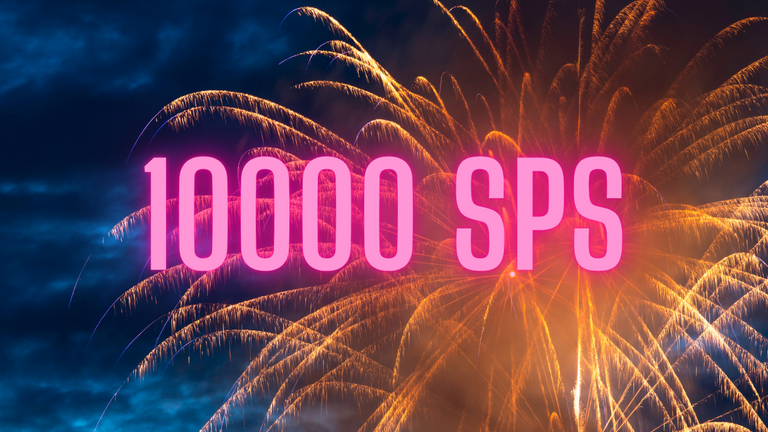 I seriously almost forgot to mention this very important part, while I already removed the SPS from the table below. In my head, I already reached it weeks ago, lol. But in reality, it was just last Monday. Oops. Anyway, I bought the last 800 or so SPS I needed on Monday when it was my payday, and now I'm going to relax a bit buying SPS as I also want to focus on other things a bit at the same time. SPS will still be bought (as I love the voucher drop too lol) BUT it will not be my main focus anymore.
The sweet thing about reaching this goal is that even with the current price of SPS, I still earn a few bucks worth of SPS each day without doing anything for it, as well as some vouchers. It's al adding to my passive income streams! Love it!

This week's numbers
Below I present to you this week's numbers fresh from the press:
| Asset | 2022 Goal | Current Holdings | Current status | Previous Holdings | Weekly Progress | New Weekly Goal |
| --- | --- | --- | --- | --- | --- | --- |
| Hive Power | 5000 | 1900 | 38 % | 1868.192 | + 31.81 HP | 68.89 |
| Leo Power | 2500 | 698.06 | 27.92 % | 628.627 | + 69.43 LP | 40.04 |
| CTP | 10000 | 7846.278 | 78.46 % | 7047.051 | + 799.227 CTP | 47.86 |
| LISTNERDS | 2500 | 344.638 | 13.79 % | 179.781 | + 164.857 LISTNERDS | 47.90 |
| LVL | 200000 | 41861.04 | 20.93 % | 40414.9 | + 1446.14 LVL | 3514 |
| HBD Savings | 2500 | 11.720 | 0.47 % | 10.056 | + 1.664 HBD | 55.30 |
Completed goals:
SPS 10000 - 100% Completed and counting!
Current holdings: 10240 SPS
WIT 100000 - 100% Completed and counting!
Current holdings: 100188.95 WIT
Other
Chaos Legion Packs - 55 Packs
Post Count - 57

Hive Power & Leo Power
In both cases, I fell a little short on my weekly goal to accumulate enough weekly tokens to reach my goal at the end of the year. Thankfully, these weekly goals are more to give me an idea if I'm doing ok or should up my game. So far, I have only added to these two stakes by my earnings, not buying. Of course, I will make sure to reach my goals at the end of the year, even if this means I will have to buy some Hive and Leo. I just used a few liquid hive to round up my stake to 1900 HP and added some Leo I bought in the market as well.
The reason there weren't high amounts added is because of two things, I haven't posted daily. This could be seen as a negative thing having a 500 Post goal for the year, but it's actually quite the opposite. I'm still aiming to reach that goal but in case I will not make it, I have to take into account that at the time of setting that goal, I had no idea that more work hours would be on the table for me f.e. for the CineTV community. This became a good part of my daily life as well as the introduction of Listnerds. All things that I could not foresee at the time. Where I was longing for more earnings, at the time I thought this would be coming from my content on Hive, but other possibilities have knocked on my door instead! I'm very grateful for that!

Listnerds awesomeness!
You probably noticed my big jump in Listnerds tokens. I'm so very happy with this, I can't even explain lol. I became second in the referral contest just by blogging about Listnerds. And with that, I won 100 Listnerds tokens ($200!!!). This was not just a short term win, these tokens are now adding every day to my passive income earnings thanks to staking them.
I also went ahead and pulled the trigger today to subscribe for the Enterprise membership as I now can't even imagine not having Listnerds in my daily life. I was constantly waiting impatiently until the 3 days were over to email again, and I decided this has to become daily. I won't be sharing my own content twice a day though, I'm aiming to spread the word about other awesome content creators or communities that can use some fresh eyes on them. I bet there is still so much that you don't know about Hive if you just joined recently. Keep an eye on your mailbox in Listnerds, you will find useful tips about Hive often!
Thanks again to @jongolson @blainjones for their support on my Listnerds content and Blain for answering many of my questions. :)

Previous Hive Goals updates

Credits
The text divider is my own design, where I sometimes use images from Canva Pro or in other cases, my own images.

Let's Connect
If you want to connect, you can give me a follow on my socials. For inquiries, you can send me a direct message on Discord.

My Referral Links:
Posted Using LeoFinance Beta
---
---