Finley's Undersea Odyssey
Finley, a fish who grew to find himself stuck inside a transparent lightweight bulb which enabled him to witness the marvels of the sea in remarkable means, had just wandered after several days, into a part of the sea, where other sea creatures could talk and reason just like him. "Yess!...yess!!...yess!!! I finally found the lost world!" Finley exclaimed shortly after he noticed that all the creatures in this part of the sea could communicate fluently with each other.
As Finley with dignity wandered within his glassy home, he discovered a school of clownfish close by.
" Hey there new guy! What's it like being stuck in there?" Pete, one of the clownfish asked with interest.
Finley, who at that time was really jolly, reacted right away with a smile, "hi there, I'm Finley and yeah, It seems like having my exclusive television to witness the splendid efficiencies of the sea... Just like I can see you all getting ready for a dance show!"
" Hmm ... that's in fact very cool, Finley!" Pete exclaimed going back to the rest of the school.
Soon after, the clown fishes swam in attractive patterns, their colors mesmerizing to look at.
" We 'd really appreciate your idea, and observations on our show when we are done!" Pete said loudly, as they beautifully continued with their dancing.
As the day advanced, more sea animals swam towards Finley's bulb each excited and anxious to have a talk with him.
" Guys! Give Finely a little break!" Pete, Finley's new and very first pal stated, swimming around him.
Terrance, an aged sea turtle, slid by and asked "Finley do you ever feel lonely in there?"
Finley contemplated for a minute. "Hmm... Well, Sometimes. But still, having every one of you around makes it much better. Besides, I've never really felt so attached to the sea's elegance as I do from this bulb."
Terrance nodded agreeably, acknowledging the relevance of keeping relationships in their world.
Unbeknownst to the sea animals, right inside Finley's bulb, existed a well balanced ecosystem —Tiny marine plants and microbes which continuously supplied the oxygen Finley needed for breathing and also the nutrients he required.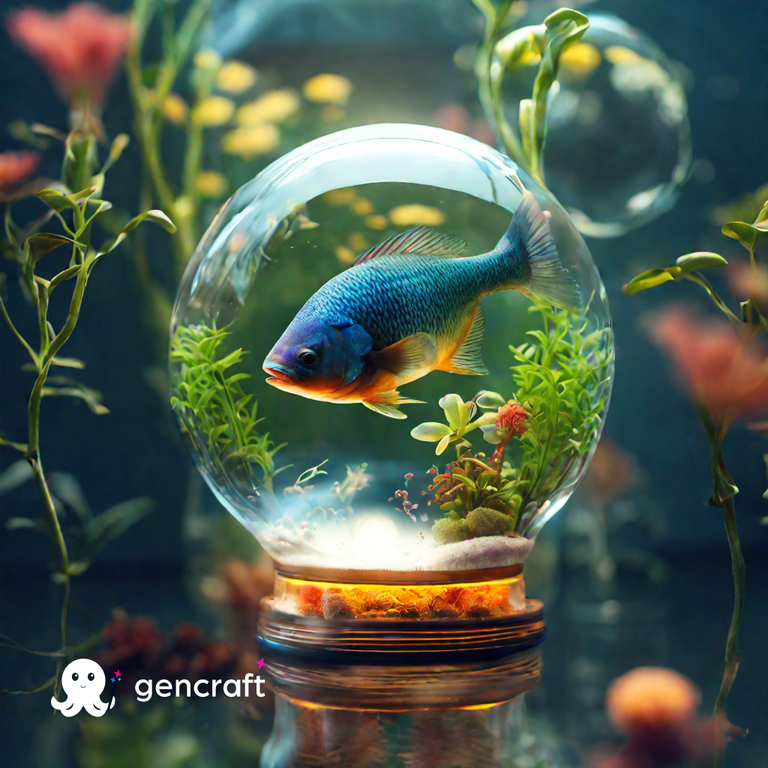 A.I(gencraft) Generated Photo.
This simple yet complicated ecosystem was indeed a marvel of nature that kept Finley, and also enabled him to witness the wonders of the sea from his point of view.
Later on in the afternoon, a dazzling school of fish swam past... their leader Spark, saw Finley in his bulb and this attracted his attention and so he asked, "isn't this bulb you stay in like a gold mine of memories?"
Finley responded with a smile. "Absolutely! Every minute invested below comes to be a memory engraved in my heart."
And so as the sunlight started to set, releasing a fantastic gold shade, the sea creatures came around Finley's bulb, everyone wishing to share stories of their journeys and their ambitions... Among them was a stylish seahorse called Stella, who spoke out, "I've constantly desired to discover many more areas of the sea just like you. However I'm just too scared to give it a go."
Finley replied kindly, "Stella, do not allow fear to hold you back. The sea is in fact substantial, and also full of a great deal of secrets waiting to be discovered."
Influenced by the couple of words Finley had actually said, Stella swam off right into the undersurface of the sea, this time determined to discover new parts of the sea.
As the night finally came to stay, a pleasant looking middle aged octopus called Oliver came close to Finley. "Young man, I've been observing you very closely and to be honest, your viewpoint is genuinely special. But have you ever before wished you could leave this bulb and swim openly like every person else?"
Finley grinned comfortably, as satisfaction was fairly apparent on his face. "Oliver, I have actually been caught in this bulb for as long as I can remember, and despite the fact that I'm restricted within this bulb, I've never really felt a lot more linked to the sea as well as its remarkable residents. Besides, I do not miss what I never ever had. Did you notice that right in this little transparent bulb I stay in, there are great deals of small plants as well as bacterias, which provide me the oxygen I require to take a breath and also offer the nutrition that keeps me healthy and balanced? It's indeed like a marvel of nature that allows me to witness all things taking place in the sea while remaining very safe and well fed also."
Oliver tilted his head promptly, loving the appeal of this weird bulb.
Later on that day, the sea creatures recognized that although Finley was actually constrained to a transparent container, he recognized just how stunning the sea was, as well as exactly how vital it was to treasure every minute.
And on the very next day, Finley waved farewells to his newly found pals and went back to his part of the sea, with a heart of thankfulness for the brand-new friends he had actually made in a hidden part of the sea, and the treasured memories they had actually developed together.

Thanks For Reading.
---
---