Reunited by Destiny— A Tale of Timeless Friendship.
John had moved over to a very busy city immediately after finishing his senior secondary education, leaving the silent community he had actually matured in, alongside his best friend. Years passed and the memories of his teenage years closest friend ( Paul), began to fade away...though it wasn't his plan to part ways with his friend, life made it happen regardless.
Just before John left for the city, he assured his friend, " Paul, don't bother yourself we will definitely meet again sooner or later bro."
John spoke that day with so much faith and belief, even though he didn't know how they would meet again.
Well, many years passed, and it seemed like Paul was no longer in John's dictionary.
One hot afternoon, John stood in a lengthy line at a local bank, impatiently waiting on his turn to be called. He absent-mindedly looked at his phone scrolling with his social media feeds when he heard an acquainted voice.
" Excuse me, sir, can you please assist me complete this down payment slip?" the voice asked pleasantly with a mischievous smile.
John turned from his phone to look at who was trying to call his attention...looking up at the young man standing beside him, his heart missed a beat. There standing beside him was Paul. The very same mischievous smile, and the very same dark birth-mark close to his eyes... it was as if time had actually stalled.
"Wait a minute Paul, Is that you?" John stammered barely believing his eyes.
Paul who was also contemplating earlier adjusted a bit with his eyes expanded in shock. "Are you John?" He immediately kept the down payment slip aside so as to welcome his long-lost good friend.
The bank customers around them could not help but grin at the heartfelt hugs and handshakes.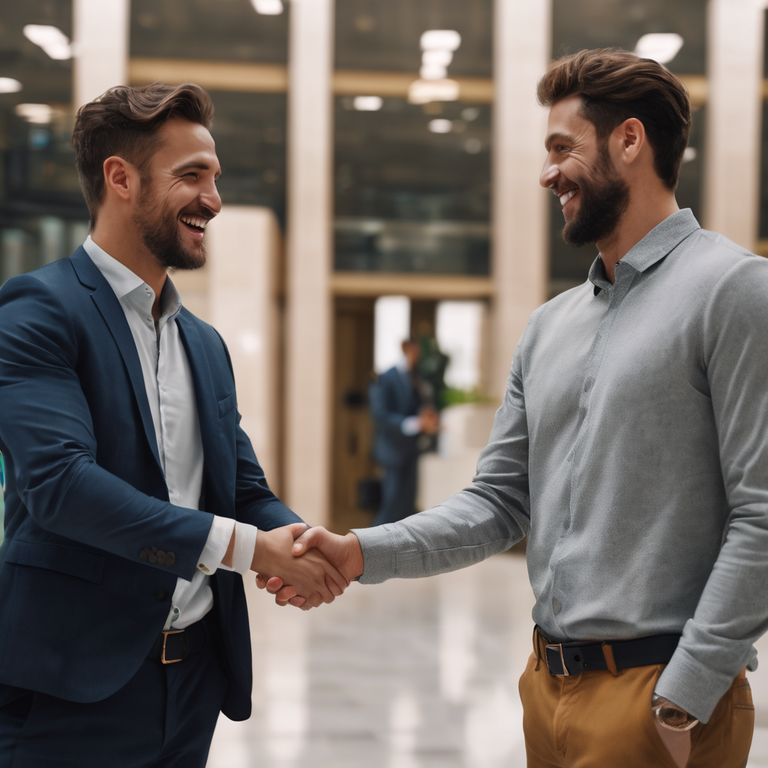 A.I(gencraft) Generated Photo.
John and Paul tipped to a side, catching up on years of missed out discussions.
" I still can't believe I found you right in this bank of all possible places. '' John claimed, still amazed by the coincidence.
Paul laughed. "Life has plenty of shocks, my pal. I actually just got transferred to this city a couple of weeks ago."
As their gesting continued, John found out that Paul had actually ended up being a successful banker in a branch not far away, and he was right there to make a substantial down payment for a customer. John on the other hand, was leaving his dream as a very popular digital photographer and was also freelancing for different publications.
Time seemed to fly faster as they shared tales of their journeys, and desires. John could not help but feel a deep feeling of intriguing memories. "Remember the treehouse we constructed in your yard?" he asked.
Paul chuckled, "yes of course! How could I possibly forget our secret hideout lol. We spent numerous summer afternoons there."
Their giggling resounded, attracting even more bank customer's glimpses. They both remembered, and spoke about their secondary school days, remembering tricks they had actually used on their teachers and fellow classmates.
As the bank manager tapped Paul, signaling him to meet him in his office to finish the deal, Paul resorted to John with a twinkle in his eye. "Hey John, I really want us to reconvene somewhere so we can talk better...I noticed a coffee shop just down the road. What do you think?"
"Ohh that's really perfect! "John said excitedly as they both agreed to reconvene after Paul closed for the day. The exhilaration of reconnecting with his buddy was really evident in John.
Later that day at the coffee shop, they worked right into a relaxing cubicle. The aroma of fresh made coffee filled up the air as they proceeded with their gisting. The time barrier disappeared as they reviewed their hopes, worries, and also every little thing in between.
" I missed you Paul." John confessed, his voice touched with feeling.
Paul grinned comfortably. "I missed you as well John. Though life decided to separate us immediately after our senior secondary education, you've always been in my heart."
As they drank their coffee and also spoke about their existing lives,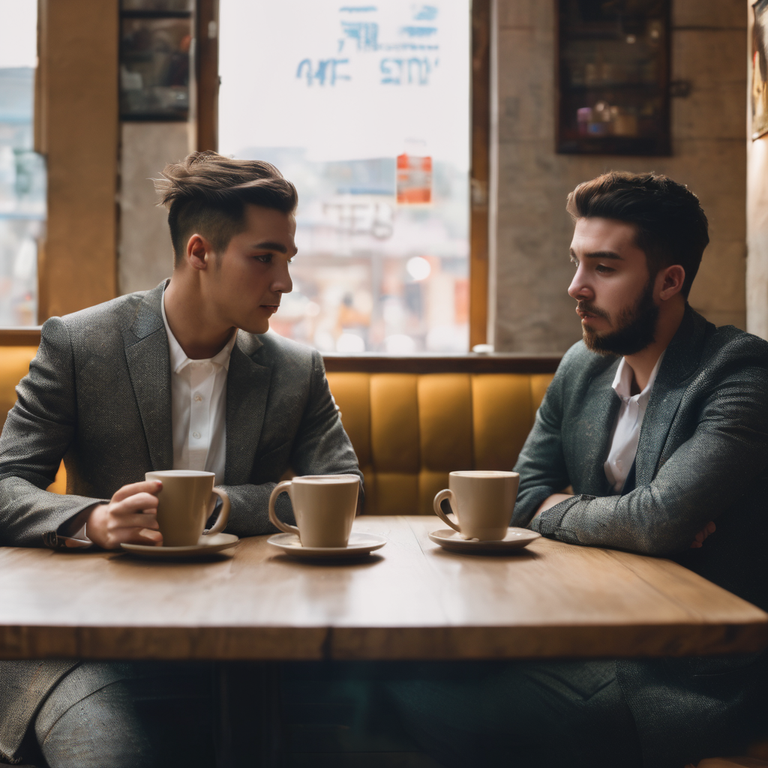 A.I(gencraft) Generated Photo.
John could not help but show genuine happiness for the unpredicted get-together with his long time friend. It was as if destiny had actually stepped in to bring them back with each other.
Hours passed, and the coffee shop gradually cleared...unwillingly, they understood it was time to bid goodbye once more but this time around with the assurance of remaining in touch with each other.
" Let's not lose our contact this time around Paul." John claimed, as they traded their contacts.
Paul responded in agreement. "Absolutely true! As buddies, we should not allow our distance apart to obstruct us."
They bidded their bye-byes, however this time around it had not been a goodbye. It was a ' see you soon.'
As John left the coffee shop his heart really felt lighter than it had in years. The opportunity experience at that local bank had actually revived a relationship that time and long distance had actually caused to stopped working, and He certainly could not wait to see where their restored bond would certainly take them in the years ahead.


Thanks For Reading.
---
---