Weekly Battle: Wood Nymph #SPT #SPLINTERLANDS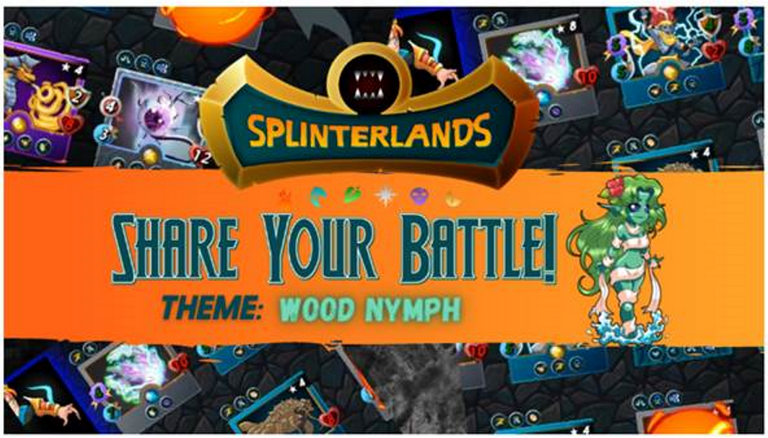 THE CHALLENGE
This week's challenge from @Splinterlands was a really cool one. You see, we had to use the healer Wood Nymph. The Wood Nymph is a common card, but it's actually one I hadn't use before as she is not in the starting set. The aim was to find a situation to explore the card's power.
Did we find it? Let's find out.
CHARACTER EXPLORATION
LORE: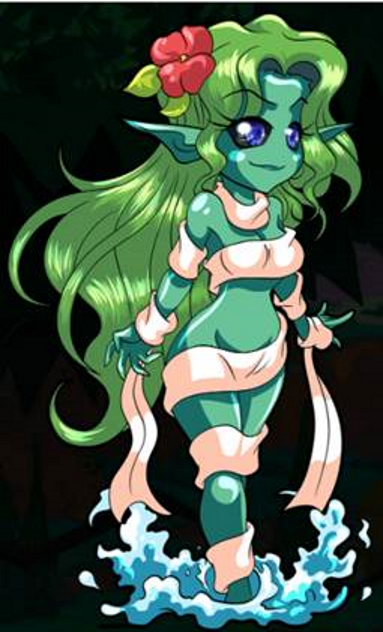 A peculiar new bud appeared at the tips of the highest branches of the Elder Tree. The animals living in the tree watched as the strange buds grew, and in a matter of days, burst open. From each bud zoomed forth a tiny sprite. These Wood Nymphs quickly scattered around Anumün in a frenzy of mischief.
RENTAL COSTS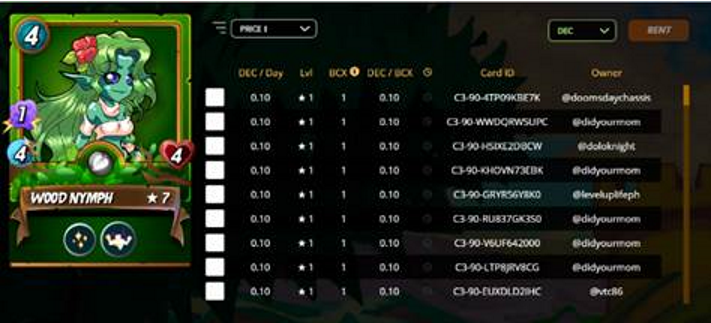 Luckily, the rental costs for the Wood Nymph are really accessible at 0.1 DEC per day. I only picked her up for 1 day, just to see how she would work out in this challenge.
PURCHASE COSTS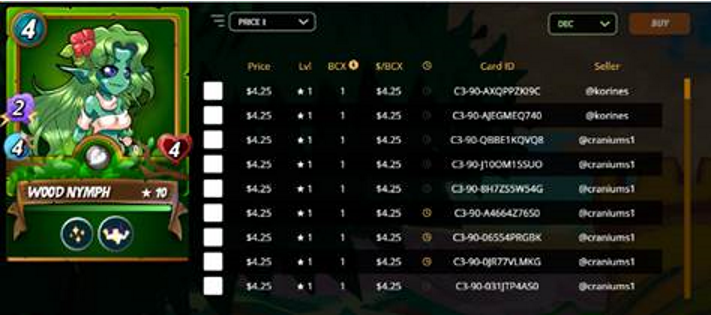 Looking at the Wood Nymph's purchase cost, I was a bit shocked to see $4.25 for a card with only 15 power! I don't know about you, but I'd prefer to rent her for 12 months for 36 DEC total! At 3 DEC a month, the purchase really isn't worth it.
STATS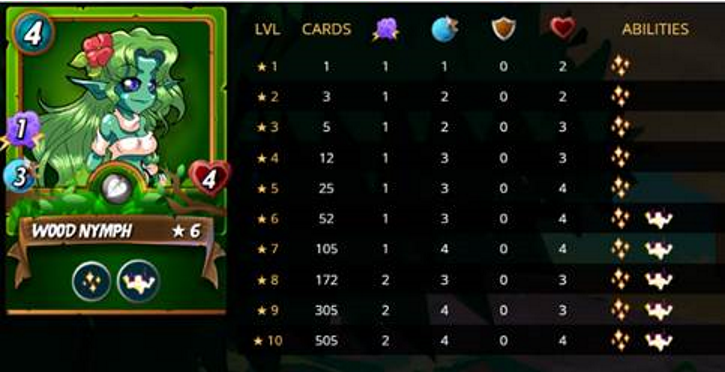 Looking into the Wood Nymph's stats, her strength lies in her ability to heal the tank. At level 6, she does, however, get strength, which gives all her teammates +1 health. You'd have to be in GOLD League for that to kick in though. That said, if you could afford to rent a level 2, the speed increase should turn a battle as you go +1 speed. It's also worth noting that Magic attacks can still hit in the tank position. If your card plays with arrows, it can't do that.
MY BATTLE RULESET + STRATEGY (TEAM CHOICE) – WHY DO THEY FIT TOGETHER?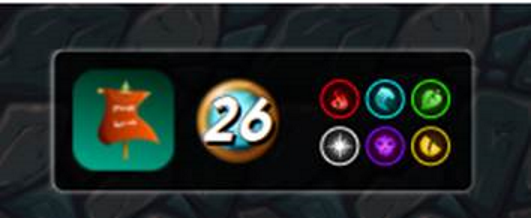 The battle ruleset was super to try out my Wood Nymph. It let me play 26 mana, with no modification to the rules. This would be a straight out strategy-fest.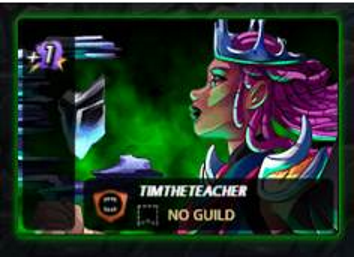 I choose to use the summoner Obsidian. She's part of the Chaos Legion, and she's really awesome in magic, because she gives all your cards +1 Magic damage. This means by playing a heavy magic attack, you could potentially gain +4 to +6 magic. That's enough to destroy an opponent each round.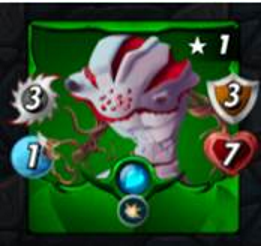 This is the line-up I used behind Obsidian.
Mycelic Infantry as tank. He's got a lot of health, and so my strategy was for Goblin Psychic and Wood Nymph to be able to constantly keep him healed. His shield ability means that if he gets hit with melee or arrows, he will take reduced damage. After the tank, I played my 1 mana cards in position 2 and 3. These guys were the Mycelic Morphid and Chaos Agent. They had absolutely no really value in terms of their attacks, they are there just to waste my opponents hits. I needed to protect my Khmer Queen in position 4, and the Goblin Psychic and Wood Nymph behind them. The reasoning is, that their attacks at +2 Magic are powerful, and I really needed them to stay alive to attack, but also to heal my tank!
THE BATTLE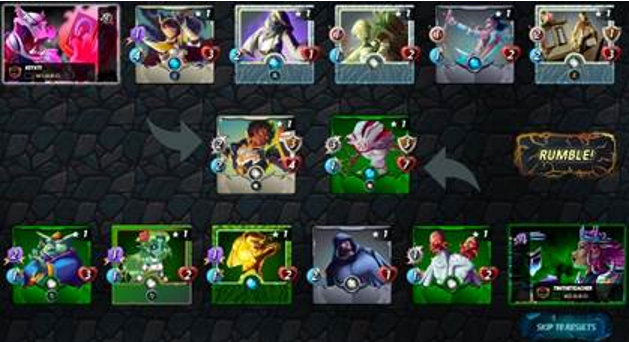 In this first round I felt pretty confident. I knew I was going to knock his tank over pretty quickly, whereas mine would remain standing. I was nervous about his sniping card, at 3 damage per hit, he was going to go through my back line.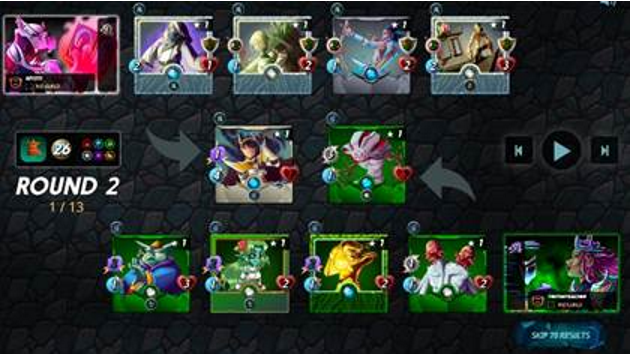 Starting round 2, I was in a good position. The Wood Nymph was going to continue to health my tank, and the back line making use of 2 magic attack each was going to rip through a few of my opponents cards, given they only have 2 health each. Their armour would not help them!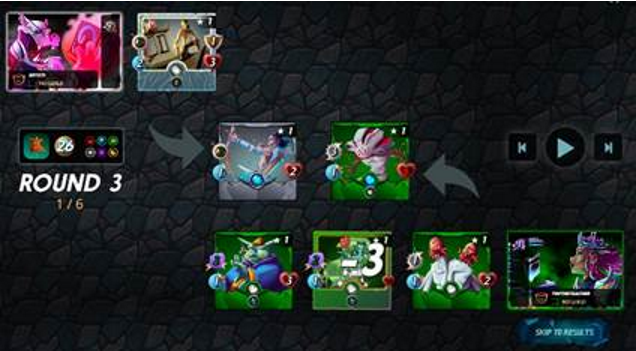 As Round 3 got underway, my opponents sniping arrows finally took down my Wood Nymph. That sniping card had been working through my back-line who had no defence. That card was making this battle close!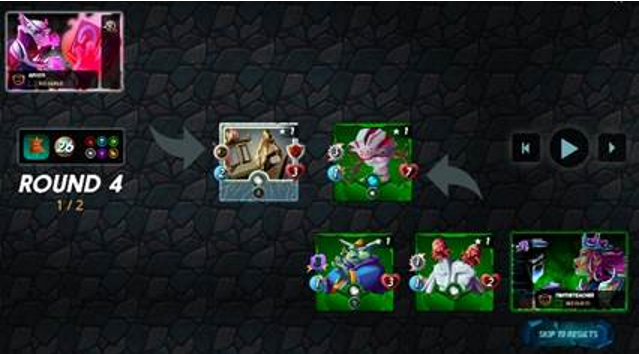 However, as Round 4 got underway, my opponents card could not play in the first position, as arrows need to fire from the back-line. This let me take the victory.
EVALUATE THE STRATEGY – DID IT WORK? WHAT WOULD I DO DIFFERENTLY?
This strategy worked really well, I was able to use magic to destroy my opponent, and counter his card which gave each of his team +2 Armour. I had hoped to keep my tank alive with the combination of Goblin Psychic and Wood Nymph – and that's exactly what happened. I would definitely use this strategy again in the future. It could, however, be improved with a Queen Mycelic, who would give all of my cards +2 armour. This would mean the sniping arrows would need multiple attacks on each of my cards to knock them out, and would have led to a more comprehensive win. The problem: affording the Queen's rental!
Thanks for hanging out with me, please use my referral link to join me in the game: https://splinterlands.com?ref=timtheteacher
#SPT #SPLINTERLANDS #OBG #PALNET #LEO #NEOXIANS #PLAY2EARN #P2E #HIVEGAMING
---
---