SHARE YOUR BATTLE WEEKLY CHALLENGE!/ DHAMPIR STALKER
Hello friends.
https://images.ecency.com/p/3RTd4iuWD6NUeJEn5AVrJUoyatFqBqfcCJi1N7UixR4g2KPKN7w8NpZL7qrJ4ETeGdj5C8fSCmkKo54UHQcd5arPV7sJ7D8jwn6mDQGrwavZrRYug5tQc69KixdmYfcFxmpyp3xvKEQ4n8dwQrtYQ5FCTZwU6ky998nqGpLrZs5Nkv.webp?format=webp&mode=fit
Today, let me share a battle with Splinterlands' DHAMPIR STALKER theme.
DHAMPIR STALKER from my Splinterlands Playable Cards is a Level 1 Rare Death Monster with
Mana Cap 7,
Ranged 3,
Speed 2,
Health 5 and
Ability True Strike.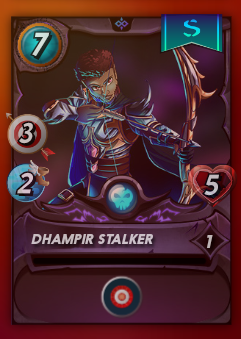 Because DHAMPIR STALKER is a Ranged Attack Monster, it cannot normally attack at the front of the Team.
Therefore, if I play DHAMPIR STALKER in the Battle, I only play it in the middle and later positions of the Team.
Due to DHAMPIR STALKER's inclusion of the Ability True Strike, it deals damage without missing when attacking the Enemy Team.
Also, since it attacks with Ranged 3, DHAMPIR STALKER does damage effectively to the Enemy Team.
That's why I like DHAMPIR STALKER's Ranged 3 and Ability True Strike.
However, if you use DHAMPIR STALKER, it costs 7 Mana Cap, so it is good to play it only in battles with a lot of Mana Cap.
Check out the Battle Video below.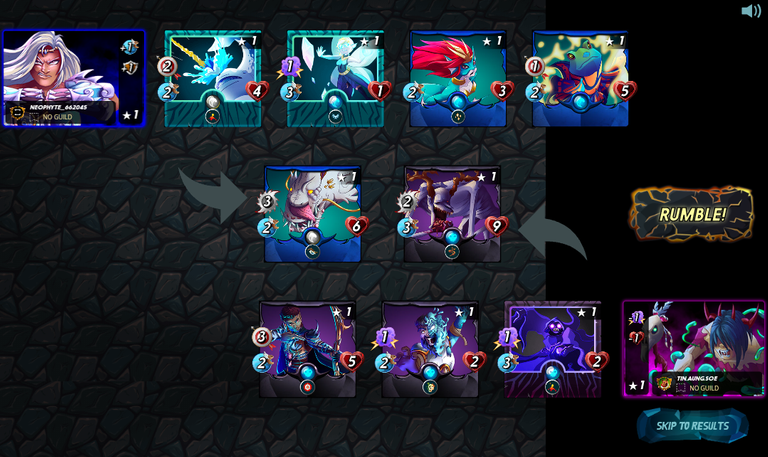 I played DHAMPIR STALKER at the last position of the Team.
Thus, DHAMPIR STALKER effectively attacked the Enemy Team from the last place of the Team and won.
What do you think about DHAMPIR STALKER?
If you are just starting to play Splinterlands Game, you can use my Referral Link.
Tin Aung Soe
https://images.ecency.com/p/x7L2VSNEiyAB5Ux7nxKmLo6yLyEJT6Jt5yhNCUpGMoX5FAMcmJ2jsF2733EQkNrLU55gQnh7d2YMySm.webp?format=webp&mode=fit
မင်္ဂလာပါ မိတ်ဆွေတို့ရေ။
ဒီနေ့ Splinterlands ၏ DHAMPIR STALKER Theme ပါဝင်သော Battle တစ်ပွဲကို မျှဝေပါရစေ။
ကျွန်တော်၏ Splinterlands Playable Cards ထဲမှ DHAMPIR STALKER သည်
Mana Cap 7,
Ranged 3,
Speed 2,
Health 5 and
Ability True Strike ပါဝင်သော
Level 1 Rare Death Monster ဖြစ်ပါသည်။
https://images.ecency.com/p/26uUsAjKTsXCDw7zixZR182JbFKvgzJ9YwsFpTVcRaGCmsqhA1unTgprEeEZ5zUEEXtXisitCc8YDG3mvFocJKkhFKyD952ieN33rWP3DEHEyTfNKYDQ9EAjRrM7LwPKTnB8692eYK8Wjiw2iMgP12HW2hQnWcfMPwdQeA.webp?format=webp&mode=fit
DHAMPIR STALKER သည် Ranged Attack Monster ဖြစ်သောကြောင့် ပုံမှန်အားဖြင့် Team ၏ ရှေ့ဆုံးနေရာ၌ တိုက်ခိုက်နိုင်ခြင်း မရှိပါ။
သို့ဖြစ်၍ ကျွန်တော်ကတော့ Battle မှာ DHAMPIR STALKER ကို ထည့်သွင်းကစားမည် ဆိုလျှင် Team ၏ အလယ် နှင့် နောက်ပိုင်းနေရာများ၌သာ ထား၍ ကစားပါသည်။
DHAMPIR STALKER ၌ Ability True Strike ပါဝင်ခြင်းကြောင့် ၎င်းသည် Enemy Team ကို တိုက်ခိုက်သောအခါ မလွဲအောင် ထိခိုက်စေပါသည်။
ထို့အပြင် Ranged 3 ဖြင့် တိုက်ခိုက်ခြင်း ဖြစ်သောကြောင့် DHAMPIR STALKER သည် Enemy Team ကို Damage ကောင်းကောင်း ဖြစ်စေပါသည်။
ထို့ကြောင့် ကျွန်တော်သည် DHAMPIR STALKER ၏ Ranged 3 and Ability True Strike ကို ကြိုက်နှစ်သက်လှသည်။
သို့သော် DHAMPIR STALKER ကို အသုံးပြုမည်ဆိုလျှင် Mana Cap 7 ကုန်ကျသောကြောင့် Mana Cap များသော Battle ၌သာ ထည့်သွင်းကစားလို့ ကောင်းပါသည်။
အောက်ပါ Battle Video ကို ကြည့်ပါ။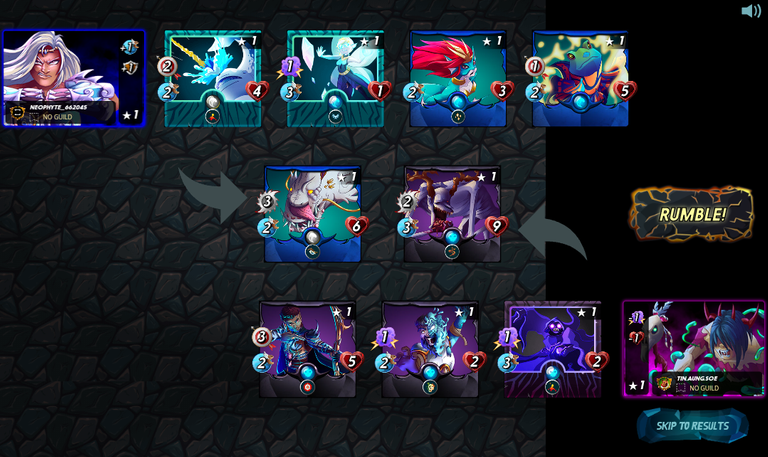 https://splinterlands.com?p=battle&id=sl_d3ecba10d7be907b5076e91b02b83430&ref=tin.aung.soe
ကျွန်တော်သည် DHAMPIR STALKER ကို Team ၏ နောက်ဆုံးနေရာ၌ ထား၍ ကစားခဲ့ပါသည်။
သို့ဖြစ်ရာ DHAMPIR STALKER သည် Team ၏ နောက်ဆုံးနေရာမှ Enemy Team ကို ထိရောက်စွာ တိုက်ခိုက်ပြီး နိုင်ပွဲ ရယူပေးခဲ့ပါသည်။
DHAMPIR STALKER နှင့် ပတ်သက်၍ သင်ရော ဘယ်လို သဘောရပါသလဲ။
အကယ်၍ သင်သည် ယခုမှ စတင်၍ Splinterlands Game ကစားမည် ဆိုပါလျှင် ကျွန်တော်၏ Referral Link ကို အသုံးပြနိုင်ပါသည်။
တင်အောင်စိုး
---
---