Splinterlands Gaming Situation And Season End Rewards
Hello.
Last night, a Splinterlands season ended.
I received 3 Legendary potion charges cards and 2 Monster cards as Season End Rewards.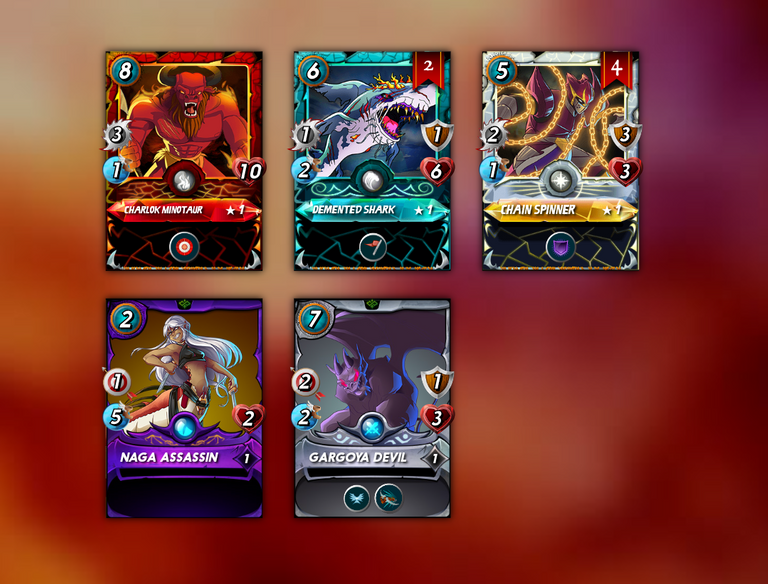 I now have a total of 9 Monster Cards in my game.
The two monster cards received from Season End Rewards yesterday were Naga Assassin and Gargoya Devil.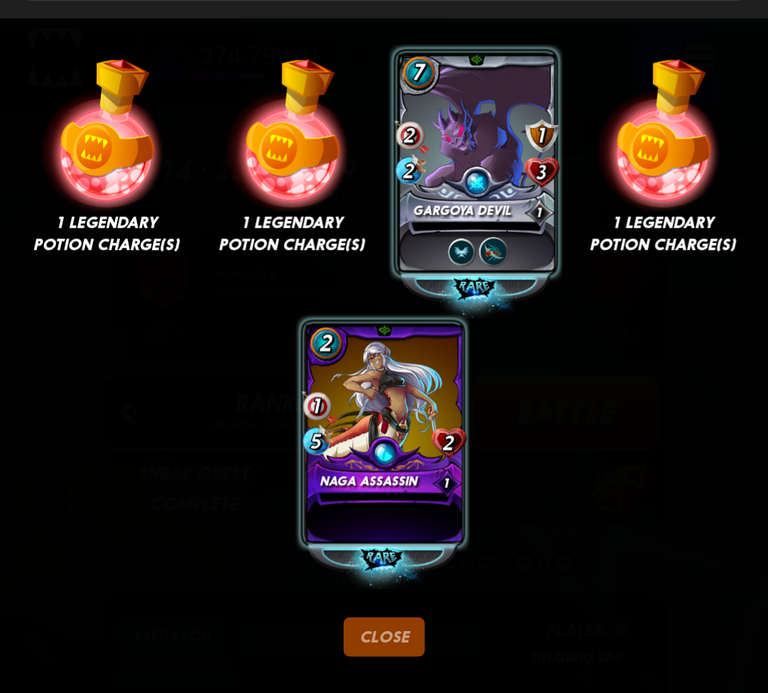 Naga Assassin is a level 1 Rare card and Est. Value $ 1.74 and DEC 20.
It is a Dragon Monster with 1 ranged attack, 5 Speed, 2 Health and cost 2 Mana.
Gargoya Devil is also a level 1 Rare card, Eat.Value $ 0.73 and DEC 20.
It is a Neutral Monster with 2 ranged attacks, 2 Speed, 1 Defense, 3 Health and Ability Flying and Close Range and cost 7 Mana.
Est. Value of all Monster Cards in my Splinterlands Game is $ 3.63.
The total DEC received is 274.81, which is currently valued at $ 1.97.
So, my Splinterlands 2 Seasons is Est.Value $ 5.6.
My current investment is $ 10 for a Spellbook.
This is just about my Splinterlands Gaming situation and Season End Rewards.
How well did you receive in Season End Rewards?
Thank you for everything.
Tin Aung Soe
[Burmese]
မင်္ဂလာပါ။
မနေ့ညက Splinterlands Season တစ်ခု ကုန်ဆုံးသွားခဲ့ပါပြီ။
Season End Rewards အဖြစ် 3 Legendary potion charges cards နှင့် 2 Monster cards ရရှိခဲ့ပါတယ်။
ယခု ကျွန်တော်၏ Game ထဲမှာ Monster Card 5 မျိုး အဖြစ် Card စုစုပေါင်း 9 cards ရှိပါပြီ။
မနေ့က Season End Rewards မှ ရရှိသော Monster Card နှစ်မျိုးမှာ Naga Assassin and Gargoya Devil တို့ ဖြစ်ပါသည်။
Naga Assassin သည် level 1 အဆင့်ရှိ Rare card ဖြစ်ပြီး Est. Value $1.74 နှင့် DEC 20 ပါ။
၎င်းသည် Dragon Monster ဖြစ်ပြီး 1 ranged attack , 5 Speed , 2 Health ပါရှိကာ 2 Mana ကုန်ကျပါမည်။
Gargoya Devil သည်လည်း level 1 အဆင့်ရှိ Rare card ဖြစ်ပြီး Eat.Value $0.73 and DEC 20 ပါ။
၎င်းသည် Neutral Monster ဖြစ်ပြီး 2 ranged attack , 2 Speed , 1 Defense , 3 Health and Ability Flying and Close Range ပါရှိကာ 7 Mana ကုန်ကျပါမည်။
ကျွန်တော်၏ Splinterlands Game ထဲရှိ Monster Card အားလုံး၏ Est. value သည် $ 3.63 ဖြစ်ပါသည်။
စုစုပေါင်း ရရှိထားသော DEC မှာ 274.81 ဖြစ်သောကြောင့် လက်ရှိဈေးနှုန်းအရ $1.97 တန်ဖိုးရှိသည်။
သို့ဖြစ်၍ ကျွန်တော်၏ Splinterlands 2 Seasons ရရှိမှုမှာ Est.Value $5.6 ဖြစ်သည်။
ကျွန်တော် လောလောဆယ် ရင်းနှီးထားသည်မှာ Spellbook ဖိုး $10 ဖြစ်ပါသည်။
ဤသည်မှာ ကျွန်တော်၏ Splinterlands Gaming အခြေအနေ နှင့် Season End Rewards အကြောင်းမျှသာ ဖြစ်ပါသည်။
မိတ်ဆွေတို့ရော Season End Rewards မှာ ဘယ်လောက်ကောင်းကောင်း ရလိုက်ပါသလဲ။
အရာအားလုံး အတွက် ကျေးဇူးတင်ပါသည်။
တင်အောင်စိုး
---
---