Share Your Battle: Animated Corpse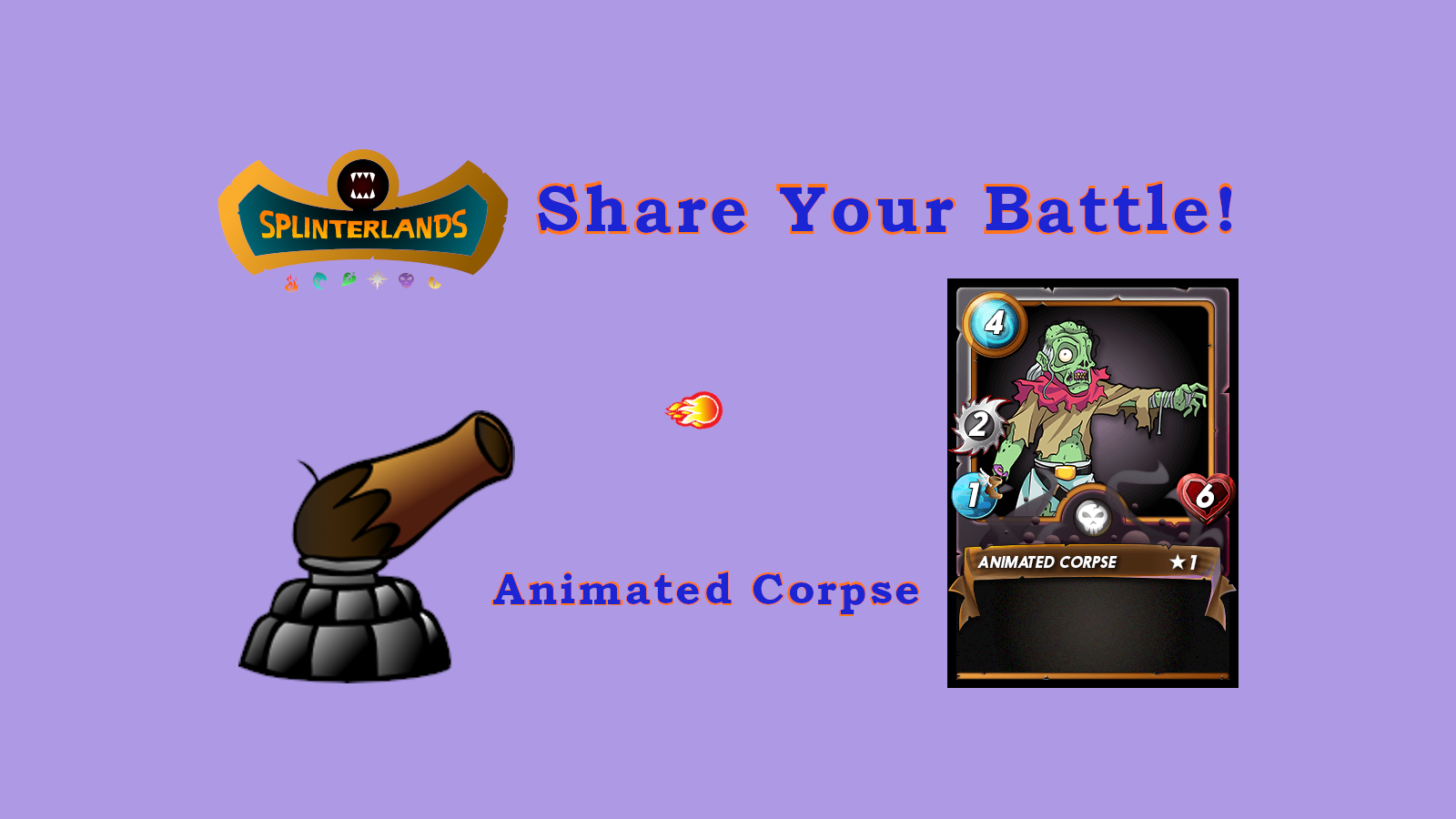 𝐀𝐧𝐢𝐦𝐚𝐭𝐞𝐝 𝐂𝐨𝐫𝐩𝐬𝐞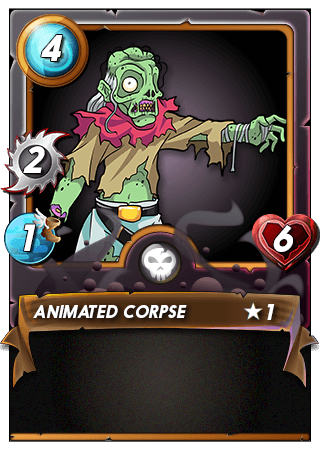 This week's Share Your Battle theme is the Animated Corpse.
As a Bronze League player, I admit that I have not given this card very much consideration. When using the death splinter, I tend to gravitate toward the Haunted Spirit which has melee:2, speed:2, health:7 and the self healing ability for the mana cost of 5. Comparing this to the Animated Corpse's melee:2, speed:1, health:6 we see the one extra mana point buys a lot more in the form of self healing.
But, in matches where the Haunted Spirit is disabled (no healing rules) or disallowed (mana cap 4), the Animated Corpse is a tank candidate that I have overlooked because I am not used to using it.
And I can also see that when the Animated Corpse levels up to gain the void ability, that would add a point in its favor, but for now, I can't use one at that level.
---
𝐌𝐲 𝐌𝐚𝐭𝐜𝐡
So, I decided to blow the dust off my starter deck edition of the Animated Corpse and give it a try.
The match I used it in was a 28 mana cap, standard rules match. My opponent had one water splinter match in his last five and he had not used the Venari Wavesmith in it. Had he been showing this card, I would have gone to the Earth splinter with The Wizard of Eastwood as my summoner to possibly counteract the armor that the Wavesmith can provide. But, since I didn't see one, my way was clear.
𝐌𝐲 𝐒𝐭𝐫𝐚𝐭𝐞𝐠𝐲
I decided to go with a fairly standard hide-the-healer strategy, where a healing tank is used somewhere other than the frontline. The hope is that by the time the frontline, cannon-fodder tank is destroyed, the opponents team is damaged enough that it can't bring down the self-healing tank. Of course my self-healing tank was the Haunted Spirit, and the Animated Corpse was my cannon fodder.
𝐌𝐲 𝐓𝐞𝐚𝐦

Besides my cannon fodder and healing tank, I went for max damage, to weaken my opponent as much as I could, before my Animated Corpse became an inanimate corpse. Two snipers with the most heath guard against snipers and sneaks‒each dealing 2 damage. The 2 damage dealing Haunted Spider, and the fast Skeleton Assassin round out the team.
𝐓𝐡𝐞 𝐑𝐞𝐯𝐞𝐚𝐥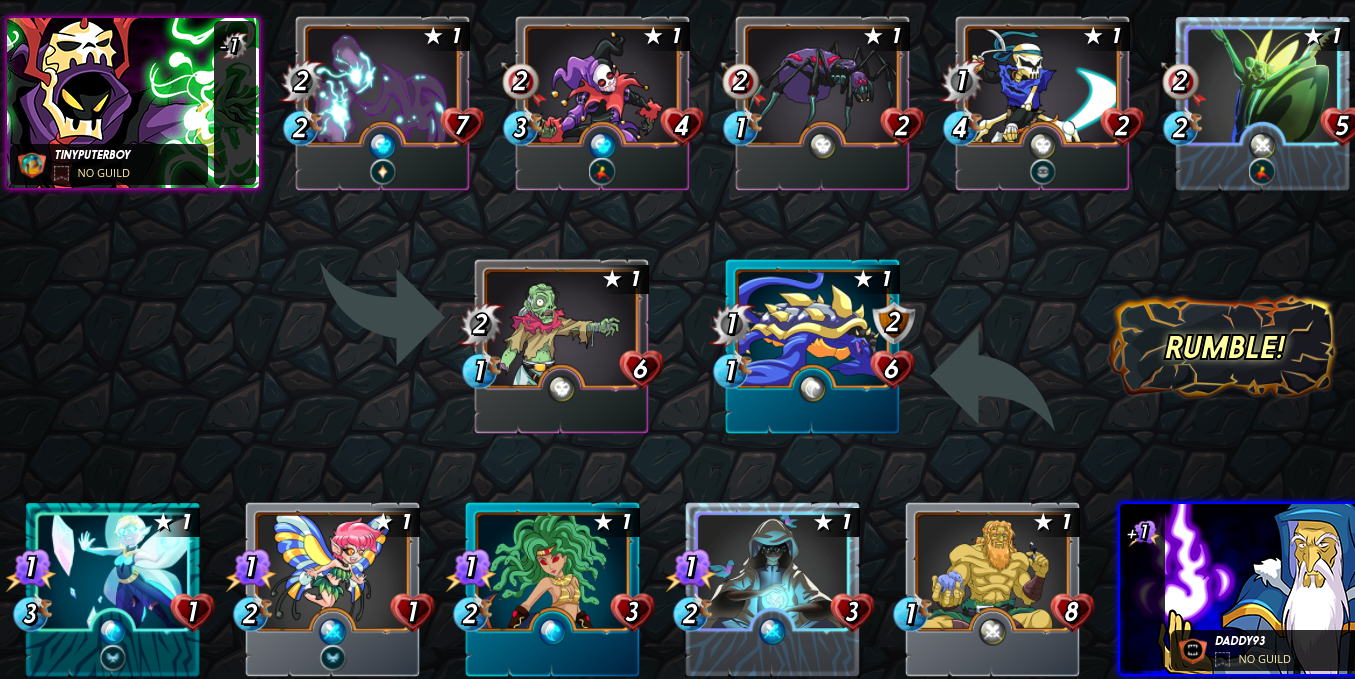 I caught a break and my opponent played water with lots of magic which was a good matchup for my team. It looked like everything would hinge on my Skeleton Assassin. If he could take out the two flying pixies at the tail of my opponent's team in the first two rounds, I should have it made with my anchor sneak and sniper being able to clean up the rest of the magic users. If the assassin missed his flying foes... it was going to get ugly really fast.
How did it turn out? You can see for yourself here.
𝐓𝐡𝐞 𝐑𝐞𝐬𝐮𝐥𝐭𝐬
As expected my momentarily Animated Corpse fell in the first round. Cannon fodder indeed! But there wasn't a miss in the entire match. My assassin's aim was true and by the end of round two my opponent had lost his two flying pixies, and his sniper guard had succumbed to 8 points of damage from my snipers. A sustained barrage of 2 point hits from my haunteds had brought down his tank as well.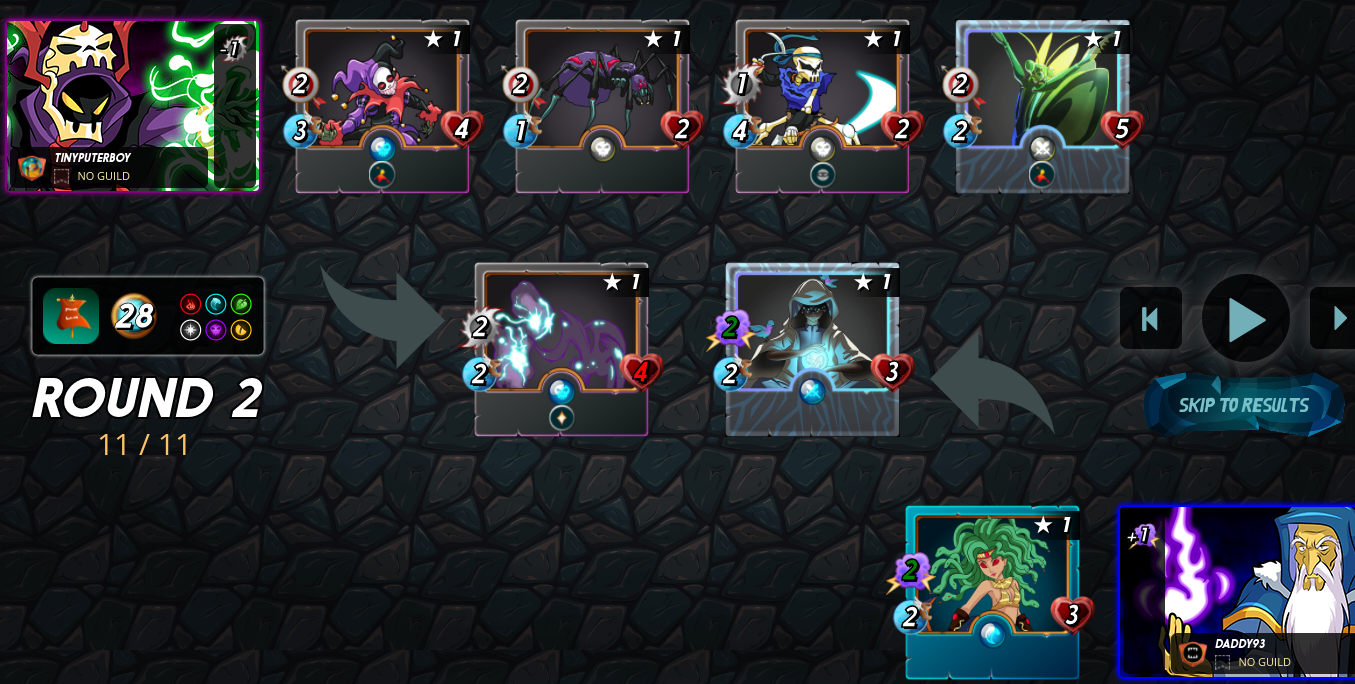 Spared 6 points of damage from the first round magic assult, my Haunted Spirit survived the whole match and victory was mine.
---
𝐂𝐨𝐧𝐜𝐥𝐮𝐬𝐢𝐨𝐧
I got a bit lucky, but the Animated Corpse served me well the first time I can recall using it. Still, I suspect this card will go back to collecting dust in my collection. Even when playing "hide the healer" the fire splinter's added punch and Cerberus' lower mana cost make fire seem like a better choice to me. But now it has my attention enough that it might see some service in Little League matches when the Haunted Spirit's 5 mana cost is one two high for it to be played.
---
---