Crypto Analysis | SPS Airdrop About To Finish - 10 Cents Soon?
Good day Hiveians!
Join me in analyzing the crypto markets!
Only 9 Days For The SPS Airdrop Remaining
This is a moment I have been waiting for a long time ever since it became clear that prices won't recover as long as the airdrop will continue. I think we can now pretty much definitively say that crypto airdrops are always going to put selling pressure on the price for the time of the airdrop. Only when an airdrop ends will prices recover. This means that an airdrop's purpose is to distribute a token/coin. After this distribution comes value accumulation. Of course only if the project has strong fundamentals. As this is the case for SPS, I am very confident of a price trend change which should take place now.
2 weeks ago I made this outlook: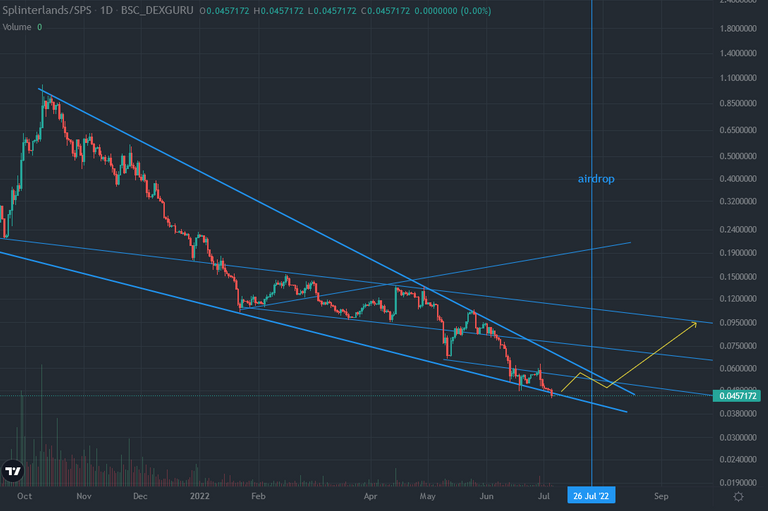 The idea behind this is that prices tend to break out before a wedge comes to a close. I have never seen price stay within a wedge until the end. This established wedge runs out in October of 2022. We can then argue that price should break out (to the top or to the bottom) well before that. With only 3 months of this time window remaining (and with almost 1 year being in it) I think it is likely that the price should break out beyond this channel sometime in the next days/weeks.
So far this outlook has been confirmed: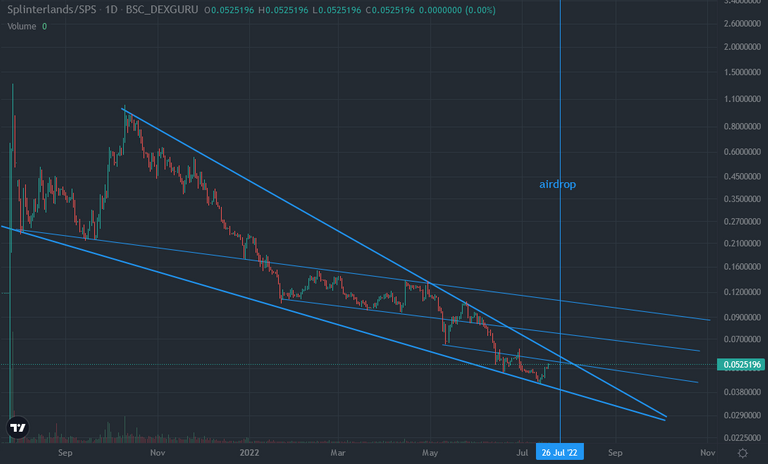 But of course you can go back for the entire year and see that he price always came back to the lower boundary. But again, the airdrop is coming to a close on July 26th!
We can see that this won't be an easy ride however. There is a lot of resistance in the area going up to 10 cents.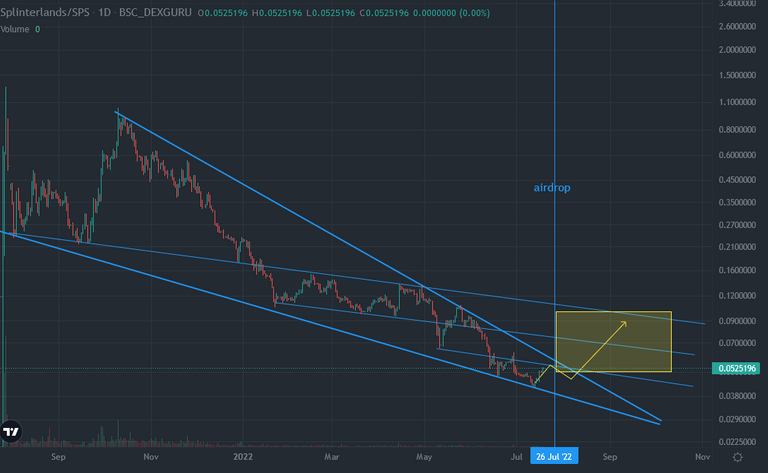 Nevertheless, breaking out of this wedge to the top is going to drive prices higher. Especially since SPS is also still being burned from the Validator Licenses Sale as well as the locked up SPS from the Riftwatchers sale. With almost no SPS being dropped to players or token holders in 9 days, the only way to get (a lot) of SPS is by buying it on the market. This will for the first time put buying pressure on the token.
The question is therefore rather how price will react to this new environment. WIll we see a massive pump to 10 cents and beyond or a rather gradual price increase or even a stagnation with a potential reversal?
---
As a general reminder: Please keep in mind that none of this is official investment advice! Crypto trading entails a great deal of risk; never spend money that you can't afford to lose!

⛅🌦🌧🌦🌧🌨☁🌩🌦⛅🌧☁🌤🌥🌪🌧🌨🌩⛅🌦☁🌤🌥🌤⛅🌤⛅🌦⛅

⛅🌦🌧🌦🌧🌨☁🌩🌦⛅🌧☁🌤🌥🌪🌧🌨🌩⛅🌦☁🌤🌥🌤⛅🌤⛅🌦⛅

---
---