Crypto Analysis | SPS Back On Track?
Good day Hiveians!
Join me in analyzing the crypto markets!
But it is anything but clear if it will hold. So far it has always failed to make a sustainable trend change with the longest one being only several months before descending back into the falling wedge.
Several months ago I laid out a scenario which was very likely in my opinion. It saw SPS falling to 2 cents (which it almost did) and then a strong reversal to 3 cents.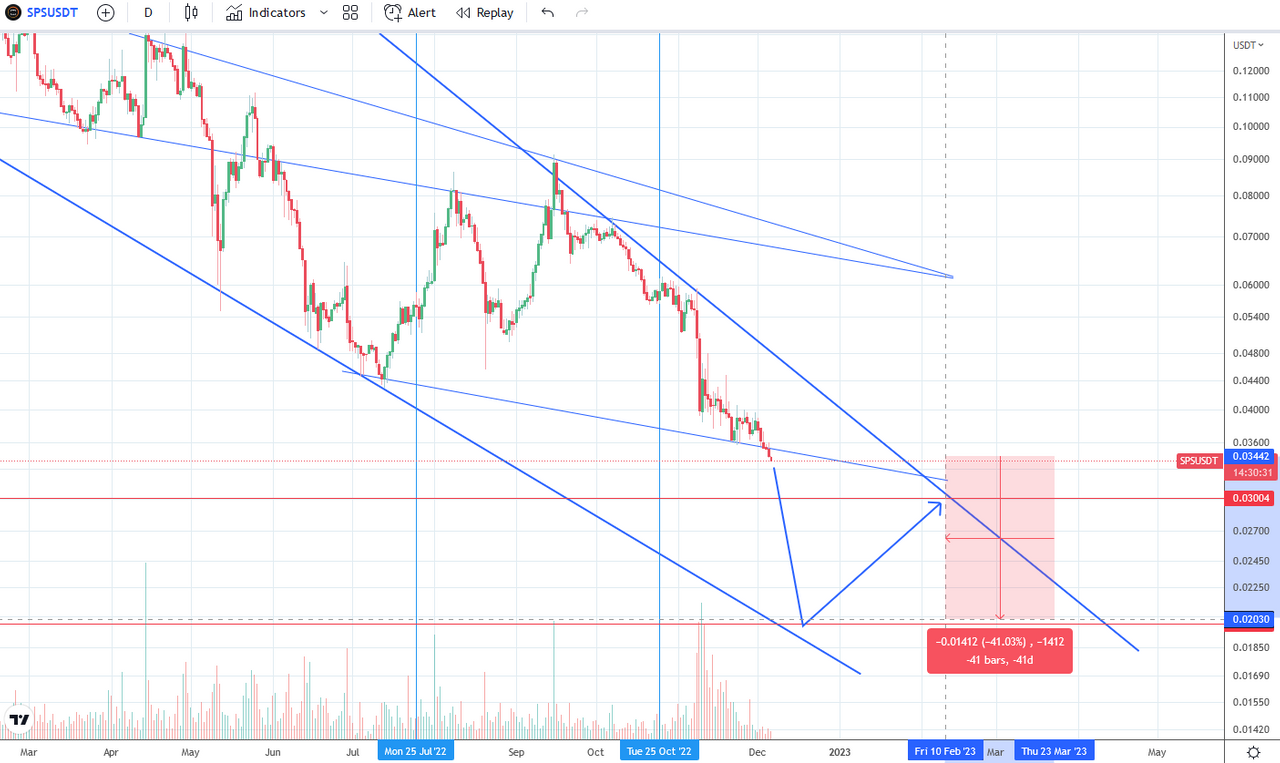 So far we are right on track to this as seen in the most recent chart: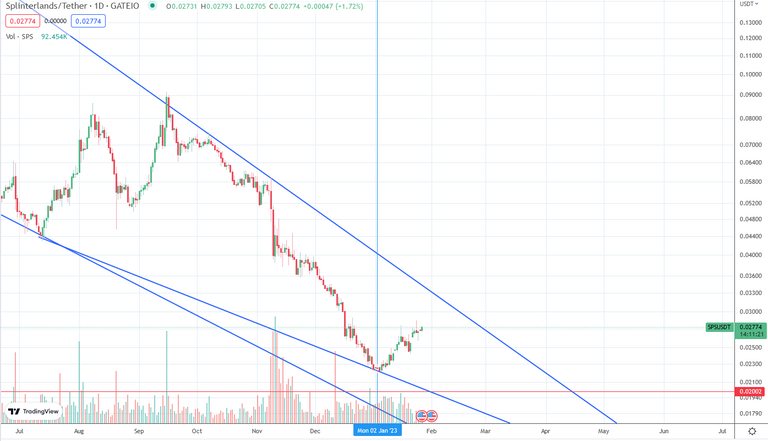 There is now once again a chance for SPS to break out of the falling wedge. But before anything like this can happen it has to continue the upward trend which might happen in 2 steps. First, a rejection at the current trend line resistance (upper wedge) and then another push upwards breaking the wedge. It could look something like this: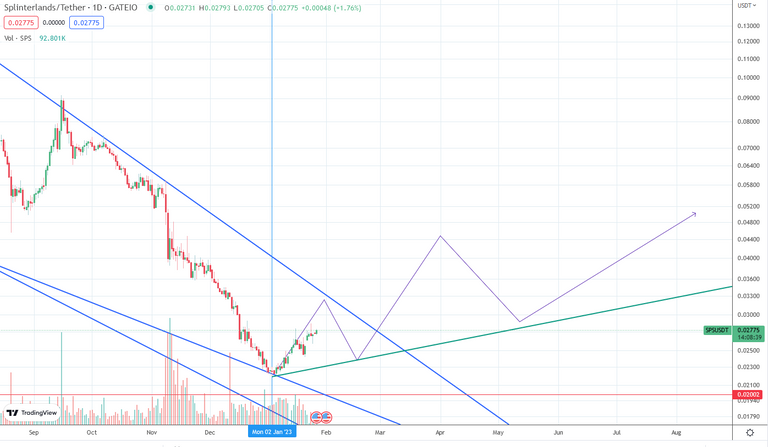 If so, we are still not out of the woods, since this is exactly what happened in summer of 2022, but SPS crashed down and made a lower low once again in the fall of that year. What we need is to establish a rising channel of which the support (in green) could look something like this:
Overall it is positive that price did not reach the lower support of the falling wedge. This has so far always happened. One reason is that this would have been at sub 2 cents (!) which is ridiculous for this project being the #1 blockchain game. Even with the flawed economics currently it does not justify such a low price. To me this indicates that we will not see a lower low (~2.2 cents) and that there is indeed a very high chance to establish this rising channel.
But even so, this still would indicate a very slow recovery for the price as it could take 1 year for SPS to be at ~20 cents again. But this game has always been about the long term.
---
As a general reminder: Please keep in mind that none of this is official investment advice! Crypto trading entails a great deal of risk; never spend money that you can't afford to lose!

⛅🌦🌧🌦🌧🌨☁🌩🌦⛅🌧☁🌤🌥🌪🌧🌨🌩⛅🌦☁🌤🌥🌤⛅🌤⛅🌦⛅

⛅🌦🌧🌦🌧🌨☁🌩🌦⛅🌧☁🌤🌥🌪🌧🌨🌩⛅🌦☁🌤🌥🌤⛅🌤⛅🌦⛅

</center
---
---