Crypto Analysis | SPS Update
Good day Hiveians!
Join me in analyzing the crypto markets!
After an almost 5x that is to be expected! Currently SPS is trading at around 55 cents, down from a high of around 90 cents. However, I think this downward movement has probably reached its low point. Let's have a look at the chart: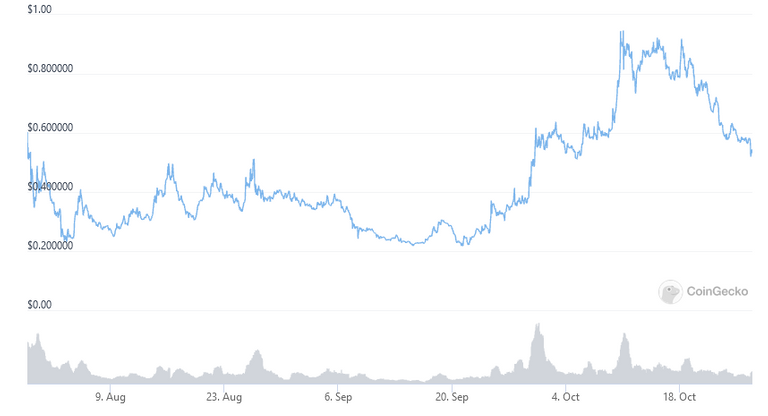 One reason for this downturn is a natural reaction to a massive increase in price. Another reason is that the former ATH was not broken. This generally leads to a bigger rejection. However, with more than 40% down currently, we have probably reached the bottom. This makes especially sense, since there is still a big demand in SPS for the Chaos Legion presale as well as the still pretty good ~55% APR.
In another chart you can see SPS compared to AXS. Every coin goes through these corrective cycles and for AXS we saw more than a 50% drop at a similar stage in its price development. It is quite likely that SPS will follow a similar path like AXS which would mean a continued increase in price. Once we break the former ATH, we should easily reach into the 2$ range.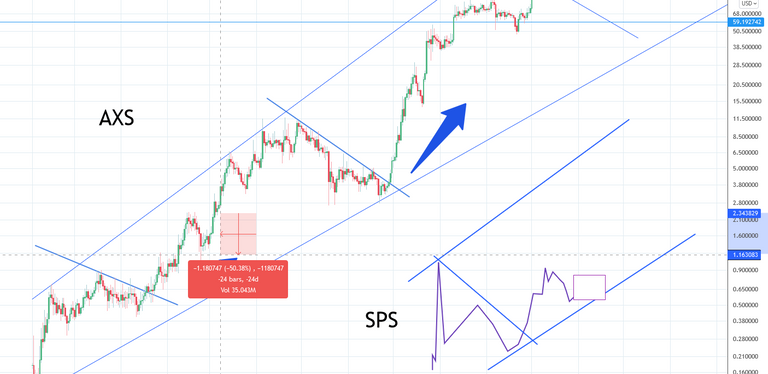 ---
As a general reminder: Please keep in mind that none of this is official investment advice! Crypto trading entails a great deal of risk; never spend money that you can't afford to lose!

⛅🌦🌧🌦🌧🌨☁🌩🌦⛅🌧☁🌤🌥🌪🌧🌨🌩⛅🌦☁🌤🌥🌤⛅🌤⛅🌦⛅

⛅🌦🌧🌦🌧🌨☁🌩🌦⛅🌧☁🌤🌥🌪🌧🌨🌩⛅🌦☁🌤🌥🌤⛅🌤⛅🌦⛅

---
---