Crypto Analysis | SPS: When will the Correction be Over?

Good day Hiveians!
Join me in analyzing the crypto markets!
SPS has been in a 2 month correction, when will it reverse?
3 weeks ago we were already waiting for the breakout to the top. But instead we got a continuation of the correction. I have to say that this surprises me as SPS has everything what it takes to be very successful:
-#1 Blockchain game!
-Fantastic team behind it
-Amazing development
-and the list goes on and on
The one thing that seems to be able to explain the sluggish price development is the airdrop which is not even half way through. With players in general getting massive amounts of SPS and many of them selling it, it puts a great deal of downward pressure on the price.
In this chart you see the whole price development (but ignore the last red spike, it's an error)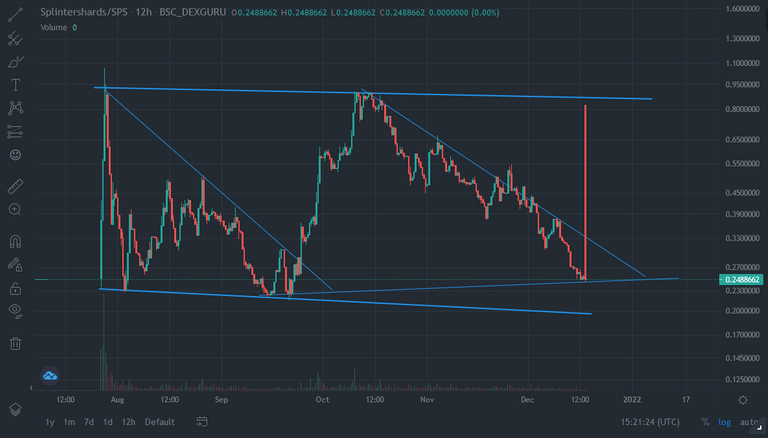 What you can see is that we have two waves with a very similar pattern. In the first one the impulse wave is much more pronounced than in the second one, but generally speaking it is the same fractal. If price were to continue its downward decent, it would be extremely bearish. But I don't see that happening unless the whole crypto market turns bearish. Instead, I am expecting the crpyto market to push into its final bull market phase int he next months.
The strong (unexpected) correction means that my former price estimate of ~$10 for the crypto bull cycle top is not standing anymore. Instead, I think $2-5 is more likely.
As such, I think we are bound to break out of this corrective phase very soon and one possible scenario could look like this: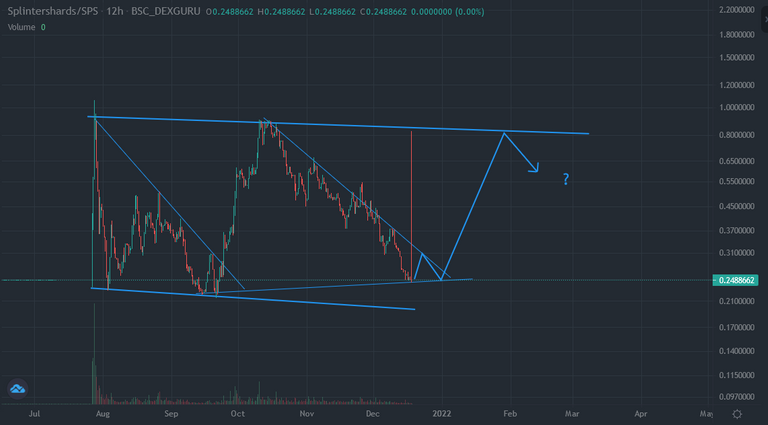 The big question is rather will price remain in this channel or will it be able to break through it at around 80 cents? I think it will, but before that we obviously still have to break out of the ~30 cents resistance.
---
As a general reminder: Please keep in mind that none of this is official investment advice! Crypto trading entails a great deal of risk; never spend money that you can't afford to lose!

⛅🌦🌧🌦🌧🌨☁🌩🌦⛅🌧☁🌤🌥🌪🌧🌨🌩⛅🌦☁🌤🌥🌤⛅🌤⛅🌦⛅

⛅🌦🌧🌦🌧🌨☁🌩🌦⛅🌧☁🌤🌥🌪🌧🌨🌩⛅🌦☁🌤🌥🌤⛅🌤⛅🌦⛅

---
---