Playing Splinterlands Makes No Sense Financially Speaking
It's a catchy title, but it's also kinda true (for me)
What I mean is that the actual game - playing the cards and earning reward chests seems to make no sense from a financial point of view currently. But there is a silverlining, so keep reading :)
Also you might want to read @jongolson post about his season rewards which is exactly the opposite take on rewards :) I guess what this means is that currently we can't say too much about rewards as it has only been 1 season and there is still a big element of luck involved.
So here it goes...
With the new rewards system in place I was eager to see how the changes affected the rewards. After playing probably 8 or 10 hours this season (maybe even 14) I got 47 Diamond loot chests. This wasn't ideal as I should have played for the gold chests, but since the highest league determines your loot chests I was "stuck" in diamond. I guess playing for gold loot chests would give me quite a bit more chests at the end of a season, but of course the chests themselves are not as good as diamond chests...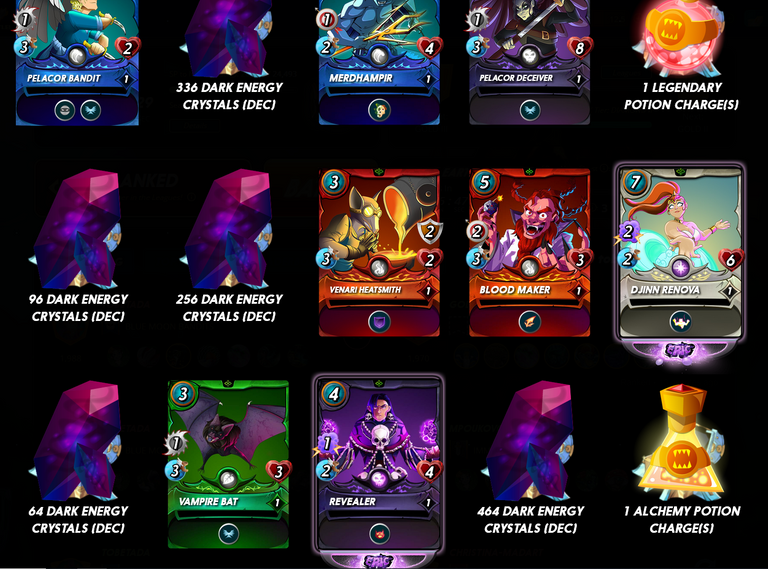 My point is that the net value of all of these chests is about $5 (in the best case scenario). It was a mix of DEC (about 3k) some epic cards, 1 gold foil common and more common cards. In the past this wouldn't have been all too bad. But now that DEC is trading at its intended value again (even a bit lower) and we have a lot of card inflation, the rewards are not very high. I mean even legendary cards are now worth only about $3-8 on average with gold foil legendaries not even that much higher. In the past gold legendaries were actually worth some money. Like in the thousand $ range! Crazy times. The best cards I got (epics) are only worth 30-40 cents.
So $5 for about 10 hours of playing (not even counting the focus chests and the amount I played for them which is even a worse trade off) gives me about 50 cents/ hour. Ouch! Is that worth it? I actually don't think so. The bad thing is that renting the cards currently is even worse. For a CP of 350k+ I think I would be getting only a couple of thousand DEC rewards/day. At current prices this is only maybe $2... Ouch again!
Other Streams Of Income?
There are actually other options... But before we go there, we have to of course acknowledge that the example shown is a current example. Times will change again, and I have no doubt that some of the cards will gain in value, perhaps with the release of land. Although DEC will probably stay at its intended peg. So there still isn't that much of a potential, unless the game 10xes and prices for cards will go through the roof (as we have seen before). I think the team can actually pull something like this off. They are dedicated and are not rushing things. They have a long term perspective. These are really good to have. So the only point to play currently is too speculate that the game could 10x or 100x in the future making all assets much much more valuable.
So these other options... It is actually a much better idea currently to buy SPS. The staking rewards, especially the vouchers are still really good! This is currently actually my biggest income from the game. SPS itself is almost worthless currently and also here one can also hope/sepculate that it will get much more valuable in the future. Could we see $1 again? I think it is possible. But probably not for at least another year or so.
The Game Is Fun To Play!
I have to be honest, I love the game! I really like playing it (until I get matched up with players that are way above me) and this is what keeps me going. I know that for many people it's not even so much about the money. They simply enjoy the game. You know, like we all did before web3...
So there's that. I will probably not sell my Splinterlands assets, unless we get some crazy crash for Hive down to 15 cents or so. Since the NFTs seem to provide a fairly good hedge against the market downturn currently it would be almost a no brainer to sell them. Or would it?

⛅🌦🌧🌦🌧🌨☁🌩🌦⛅🌧☁🌤🌥🌪🌧🌨🌩⛅🌦☁🌤🌥🌤⛅🌤⛅🌦⛅

⛅🌦🌧🌦🌧🌨☁🌩🌦⛅🌧☁🌤🌥🌪🌧🌨🌩⛅🌦☁🌤🌥🌤⛅🌤⛅🌦⛅

---
---