Splinterlands: Bots Still A Main Player
In February we saw the introduction of soulbound cards
This seemed to temporarily have an effect on bots. Back then we saw a decline in accounts playing, but the amount of battles was still roughly the same.
The number of accounts playing is fluctuating between 100k and 200k now. Before soulbound cards this number was generally always above 200k. So we can definitely say that there are far less accounts playing.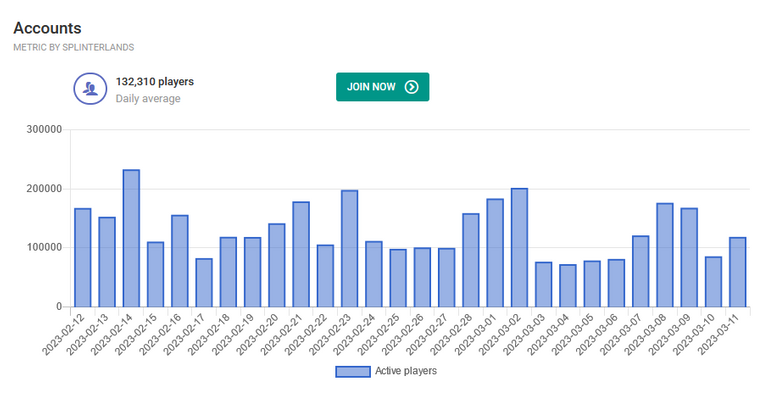 The number of battles was about 500k before February. Now it is at about the same levels. However, we are seeing some "anomalies": There were about 2 weeks of a drastic reduction of battles and recently there was a shift from wild to modern battles. It is so extreme, that I feel this can only be explained by large bot farms switching from one mode to another.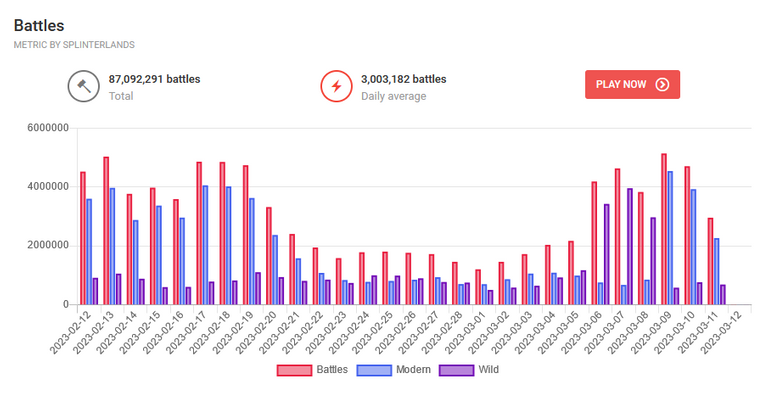 Last time we concluded:
people are playing much more actively, and bot farms have consolidated their assets into fewer accounts.
But seeing such a large shift in the type of battle in just one day, it seems clear that bots are still a driving force in Splinterlands. Playing in gold has now also resulted two times in a long streak when I just played against bots. These accounts were generally quite weak and played poorly which is of course for the human player. The names of the bots also indicate that each bot farm has at least 999 bots playing. (Un)fortunately this means that there must still be tens or even hundred of thousand bot farms actively playing.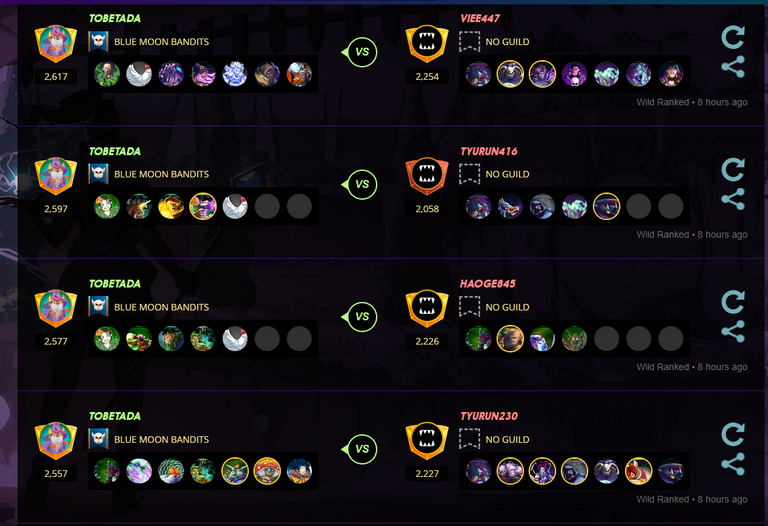 But the good news is: it has become very difficult for them to extract value from the game. It is going to be very interesting to see how this game evolves with LAND and battles 2.0

⛅🌦🌧🌦🌧🌨☁🌩🌦⛅🌧☁🌤🌥🌪🌧🌨🌩⛅🌦☁🌤🌥🌤⛅🌤⛅🌦⛅

⛅🌦🌧🌦🌧🌨☁🌩🌦⛅🌧☁🌤🌥🌪🌧🌨🌩⛅🌦☁🌤🌥🌤⛅🌤⛅🌦⛅

---
---