Tip For Buying Chaos Legion Pre-Sale Packs!
If you are planning on buying some Chaos Legion pre-sale packs, here is a small tip
You might have noticed that there is a bonus for buying packs starting with 100 purchases. You then get an aditional 10 packs, i.e. a 10% added bonus. The other tiers are 500 packs (15% bonus), and 2000 packs (20%). But you don't have to buy all your cards at the end of this event to utilize these bonuses!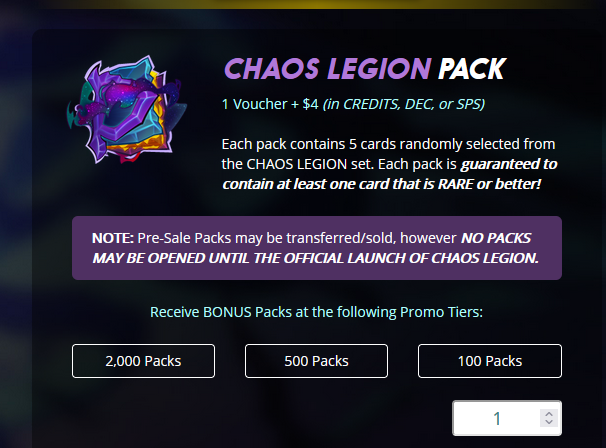 You can buy your cards once you qualify for the desired bonus and buy more later and receive the same bonus. For example, if you calculate that you will get 223 vouchers for the total time period, you can start buying packs once you have 100 vouches. You then receive 10 extra cards.
Then you wait until you get the remaining 123 vouchers at the end of the event and receive a bonus of 12 cards. In total you will in this way get 22 bonus cards.
If you were to buy everything at the end you would also get 22 bonus cards. So what's the difference? The diference is that you will get the airdrop point bonus for the time you have purchased the cards. Every pack will give you 300 airdrop points. So buying 100 let's say at around the middle of the event (at 2 weeks) will get you 30,000 airdrop points which you would only get two weeks later if you were to buy all the packs at the end of the event.
30,000 points * 14 days is an accumulated 420,000 air drop points! or about 50-60 SPS!
The only thing you have to make sure is that you buy the intervals at the threshold of the bonuses. So, e.g., if you buy only 95 cards in the middle of the event and then buy the remaining 128, you will only get the 10% bonus for the second purchase.
Share more tips in the comment section!

⛅🌦🌧🌦🌧🌨☁🌩🌦⛅🌧☁🌤🌥🌪🌧🌨🌩⛅🌦☁🌤🌥🌤⛅🌤⛅🌦⛅

⛅🌦🌧🌦🌧🌨☁🌩🌦⛅🌧☁🌤🌥🌪🌧🌨🌩⛅🌦☁🌤🌥🌤⛅🌤⛅🌦⛅

---
---