A final reminder, WOO Rewards with 70% APR for HP Delegation launch this Friday!
With only a couple of days left before rewards start to be distributed for your HP delegation, it's the perfect time to get involved and start earning WOO. At the time of writing, you can currently earn over 70% APR for delegating to the @wrestorgonline account, with WOO rewards being distributed every minute from Friday.
A total of 30,000,000 $WOO over three years to HP delegators. The APY will change dependent on the total number of delegators, their delegation amounts, and the price of Hive and WOO, but we've set it at the amount to provide a remarkable return while helping boost the visibility of the WOO community.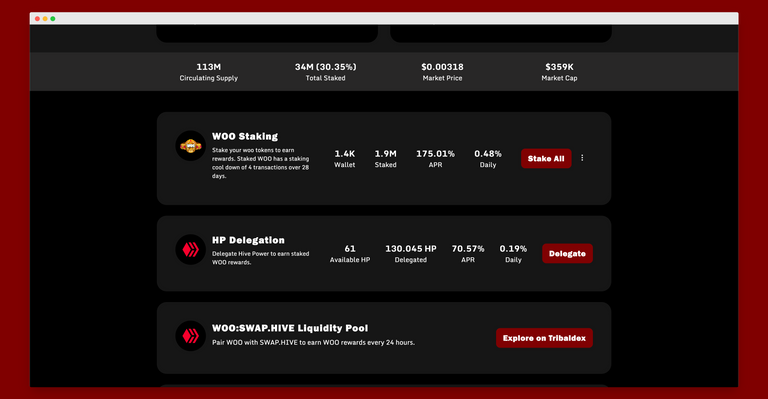 How to Delegate
To get started, visit our website, delegate via Peakd, or delegate using HIVE Keychain today. Thanks for supporting WOO, and we look forward to bringing our user's new utility for the $WOO token and our various assets.
---
In case you missed it, @wrestorgonline recently launched their new rewards program for Hive Power (HP) delegation, meaning you can delegate your HP to @wrestorgonline and earn rewards based on your delegated balance. You can read more about it here:
https://peakd.com/hive-167922/@wrestorgonline/woo-now-offers-rewards-for-hp-delegation
---
Learn More
If you're looking to get started with WOO or learn more, you can use the links below 👍
Website: https://wrestlingorganizationonline.com/
Marketplace: https://woo-prod-client.herokuapp.com/market)
Twitter: https://twitter.com/WrestOrgOnline
Discord: https://discord.gg/Y3j8WeyECe
---
---