Weekly Battle Challenge Disintegrator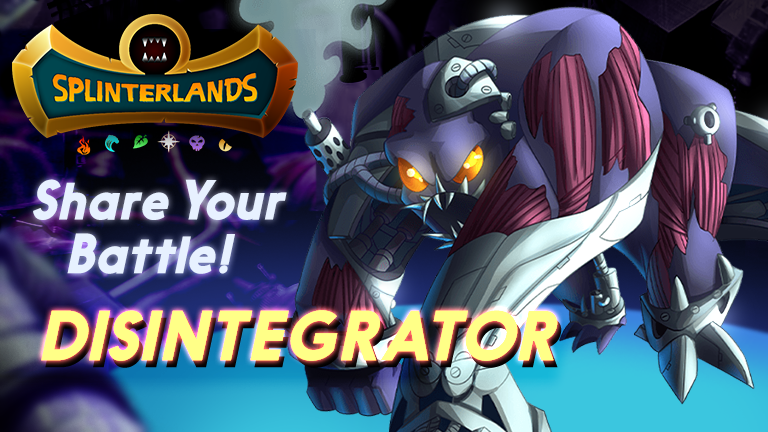 THEME: DISINTEGRATOR
Edition: CHAOS LEGION
Rarity: COMMON
Element: NEUTRAL
Attack: MELEE
Abilities: Demoralize
I Do like this card, it was the first gold foil I pulled when I started opening Chaos Legion packs. Neutral with demoralize can be huge depending on what you are going up against.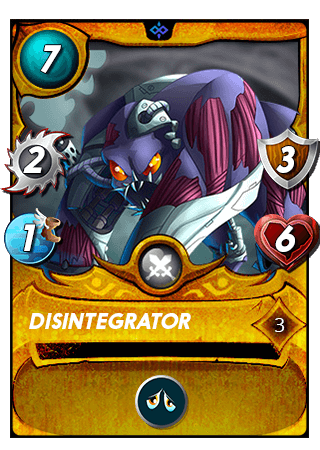 My Battle
44 mana, Noxious Fumes, Reverse Speed with only Fire and Dragon.
https://splinterlands.com?p=battle&id=sl_753ec77d814aea9f93a2ed81f64d987a&ref=tourack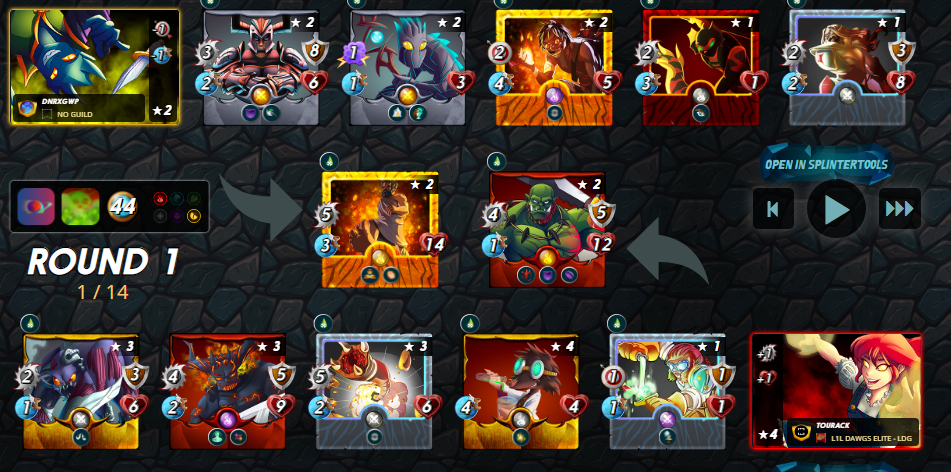 My Line up:
Tarsa - Plus to attack and HP
Grum Flameblade - Main Tank plus only one speed so perfect for this
ruleset
Halfling Alchemist - There to drop first position attack (if he hits- I have bad luck with him ;) ) also there to take any snipe or opportunity off of My Scavo Chemist so he can do his job
Scavo Chemist - Cleans first position, No Noxious Fumes match should be without one of these cleansers
Sandworm - Slow so good here and decent damage with sneak
Forgotten One - Basically OP for Noxious Fumes matches as it starts out with immunity, and here has retaliate which will help if he gets to the front line
Disintegrator - I stuck him in the back to take some sneak hits and provide the demoralize, since it's fire and dragon there should be a fair amount of melee
When i see my opponent is running Qix the Devious and no dragon monsters, not going to lie i'm a little confused since Qix drops my speed which actually is going to help me, I also don't see any cleansers so they are going to have to work through the poison damage from noxious fumes.
Round 2
As the poison is about to kick in you can see that their magnor and serpentine spy are both going to die without doing much, I am going to lose the alchemist but he did exactly what I intended him to do. My Grum and Forgotten One are both poison free so this is already looking like a lock since their whole team has poison.
Round 3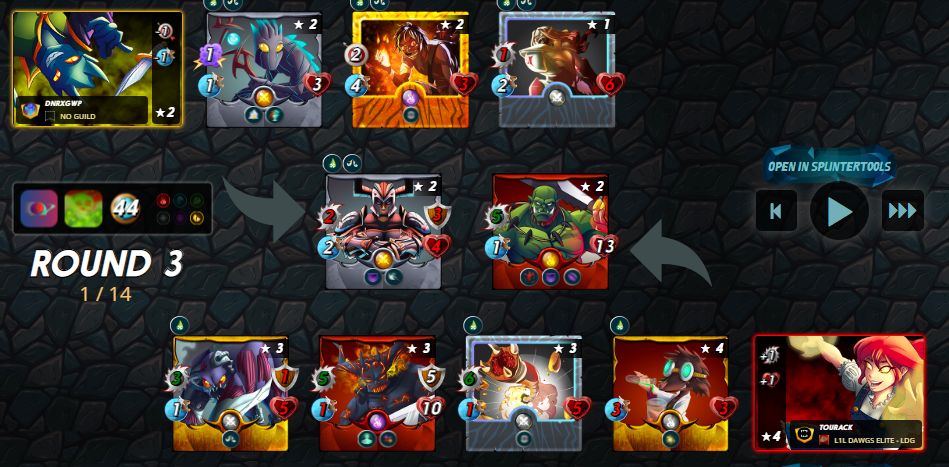 Everything of mine will survive the poison and the demoralize is just the icing on the cake reducing any incoming damage still at this point.
Round 4
Yup their monsters are dead to poison and then the ranged unit comes up front to get killed by Grum, Perfect execution.

In Conclusion
This was a perfect read on the situation, disintegrator demoralize ability definately helps the tanks to sustain the front line longer and even makes an alright back line tank to defend your sneakers. I wouldn't have changed a thing as I felt that two units cleansed coupled with the reduced damage was the clincher. Disintegrator is one of my Favorite neutral cards as it is very versatile and fits just about anywhere, I do look forward to levelling him up and using him at higher tiers.

If you are not playing splinterlands please feel free to click the link below and join up with the most amazing blockchain game out there. Thanks for reading.
Referal Link:
https://splinterlands.com?ref=tourack
#SPLINTERLANDS
#play2earn
#SPLINTERTALK
#hivebits
#SPT
#oneup
Also you can reply !hivebits in the reply section and mint yourself hivebits to your hive engine wallet for free :)
Thanks again for reading
---
---