Low Mana Chaos Legion Cards Added For Improvements
Hi Everyone,
Since Chaos Legion has been out for some time, I have been trying to find some useful cards to add to my current lineups. I've been comfortable with what I've been using for the longest time but after seeing some of my opponents use the new cards, I think its time to give myself a small upgrade to allow myself to stay at my currently level/league or if I'm lucky, stay in Diamond 1 comfortably. I have a large amount of cards but as more players come into the game with new strategies and skills, I use these opportunities to learn from them when I loose a match.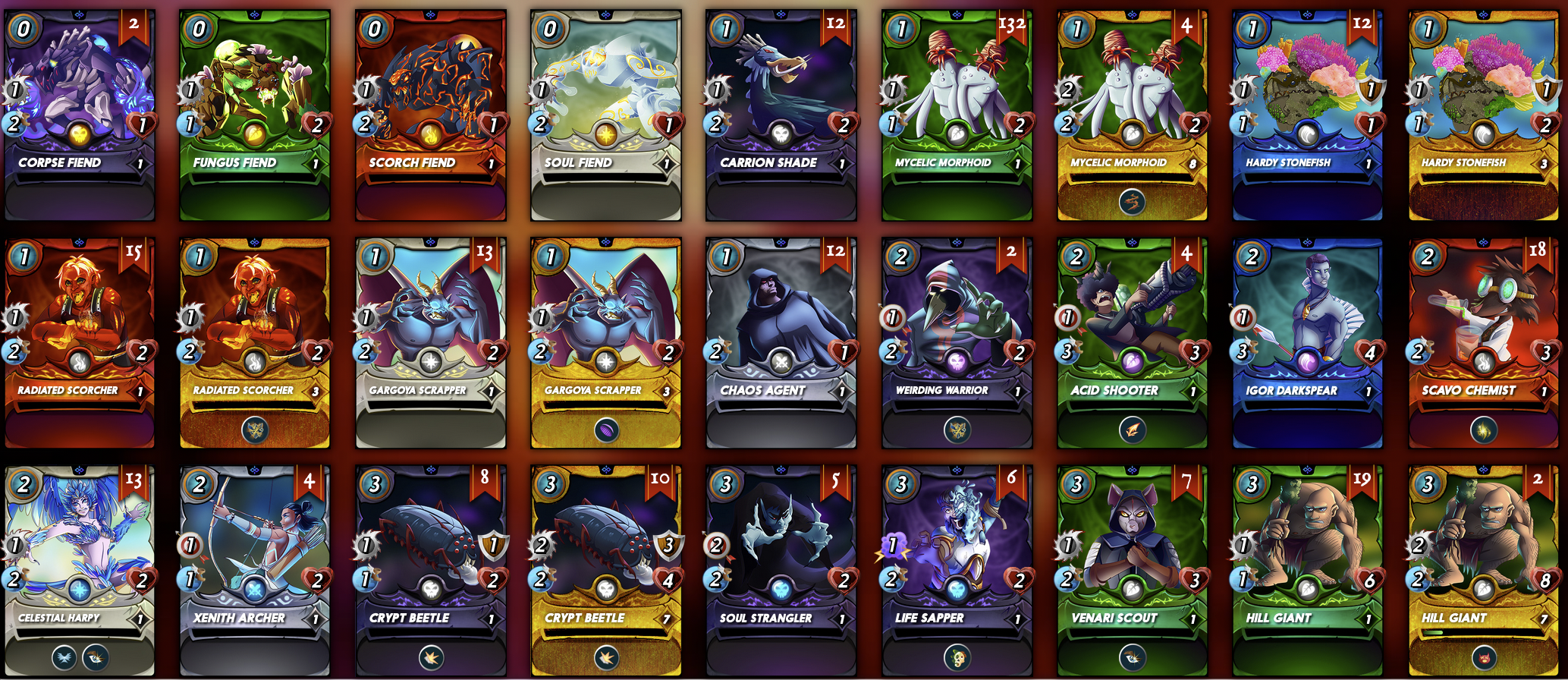 I find my weakness normally are the low mana games as I actually don't have any lower mana high level cards. So recently I have been focusing on low mana cards to at least try and give it a go when these games come up. So let me recommend some cards which I found useful when I'm playing the death and earth splinter. There are many cards out there from the new series that are useful but this is mainly for my own lineups with low mana. Also to note, the new additions are all in gold as they give extra bonus DEC if I win a game using them so in the long run, it is well worth it. Although the initial investment seems higher, but in the long run, gold cards keeps its value (or gets valuable like we have seen in the past) but that extra DEC award adds up each match.
The first one would be the Hill Giant. With 3 mana, this guy is a nice little tank who could take a few hits at level 7 which I currently have him at. Paired with Queen Mycelia also from the Chaos Legion series, the added protection could potentially give that extra survival chance. If he hits his opponent by chance, they might get stunned meaning we potentially have another lifeline. For a common card, this card is definitely one to keep an eye on if you want to work on low mana games.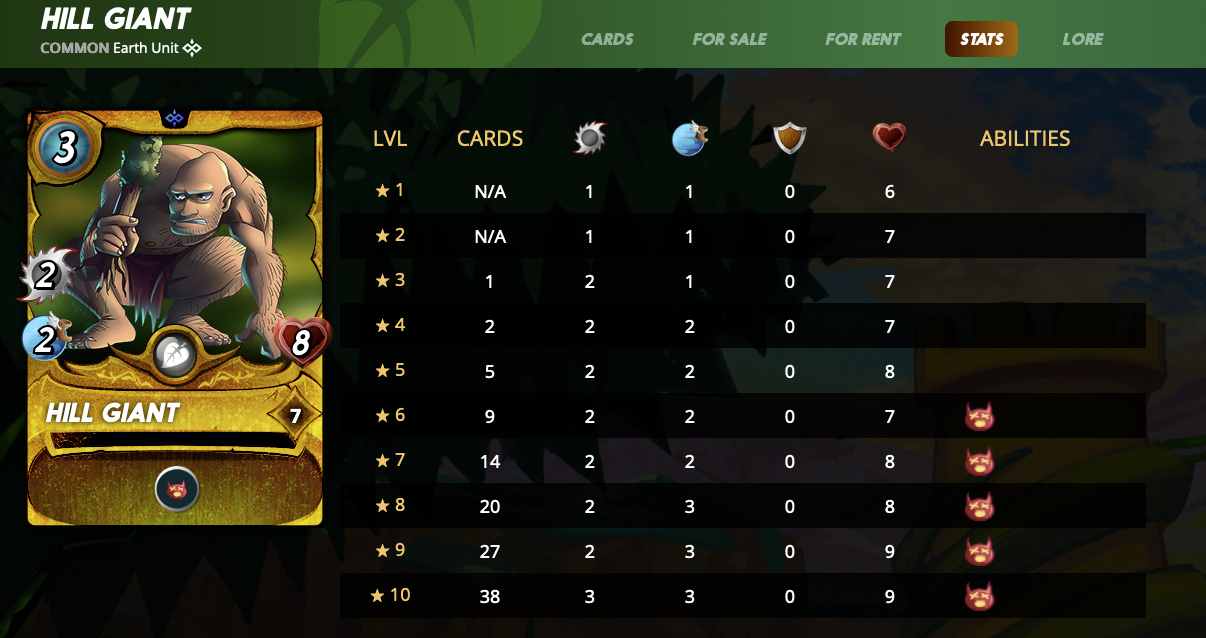 The next gem I found also from the earth splinter called Mycelic Morphoid. To use this monster, it only costs 1 mana which is great to add to those empty slots. For a common card with low mana, it already has an ability at level 3 which makes this card extra attractive. There are already a number of sneak monsters sitting at level 2 and 3, therefore having a monster with throne at the back for those lower mana games is pretty deadly. Again, if you want extra protection this card isn't great for normal games but for the lower ones, definitely a great addition.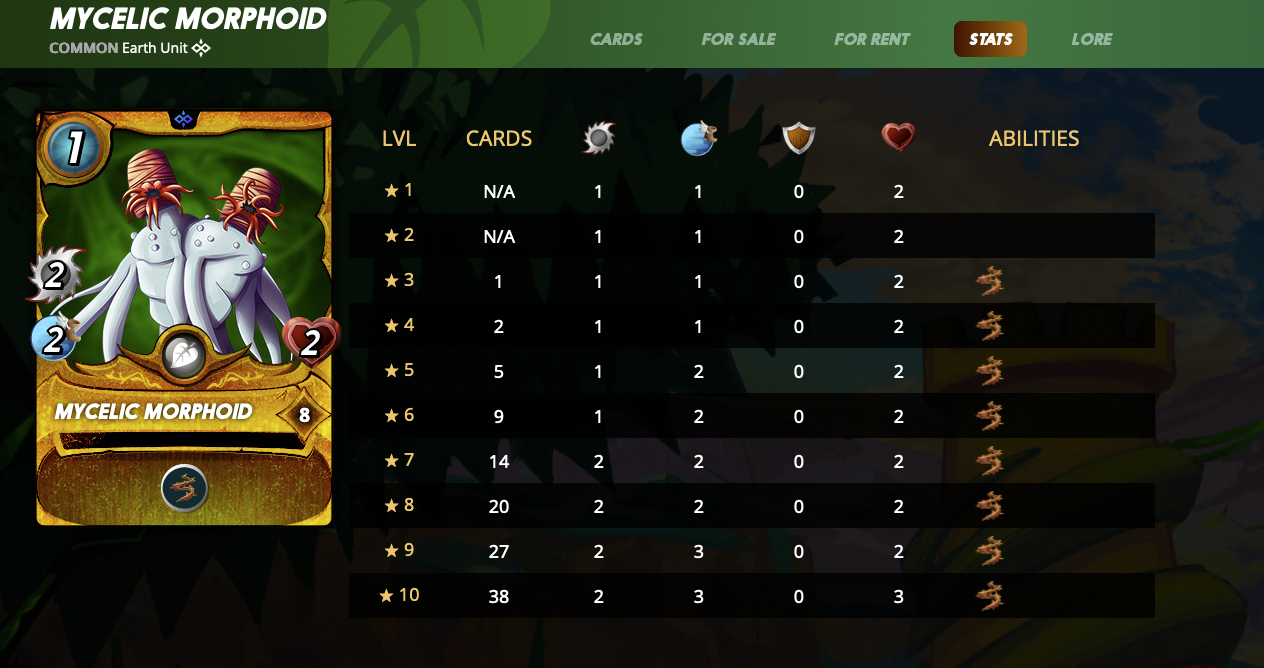 Moving onto the death team, the Crypt Beetle is my new favourite for low mana game play. At level 7, it has 3 shields, 4 health plus the shield ability which again could take a few hits. I don't have any low mana tanks in my death team so when I saw this card, I loved it. Unless the other team has magic and I get taken down the first one or two hits, this one has been a winner for me. The price of the card at the moment is still pretty attractive considering the number of packs opened aren't that high so it is still pretty affordable if you are on a tight budget. Though I don't recommend using this card for higher mana games at all, just a waste as it is not that powerful as there are many more choices for those higher mana games.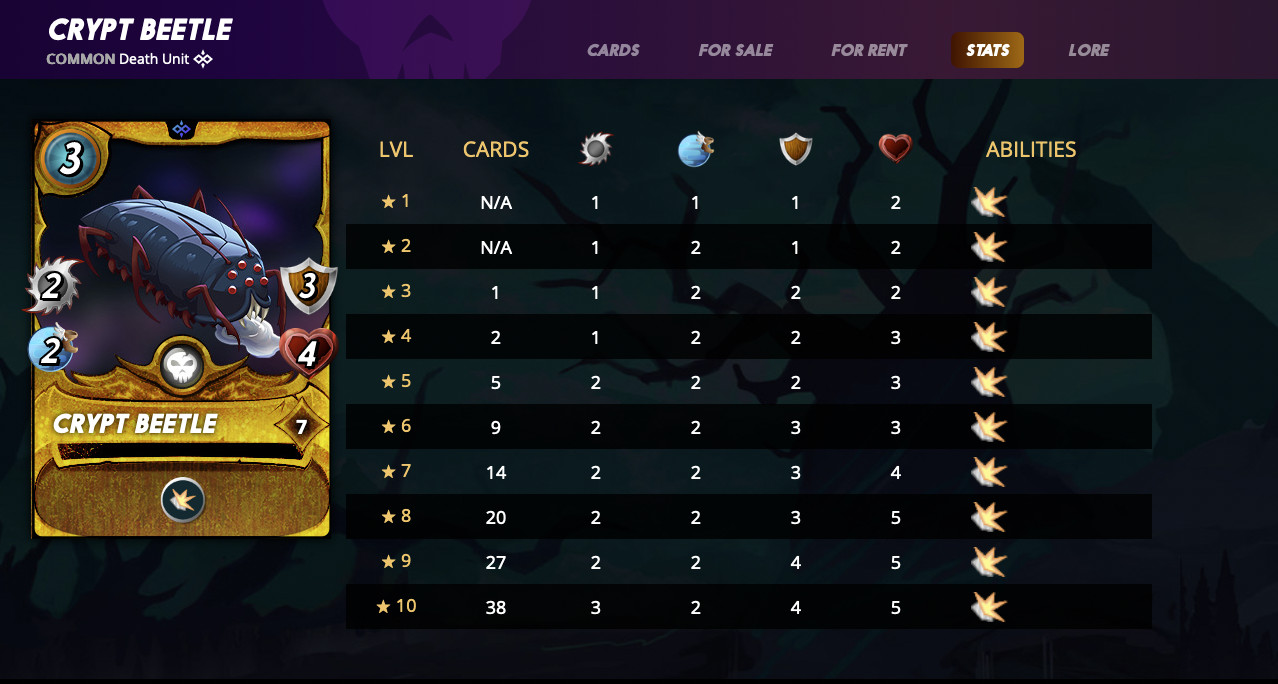 I save this one till last as I wasn't complete sure if I liked it or not. When people see a card has no attacks, they normally just look past it but from past experience, cards like Lord Arianthus & Pelacor Conjurer don't have attacks but use them all the time because they are super useful depending what abilities they have. This card at level 1, you already started off with 2 abilities. That is already a winner! At level 5, you get your 3rd ability the backfire which comes super handy if the speed of your monster is quick enough to not get it and at level 8, you get the 4th ability which is Headwind reducing range attacks on all enemies. Did I mention this card is a common? Sounds like a crazy card to be a common but I guess everyone else likes the card as much as myself because it is selling at 12c each card at the time of writing, at least 3x more than the cheapest common card on the market. What does that tell us, its a card to have and keep if you play the death splinter.
Do you have any favourites so far you want to share? I'm really just to spend what I think is appropriate and keep myself afloat comfortably and not struggle like a few months ago. It getting more competitive by the day with new players which also means I can't be lazy anymore and need to use a bit of brain power to put more lineups together.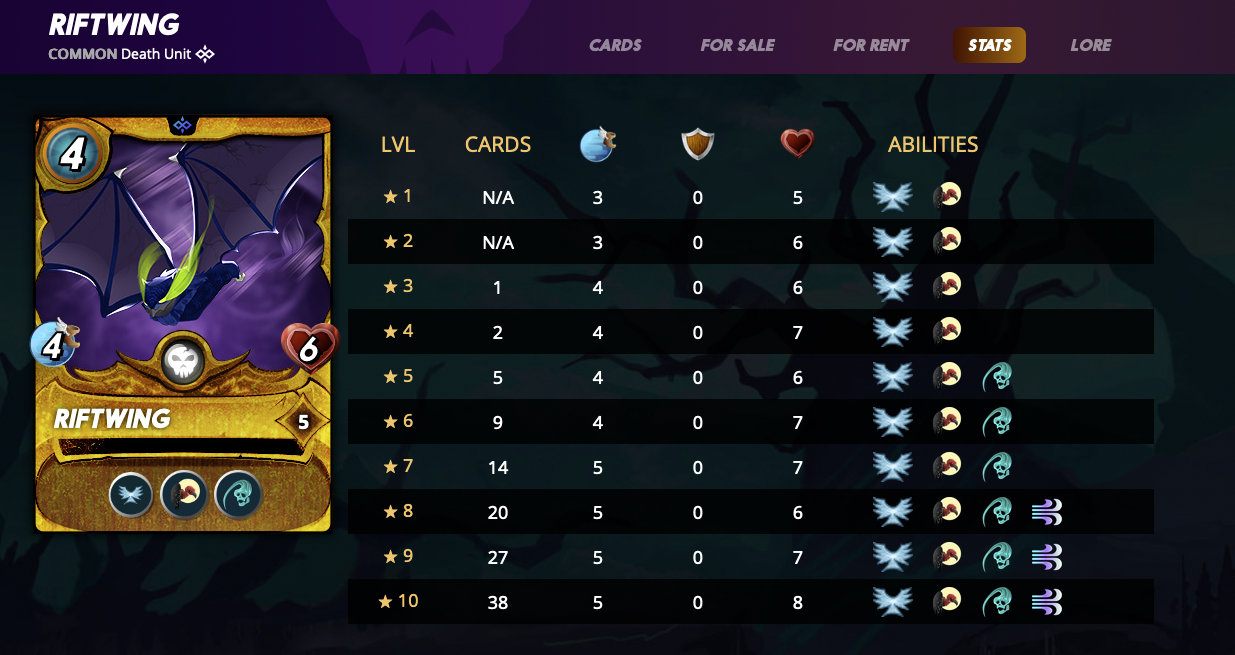 Source - Splinterlands.com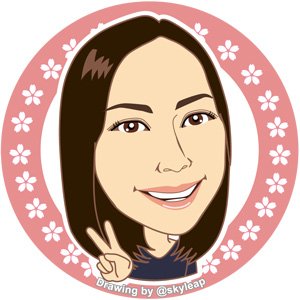 ---
Thanks for reading. If you like my post, please follow, comment and upvote me. There will be more exciting posts & destinations to come.
All photos & videos are taken by me & co in all my blogs/stories unless quoted.
Posted Using LeoFinance Beta
---
---