HIVE´s Farming Sim : DCrops - (Best time to invest is NOW)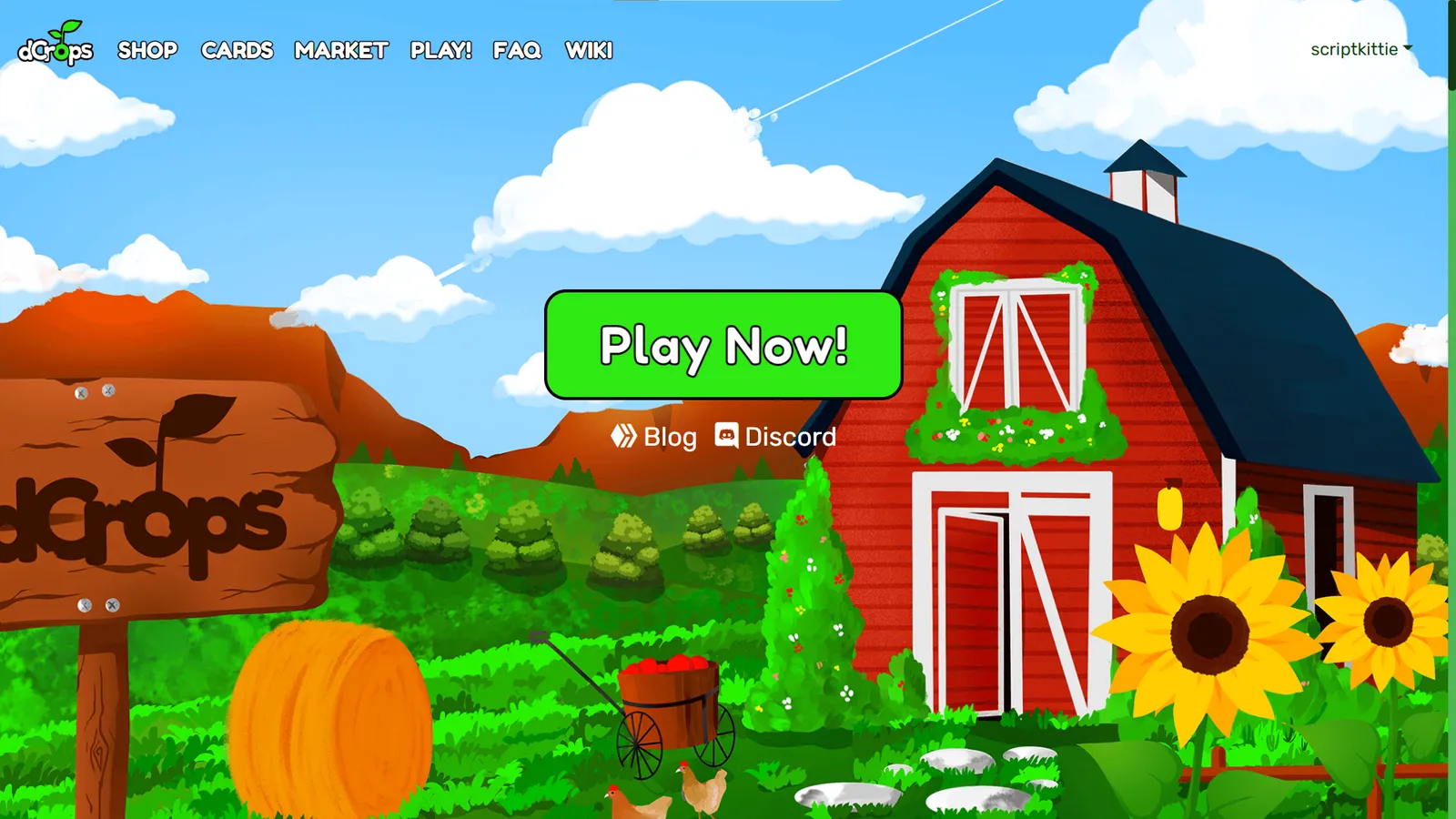 ---
Hello again community !
As always, it´s me , Trenloco.
This time I´m writing on something that is actually not Splinterlands! (really I promise)
Lately I have taken the time to explore and find out more about our HIVE network and what it has to offer. My main focus, as always, is NFT gaming.
In that , I found this amazing game called DCrops.


                                                            Look at that gorgeous art !
And my mission today is to shill it like my life depended on it get you as excited as I am for this game.
---
Why get into DCrops?
Before getting into actual gameplay, I´ll try to explain the main draws of the game. Everyone loves a good bulleted list, right?
Game is in Alpha , released around May. We are early investors

Simple interface, smooth gameplay and stable servers

Lots of room for growth plus active development (quests should be added before October)

Passive , relaxed gameplay (I check my crops daily, takes only a couple mins)

Holding rewards (that is , we get paid just for holding game toke, APR is around 60% and only rising)

Minimal investment (I recommend below to start with $20-26 but you can start farming right away with just a couple $)

Land NFTs will be much rarer or even cease to be minted after Alpha (as per the Dev). Finite land in a farming game, just think about it !

                                                            Stock up on these bad boys
---
Gameplay Overview
                                                                    Some of my farms
Gameplay is very simple at the moment. Get a land plot, get a seed and plant the seed in the plot.
Some quick pointers on gameplay:
After a variable amount of time, you can harvest the crop, which gives you something called SHARES. At the end of each season (more on seasons below), every farmer gets a piece of the reward pool (in the form of CROP tokens), according to the number of shares he produced.

CROP tokens can be withdrawn and sold straight on Hive Engine or be held to get **CROP POWER **(more on that in the holding rewards section).

The seasons are Spring, Summer, Fall and Winter. Current season changes after 15 days. You can only plant seeds and harvest crops that belong to the current season.

When a seed is planted, it enters cooldown, so it can´t be used again that season. You get to keep them though, for later seasons.

Rarer crops usually have better yields (that is, higher share/time coefficients). Plus some even have special abilities, like multiplying crop yields or having no cooldown.
---
Now is the best time to start, as we just entered Fall today. You can start planting right away, without fear of the season ending before your harvest is ready.
You could start right away with just under 1 HIVE !! Take a look at the ingame market, you could just buy that Average Farmland and sow it with Carrots.

Or you could choose the FUN path and crack open a few packs !!
Each pack costs $2 , paid by HIVE or CROP.
Current packs are from the first ever set (Alpha) and they contain 5 cards.
Check out pack odds in the following picture: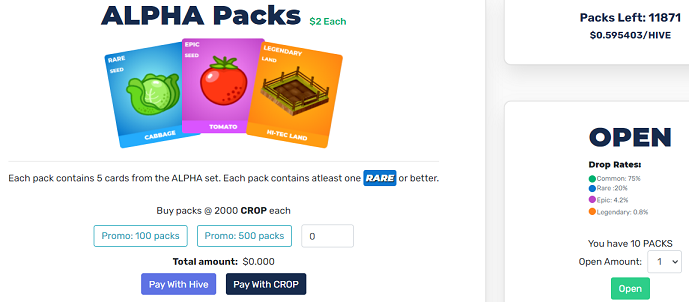 As you can see packs, like everything good in life, are limited. So get them while you can!
Protip: If you are going to skip packs and buy straight out of the market, go for RARE land plots, they are severely undervalued atm.
---
Holding Rewards and APR

An excellent explanation of holding rewards can be read in the following post from the game devs: Earn HIVE by holding dCrops assets! 211% APY!!! Details inside.
For the TLDR:
Every day your CROP POWER is calculated by adding your CROP tokens + 2000 per each unopened ALPHA pack + NFTs burn value + 3 star harvested crops.
The CROP POWER totals of the last 15 days is summed up and divided by 15.
If the result is greater than 20000, you get HIVE airdropped to your wallet.
APR for this is around 50% right now. This is not taking into account actual gameplay, just buying packs and holding them (not half bad, eh?).
Official discord has a channel with a stream of daily airdrops, here you can see my latest drip: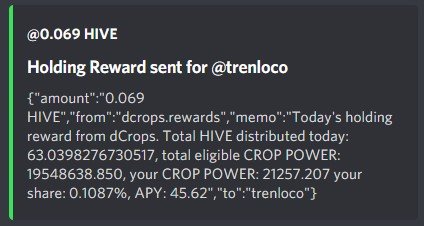 ---
Personal Recommendation
What I urge you to do is:
If you liked the post, use my ref link. and log in using Hive Keychain.
Buy at least 10 packs. This will give you exactly 20k CROP POWER, and after 15 days (remember the rolling average) you will start getting the HIVE airdrops.
Buy a couple more to crack open and start playing.
Check the game out now and then, grow your farm.
Wait for updates (quests coming VERY soon).
???
MOON
---
Aditional Reference
If you want to learn more about the game, you are always invited to the official discord server DCrops Official Discord.
Check out the following posts on PeakD:
https://peakd.com/hive-140217/@dcrops/introducing-dcrops-a-farming-sim-on-the-hive-blockchain-or-pre-sale-airdrops-and-more
---
As always, if you made it this far, all I can say is thank you !!
Go check out my Splinterlands posts too if you are into that.
Plus, I´m throwing a Pizza Party !
I will be giving out $PIZZA to the first 10 comments, be sure to drop a line.
---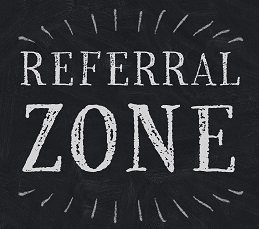 In case you have friends that are interested in Splinterlands. I delegate cards to my referrals, together with deck help to get them on the right foot:
https://splinterlands.com?ref=trenloco
NOTE: Even if you bought Spellbook already , I can still sign you up as a referral, just message me your in game name plus email adress used to log into game. I´ll delegate you a couple cards right away to get on the right foot.
---
---
---