Is it still worth to start playing splinterlands? My 1-month journey.
Introduction
Some time ago I've heard about nft-based games. The ones you can earn money by playing etc. Of course I wanted to play, have some fun and make some money too (who doesn't?). Unfortunately, every game I've checked on was umm too late to start playing. Axies, Upland, Lost Relics, Gods Unchained and Splinterlands. However, I was determined to give a try to any of these and I picked up Splinterlands.
Why Splinterlands?
First of all, after reading about all of the mentioned above games, I've found it the most interesting and fun.
Yes, I didn't focus on possible future earnings, how much do I have to pay to start etc. I knew I want to keep playing this game more than few days so the joy that this game could bring had to be the main factor. Plus I love the fact that you can play it on PC or your mobile phone :D
Is it really too late?
Simple answer is: it depends.
Based on my experience, without investing a lot of $, you will likely not make it to the top players.
But you can still have a lot of fun and make some money too :)
How much did I earn?
Ok, now let's get down to business. Real numbers.
I am playing since 02 September. So it's been a whole month since then (2 seasons).
As you can see below, my account is worth 14,54 USD:

I also earned 180 DEC which right now is worth 1,62 USD.
Minus initial "investment" which was 10$, total profit is 6,16 USD.
Is it much? I don't think so. But for the whole month I have never felt like I have to play. I was playing because I wanted to :D And bearing that in mind, it's pretty much :D Actually every penny is quite a bit for playing with true enjoyment.
I haven't skipped any daily quest and occasionally played after few battles after that.
I have also never reached more than bronze league and I'm totally ok with that.
Below you can see how my collection looks like: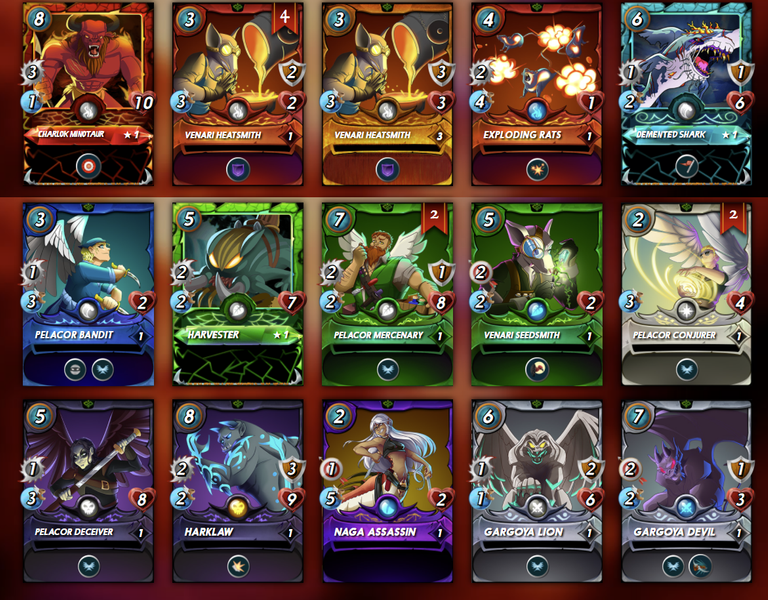 I think my luck was slighly above avarage. I managed to get one gold foiled card - Venari Heatsmith and one epic card: Harklaw. Right now I am renting them out for 4 DEC/day in total.
Am I still going to play this game?
Hell yes!!! Even if I didn't make any profit, I would still play it because I really love the whole idea of Splinterlands, gameplay, graphics, community :D
My goal is to get to silver league and I know one day I will make it :D
After this month I am still excited like the first day (or maybe even more) so see you in the battle!
If you have any questions regarding the game, feel free to drop me a message. However I am still a noobie but will do my best to help you.
I also leave my referral link:
---
---