SHARE YOUR BATTLE Weekly Challenge! HAUNTED SPIDER
---
My Entry for this weekly challenge. For this challenge, we need to include in the line-up HAUNTED SPIDER. The HAUNTED SPIDER is a common Death monster with no ability for levels 1 to 3, I think the possible position we can put HAUNTED SPIDER is in the Last position because HAUNTED SPIDER is a ranged attacker.
Let's check the stats of HAUNTED SPIDER.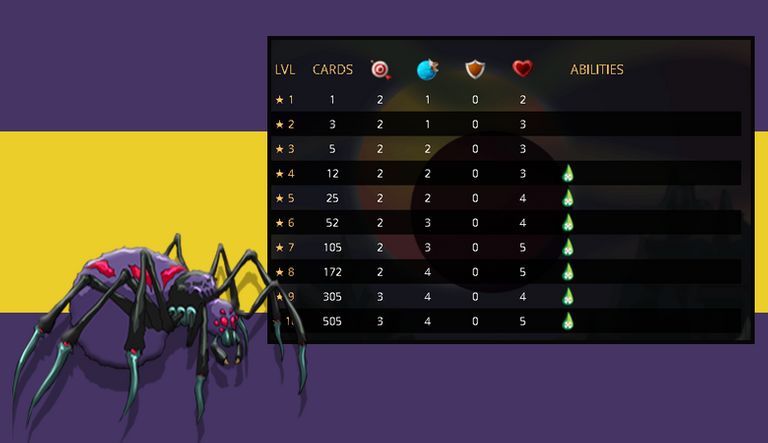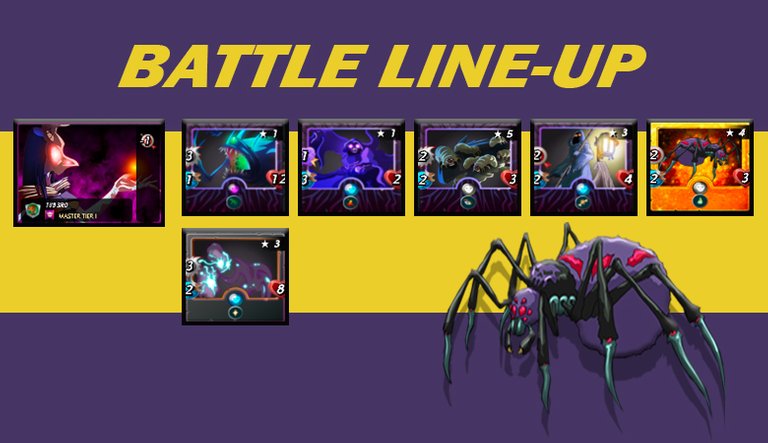 CONTESSA L'AMENT - To give -1 Damage to the ranged attacker.
HAUNTED SPIRIT - First position or tank on my battlefield. Tankers have the ability to self-heal.
THE GORLODON - Melee attackers have the ability to attack from the second position. To help the first position to damage the 1st position of the enemy.
DEATH ELEMENTAL - Magic attacker with the ability of snipe.
MAGGOTS - Melee attackers with the ability to attack from any position.
DARK FERRYMAN - Range attackers with the ability Cripple.
HAUNTED SPIDER - Range attacker because my haunted spider is level 4 additional ability of poison.
BATTLE CONDITION
Mana Cap:32
Rule: Reverse Speed and Odds one out
Disable Splinter: None
Opponent: Fire Splinter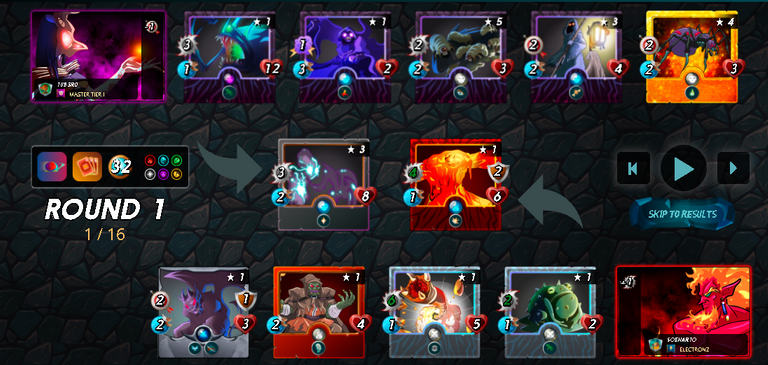 GAMEPLAY
ROUND 1 - The HAUNTED SPIDER is the first monster lost on the battlefield followed by the enemy monster HORNY TOAD.
ROUND 2 - Aditional two monsters lost on my side, DARK FERRYMAN and HAUNTED SPIRIT. On the opponent side, LIVING LAVA is eliminated.
ROUND 3 - Only SAND WORM is eliminated by MAGGOTS.
ROUND 4 - GOBLIN SHAMAN is eliminated by THE GORLODON.
ROUND 5 - Battle end in round 5 the last monster was eliminated by THEGORLODON.

Did your strategy work? What will you try differently next time?
Yes, It's worked for me the strategy I'm using is the same strategy when you using range attackers monster. You need to place the ranged attacker always in the back of the line-up.
Do you use the HAUNTED SPIDER often? Why or why not?
Yes, I'm always using HAUNTED SPIDER in the battle when I'm using death in low mana cap.

This is the official battle challenge post for Splinterlands Weekly Battle Share Challenge. If you like the challenge and want to make a post then you can also participate and share it with more people.
Become part of this wonderful game and enjoy the awesome gaming along with rewards. Use my link below to be part of it-
Goodbye for now. Always stay safe,
---
▶️ 3Speak
---
---