What Does The Future Have In Store For Play To Earn Crypto Games?
There have been a little or much changes since the launch of crypto and there is a possibility different kind of ways to earn crypto in this current digital era and this is what lead us to the play to earn crypto game which is now taking over and growing swiftly even if it's still in its early stages.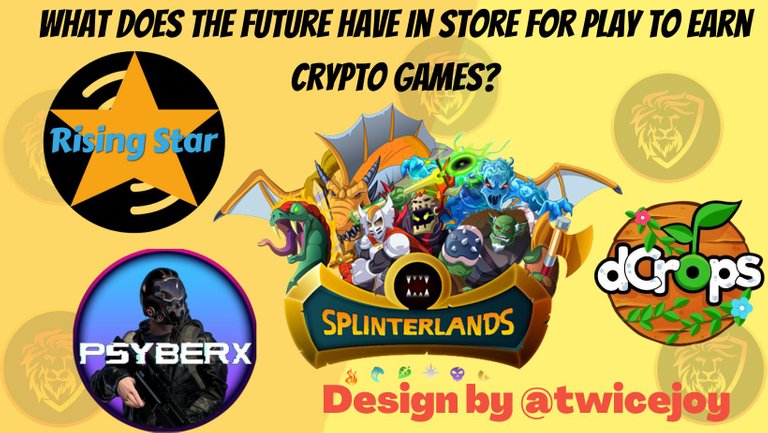 When it comes to play to earn crypto game, the notion behind it is very straightforward as players can earn and accumulate crypto rewards just by playing it. Moreover, this kind of game have a numerous benefits compared to conventional or traditional online games that frequently need players to buy items related to game with their actual money.
I came to discovered play to earn games on the hive blockchain and it's very amazing as we have some play to earn crypto games to keep our eyes on the hive blockchain such the @Splinterlands, @Risingstargame, @psyberx, @Dcrops and so on where an individual can earn cryptos by playing those games. Play to earn games rewards are hinged on skill instead of luck which is the reason why it is more equitable than traditional online games. And also, it is more reachable to a large audience and there is no boundaries to how many times one can make an entry. Though I have not been active regarding play to earn games especially on #@splinterlands and @risingstargame where I have already registered through the hive blockchain but I hope I create time to focus more sooner. There are many people on the hive blockchain who plays the game and I believe that the future of the play to earn crypto games is very bright.
Play to earn crypto games is already growing swiftly even though it's still in it's early stages like I said earlier, but with more people taking part in these kinds of games, then the rewards associated with playing the games can be expected to get better and enormous. Moreso, we can look forward to a more notable transformation and inventiveness from developers for the reason that their is improvement for the technology backing these kinds of games.
This is the perfect time to get the whole ball of wax rolling with the most famous Play-to-earn NFT games. And with the crypto space growing at an outstanding rate, in which many individuals want to get themselves involved in the crypto space, this is will surely give rise to a more crypto related games as one can earn cryptos while getting at it. The future of play to earn crypto games definitely looks bright.
Thanks for visiting my blog and have a wonderful day
I really appreciate your upvote and support
@twicejoy cares ♥️♥️♥️
Posted Using LeoFinance Beta
---
---