Gods Unchained Weekend Ranked - New Goal - Let the grinding begin
Hi guys, this is George and I'm still playing GU. This week I decided to focus on the
Weekend Ranked event which is a competition that runs every Friday to Monday... and you can win packs.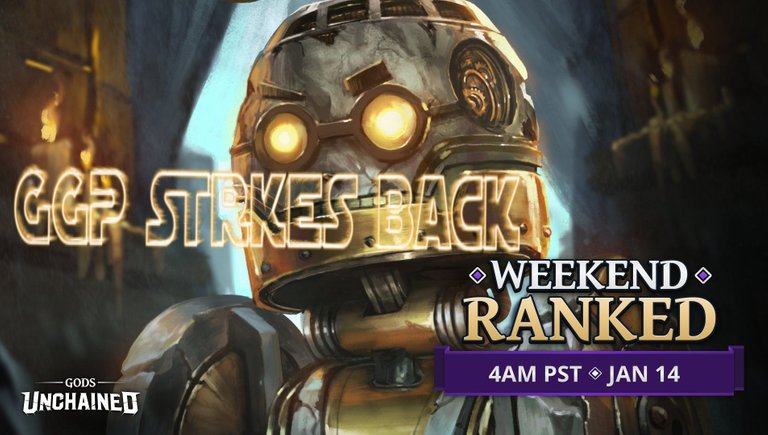 Prizes
Prizes range from Core packs, which are traditionally earned by levelling up, to expansion packs, sold from the Gods Unchained store.
The prizes you win are based on three things: How many wins you earn in your first 25 games of each Weekend Ranked event.
Your rank before each Weekend Ranked event begins.
Whether you have a wallet linked to your account or not.
To qualify for prizes, you must reach a rank that corresponds with one of the tables in the Prize Tables section before Weekend Ranked kicks off. For wins to count, matches must be completed before the event's end (Monday: 5am PDT/4am PST).
source: GU
For this weekend my goal is to get 16 wins. I hope to get the 3 Epic/DO Rare/DO Epic reward. The last week was a catastrophe, but I'm still confident this goal is attainable.

Here's my set up for my Deception Deck. My stats with this deck went down to 56% win rate, but in the low ranks you can easily achieve a 80% win rate. As my objective is now to grind the most pack possible, I can expect to win enough matches before I reach Midnight Shadow rank.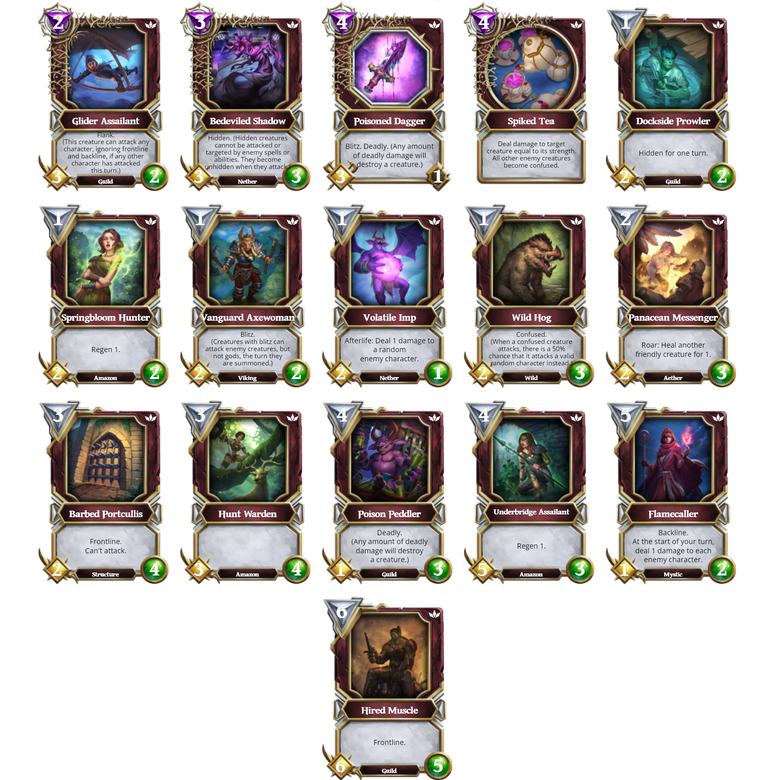 I hope as I get more cards, I'll have less cards to buy and set better deck to reach the higher ranks. I particularly looking for Frontline cards with Higher Health than the Hired muscle. As usually, I'll be posting a clip of my games Monday at the end of the event to share my weekend results. Finger crossed!
Deck created with Gu list creator app

Thank you again for reading me.
Good luck and good Profits.
GGP
Not financial advice just my opinion! DYOR


NFT/Blockchain Games Ref Links
If you're looking for the next game to play, Gods Unchained is a great game that you should check out. Sign up using with my referral code: lodNdWsRMU on the website here
Risingstar : Earn Starbits and NFT Cards by completing standard missions and other tokens by completing special missions.
Nine Chronicles : NFT RPG : Earn 20 NCG (WNCG on ETH network)
Spliternalnds: Most Popular Card Game on Hive. Earn DEC and SPS.
---
---