Scavenger strategy with ANT and RIFTWING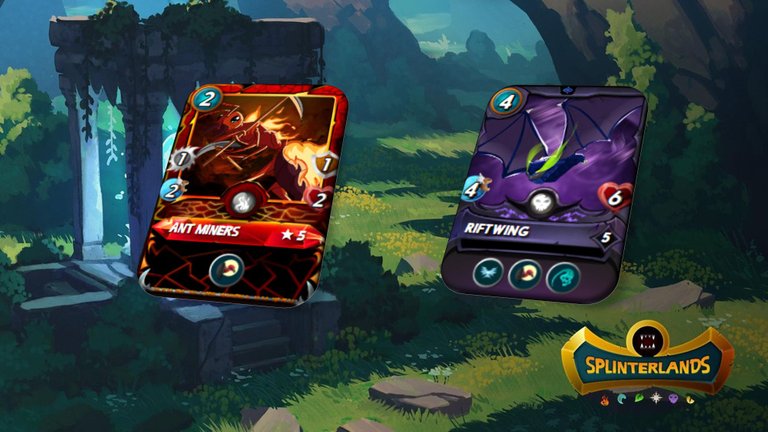 A series in which ueyuey, a TOP Silver League player, writes about strategies specifically for the Silver League.
No 16" Scavenger strategy with ANT and RIFTWING"
シルバーリーグのTOPプレイヤーであるueyueyが、シルバーリーグに特化して攻略を書いていくシリーズ。
No16「Scavenger strategy with ANT and RIFTWING」
ANTとRIFTWINGと使ったScavenger戦略
ueyuey:https://twitter.com/uey_uesama
If you are just getting started with splinterlands, click here:https://splinterlands.com?ref=ueyuey
In this article, I will show you a strategy using a specific monster more specific to the Silver League. I have won many victories using this strategy and I hope you will find it useful!
今回の記事は、シルバーリーグにもっと特化して特定のモンスターを使った戦略を紹介します。私はとてもこの戦略を使い多く勝利を勝ち取っていますので、ぜひ参考にしてください。
1) OWSTER×RIFTWING

This configuration is very well balanced and is one of my ideal all-career, hard-to-lose configurations.
If the opponent can do magic, I can reflect and win.
If they use long range, it is easy to avoid with RIFTWING.
If the opponent uses a melee sneak, it is easier to avoid with SOUL STROM.
As you can see, a structure that has some countermeasures against magic, long-range, and melee attacks is quite powerful in the Silver League. Of course, there are some configurations that lose, but at that time, I try to think of it as a case of bad luck.
この構成はとてもバランスが良く、私が理想とするオールケアできる負けにくい構成の1つです。
もし相手が魔法できたら反射をしながら勝つことができます。
もし相手が遠距離を使ってきたら、RIFTWINGでよけやすくなっています。
もし相手が近接のスニークを使ってきたら、SOUL STROMでよけやすくなっています。
このように、基本となる魔法、遠距離、近接どれが来ても何かしら対策ができている構成はシルバーリーグにおいてはかなり強力です。もちろん負ける構成もありますが、その時は運がなかったと思うようにしています。
2) SELENIA×RIFTWING

It is very similar to the configuration in 1). This configuration is also very powerful because it can take care of sneak and snipe. Depending on the rules and situations where magic is difficult to use, this configuration is also highly recommended.
1)の構成ととても似ています。この構成もスニーク、スナイプをケアできているためとても強力です。魔法が使いづらいルールや状況によっては、こちらの構成もとてもおすすめします。
3) ZAKU×ANT

Few people may use ZAKU with 18 mana.
However, this configuration is quite powerful. By attacking with ZAKU and defeating the opponent early, ANT's strength will increase. The two monsters in front of them will also increase their strength by being defeated, so that ANT will become a big wall.
マナ18でZAKUを利用する人は少ないかもしれません。
しかしこの構成はかなり強力で、ZAKUを使った攻撃をして相手を早めに倒すことでANTの体力があがっていきます。また前の2匹も倒されていくことで体力があがるため、ANTが大きな壁となってくれるようになります。
Key Points of Strategy
The best way to use Scavenger with RIFTWING and ANT is to use CHICKEN and OOZE as bait at low mana, as I have shown in this article, so that it can grow into a cooperative wall even at low mana. The new reward card VULGUINE can be used in the same way.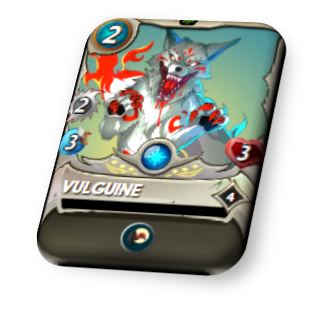 There are also two rules that make the configuration presented here particularly strong.
The first: Fog of War.
Second: Equaliser.
If you have never used this configuration with these rules, please give it a try. It will definitely increase your chances of winning.
This is a configuration that I really don't want to tell you about XD. See you soon.
攻略のポイント
RIFTWINGやANTのもつScavengerの使い方としては、今回紹介したように低いマナの時にCHICKENやOOZEを餌として使うことで、低いマナにおいても協力な壁に育てることができるのが魅力です。新しいリワードカードのVULGUINEも同じような使い方ができるでしょう。
また、今回紹介した構成が特に強くなるルールが2つほどあります。
1つ目:Fog of War
2つ目:Equaliser
もしあなたがまだこのルールでこの構成を使ったことがない場合はぜひチャレンジしてみてください。確実に勝率はあがりますよ。
本当は教えたくない構成のご紹介でした。 では。
---
---