Wanted to go to Splinterfest!!! Tournament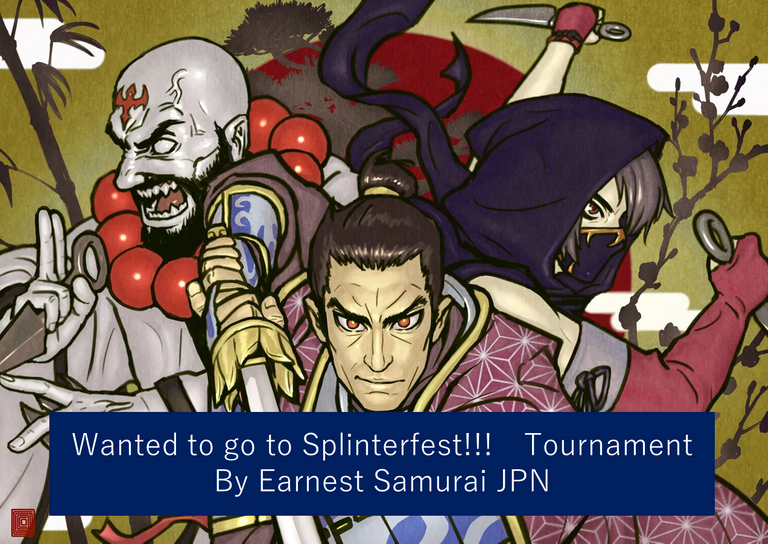 Will you all be attending splinterfest in LASVEGAS on October 8 and 9?
I heard that there is a tournament that only those who attend there can compete in, and I was really excited to go, but unfortunately I will not be able to attend this time. (I'm having healthy twin babies in September and want to prioritize my family)
I know there are many players who love the tournament as much as I do, but cannot make it there.
For those people, my guild "Earnest Samurai JPN" is going to host an online tournament.
みなさん、10月8,9日にLASVEGASで行われるsplinterfestには参加しますか?
現地に参加した人だけが出場できるトーナメントがあると聞いて、とても行きたい気持ちが高まっていましたが、私は残念ながら今回は参加できません。(9月に元気な双子の赤ちゃんが生まれて家族を優先したいと思います)
私と同じように大会が大好きなプレイヤーで、現地に行けない人は多いと思います。
そんな皆様のために私が所属するギルド「Earnest Samurai JPN」が主催でオンラインの大会を開こうと思います。
Tournament Outline
Date and Time: October 8
Format: Bronze League (all cards including Legends are available)
Tournament Link:
https://splinterlands.com/?p=tournament&id=c49e13c5563e3ac1d1664448b26e8e4be257b061
Eligibility: This tournament is not a guild member scouting tournament. Everyone is welcome to participate.
日時:10月8日
形式:ブロンズリーグ(レジェンドを含む全カード使用可)
大会リンク:
https://splinterlands.com/?p=tournament&id=c49e13c5563e3ac1d1664448b26e8e4be257b061
対象者:本大会はギルドメンバーのスカウト大会ではありません。どなたでも参加できます。
Earnst Samurai JPN Introduction
Well, this is not the end of this article.
I would like to introduce Earnest Samurai JPN, the organizer of this tournament.
And Earnest Samurai JPN is also looking for sponsors who share our activities. Please check us out if you are interested.
さて、今回の記事はこれだけで終わりではありません。
今回トーナメントを主催するEarnest Samurai JPNについて紹介させていただきます。
そして、Earnest Samurai JPNでは私たちの活動に共感してくれるスポンサーも探しています。ぜひ興味ある方はチェックしてください。
Earnest Samurai JPN's Mission
To enjoy playing Splinterlands, the most fun BCG in the world, by ourselves, and to spread the fun and splendor of Splinterlands to many people in various ways, not only by our strength.
世界で一番楽しいBCGであるSplinterlandsを自らプレイして楽しむことはもちろんのこと、強さだけでなく様々な形で楽しさ・素晴らしを多くの人に広めること。
Background of Activities
Japan is the birthplace of Pokemon cards and Yu-Gi-Oh cards. However, Splinterlands is not supported in Japanese, so many people give up without playing. We are working to convey the various joys of Splinterlands to such Japanese people.
We also consider it an important mission to promote the existence of Japanese players to the world.
ポケモンカードや遊戯王カード発祥の地である日本。しかしSplinterlandsは日本語対応されていないので、プレイせずに諦めてしまう人も多いです。そんな日本人に対して、さまざまな楽しさを伝えるために活動しています。
また日本人プレイヤーの存在を世界にアピールすることも重要なミッションと考えています。
Specific Activities (Introduction of some members)
Hametoro(IGN korerini)
Runs the website "Splan Strategy Club", which introduces how to start Splinterlands in Japanese and strategies for each league. This site is a must visit for Japanese players who have started playing Splinterlands.
https://splinterlands.jp/
He also provides a weekly summary of key AMA information for Japanese players who are not comfortable with English.
日本語でSplinterlandsを始まるための手順や、各リーグにおける攻略方法などのコンテンツサイト「スプラン攻略部」を運営。Splinterlnadsを始めた日本人プレイヤーは必ずと言ってもいいほど見るサイトに。
https://splinterlands.jp/
英語が苦手な日本人のためにもAMA情報のポイントを毎週まとめて発信。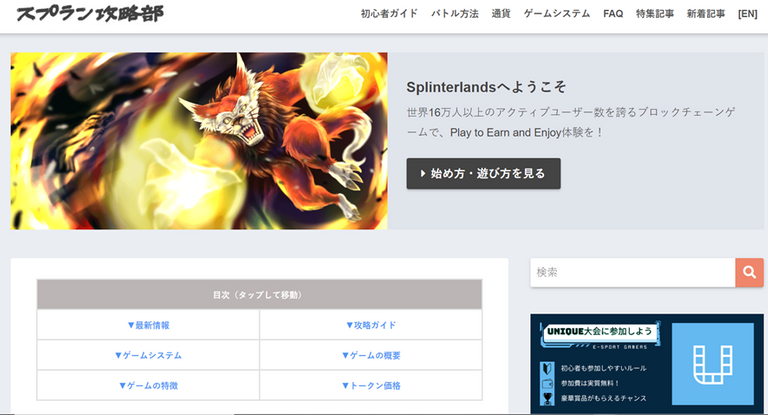 Halfblue
Halfblue is the first Japanese streamer on splinterTV, speaks fluent English, and is very popular mainly in Asian countries.
He has been spreading the joy of community interaction and play among Japanese and other Asian countries while distributing the game, including organizing the Japan vs. the Philippines national team game.
日本人で初めてのsplinterTVのストリーマーで英語も堪能でアジア圏を中心にとても人気のあるストリーマー。
日本対フィリピン代表選を企画するなど、配信をしながら日本人やアジア圏を中心にコミュニティの交流やプレイの楽しさを広めている。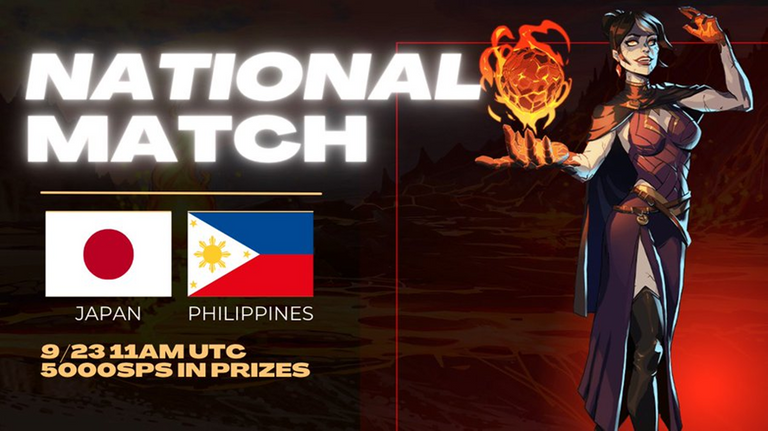 OCOJOCO
OCOJOCO has won many prizes in splinterlnads art contests, and is active in promoting the enjoyment of splintelands not only from the perspective of playing, but also from the perspective of art.
splinterlnadsアートコンテストでこれまで多くの受賞履歴を持ち、splintelandsをプレイだけでなくアートの観点から楽しむ形も広める活動を行っている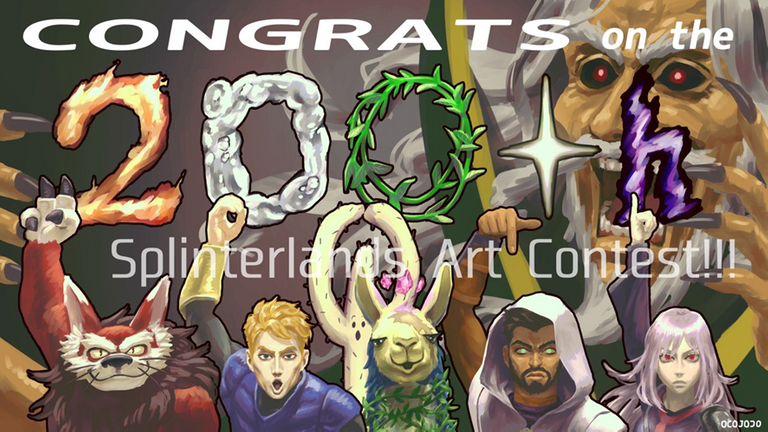 UEYUEY
UEYUEY has been proving himself to be a top ranker by achieving results in tournaments and LBs, mainly in the Silver League, and has been sharing the strategy information he has gained from those tournaments and LBs. Recently, he has proved that not only in the Silver League, but also for players who do not own cards, they can win to earn by renting cards if they have the skills to play.
https://peakd.com/@ueyuey
シルバーリーグを中心にトーナメントやLBにて結果を出すことで、自らがトップランカーであることを証明し、そこで得た攻略情報を発信している。最近では、シルバーリーグのみでなく、カード保有していないプレイヤーにおいてもプレイスキルがあれば、レンタルなどを駆使してwin to earnができることを自ら証明して発信している。
https://peakd.com/@ueyuey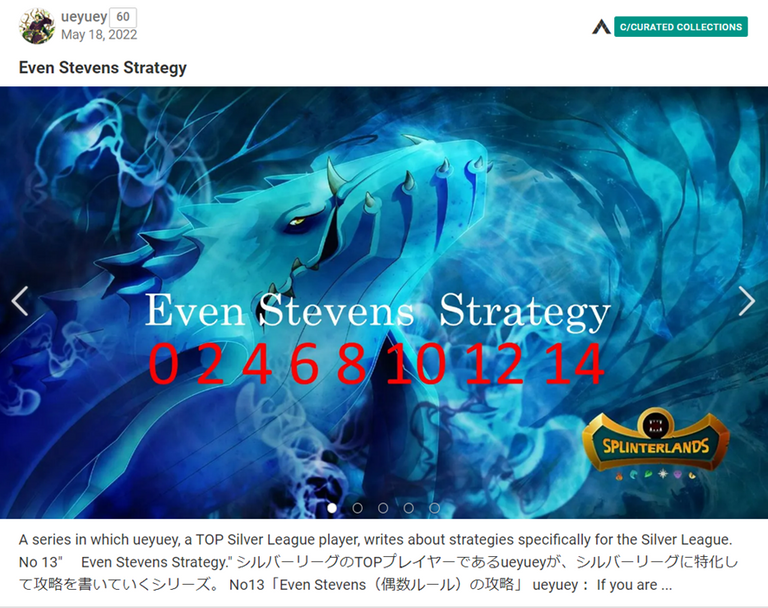 Sponsorship Opportunities
We are looking for sponsors who are interested in supporting Earnest Smaurai JPN's activities.
For those who support us, we offer the following
 -Add the requested text after the guild name
 -Introduction of the sponsor link on the guild overview screen
 -Introduction about the sponsor, especially on Twitter
 Sponsor-sponsored competitions
  etc.
Please contact me if you are interested.
・Earnest Smaurai JPNの活動に共感して、私たちを支援してくれる方を探しています。
・支援してくださる方への得点は以下のようなものを用意しています。
 -ギルド名の後ろに、ご要望のテキストを加えます
 -ギルド概要画面にてスポンサーリンクを紹介
 -Twitterを中心にスポンサーに関する紹介
 -スポンサー主催の大会の開催
  などなど
興味がある方はぜひ私宛に連絡をください。
ueyuey:https://twitter.com/uey_uesama
---
---