Winner of the zensports competition!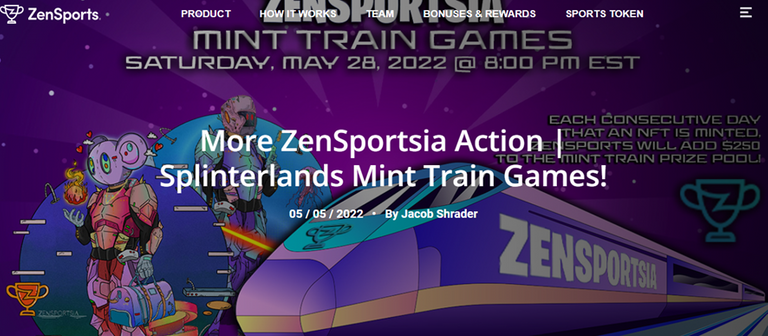 The zensports convention was held on May 28.
The result was that we were able to win the championship.
In this article I will recap the battles of each match.
ueyuey:https://twitter.com/uey_uesama
If you are just getting started with splinterlands, click here:https://splinterlands.com?ref=ueyuey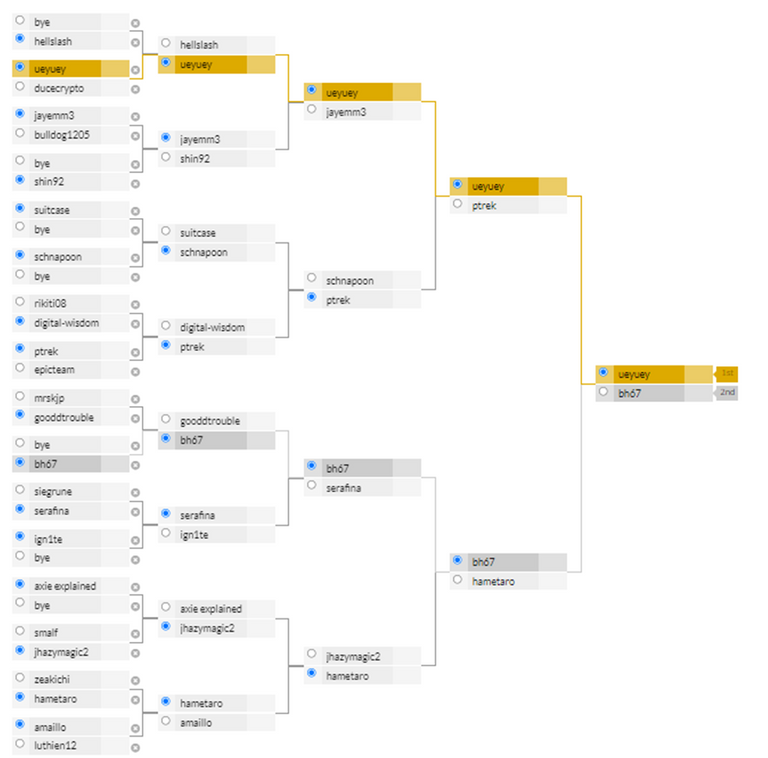 ■Contents of the Convention
https://zensports.com/blog/mint-train-games/
First round  VS: ducecrypto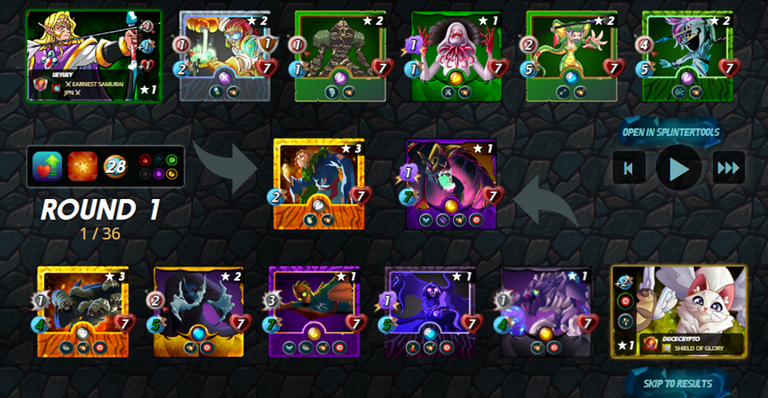 https://splinterlands.com?p=battle&id=sl_425e5dad044fa007e3fe91829f75685b&ref=ueyuey
In this battle, at first I considered a strategy of using the same KITTY as my opponent and placing void dragon at the very front to avoid his attack. On the other hand, when I practiced in the Bronze League, I remembered that the top Bronze player had countermeasureed me with mitica headhunter, so I changed my strategy midway through the battle and was able to win.
このバトルでは、私もはじめは相手と同じkittyを使い一番前にvoid dragonを置いて、相手の攻撃を避ける戦略を考えました。一方で、ブロンズリーグで練習した際にブロンズのトッププレイヤーからmitica headhunterで対策されたことを思い出し、途中で構成を変更して勝つことができました。
2nd round vs hellslash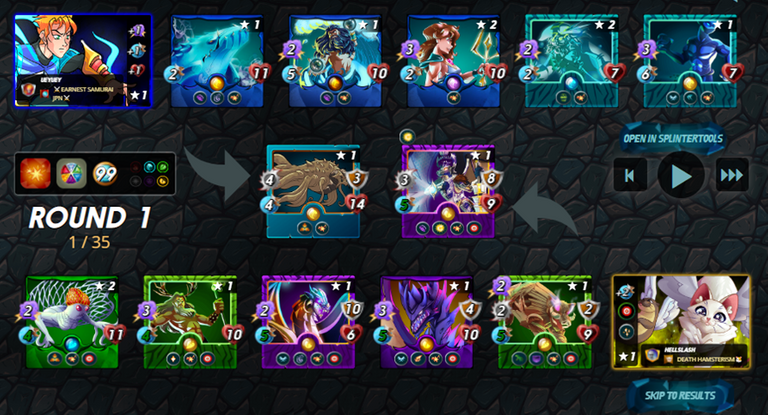 https://splinterlands.com?p=battle&id=36ec3189c6300741892568a0878c877b518dd103&ref=ueyuey
With 99 mana, it is tempting to use dragons in the composition, but magic is very powerful in the Bronze League, and we chose to attack with water. Also, I think that my choice of "captains ghost" with an awareness of the recovery of my opponent's KITTY led to the win.
マナが99のためドラゴンを使った構成にしたくなりますが、ブロンズリーグでは魔法が非常に強力であり水で攻めることを選択しました。また相手のkittyの回復を意識してcaptains ghostを選択したことも勝つことにつながったと思います。
3rd round vs jayemm3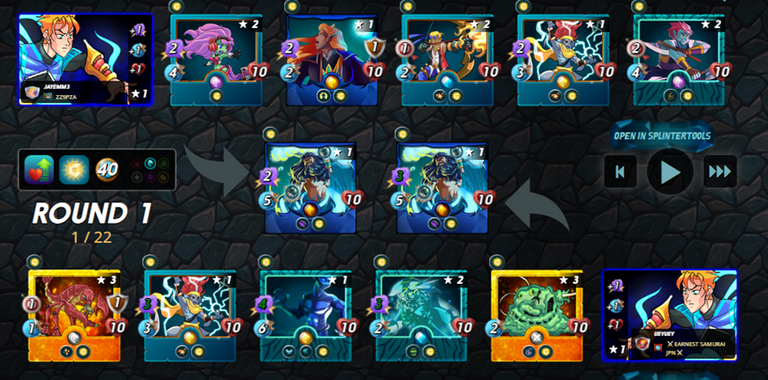 https://splinterlands.com/?p=battle&id=sl_06e0be3f013309709546d29334791ee9
Jaymm3 is a very talented player and winner of the last zensports silver rules.
The two players played very similar games, but the speed difference due to ooze and crustacean king's Tnak heal worked well to win the game. It was a very close match.
Jaymm3は前回のzensportsのシルバールールの優勝者でとても実力のあるプレイヤーです。
とても似たような構成になりましたが、oozeによるスピード差とcrustacean kingのTnak healがうまく動いてくれて勝つことができました。とても僅差の勝負でした。
4th round vs ptrekkkk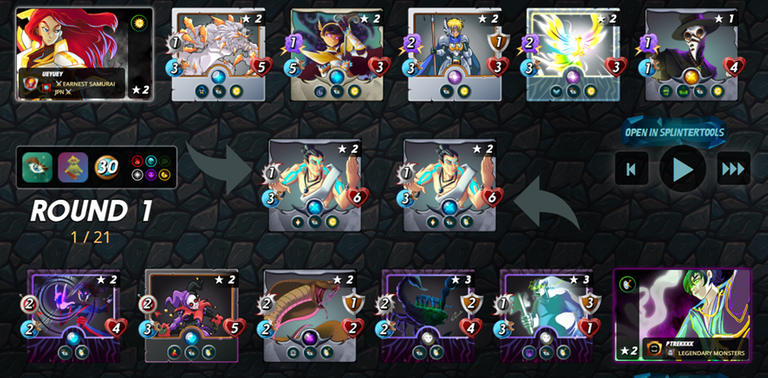 I thought I lost this one when I first saw it, but luckily I won.
When I checked later, I found that the winning percentage was 28%, so I was very lucky.
I think my opponent had a very good composition. I won the game, but I think he played better.
これは最初見た時に負けたと思いましたが、運よく勝つことができました。
あとで調べると勝率28%だったので、とてもラッキーな結果でした。
相手の構成はとてもうまかったと思います。勝負には勝ちましたが、彼のプレイの方が上手だったと思います。
final round Vs omg-sp1(bh67)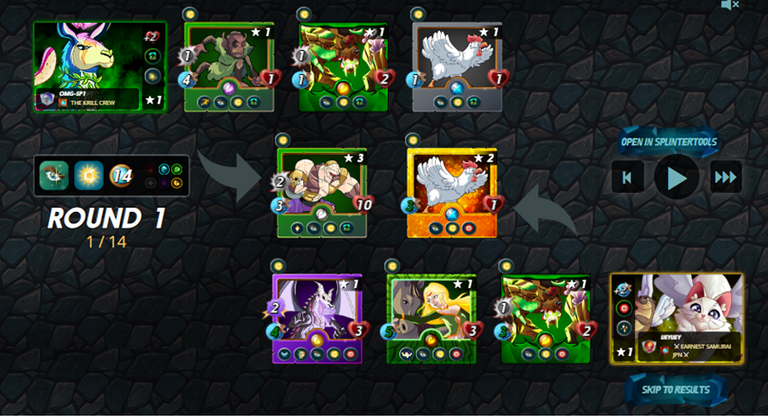 https://splinterlands.com?p=battle&id=f191785d0a5a453b3e9e5d0fc28aacca8143b866&ref=ueyuey
This battle was the result of practice in the Bronze.
In the Bronze League, kitty x black dragon won against llama x fleshgolem. This victory was the result of learning and practicing from the top Bronze players.
このバトルはブロンズで練習した成果がでました。
ブロンズリーグでは、llama×flesh golemに対して、kitty×black dragonの構成が勝ちます。これは、ブロンズのTOPプレイヤー達から教わり実践することができたことによる勝利でした。
Conclusion
https://peakd.com/hive-110144/@ueyuey/dare-bronze-league
As I wrote in this article, I dared to practice in the Bronze League this season. I think the fun of Splinterlands lies in the fact that different leagues have very different strategies. If you want to become a tournament player, I suggest you focus on just one league and gain lots of experience.
この記事でも書いたように、今シーズンはあえてブロンズリーグで練習をしました。その練習の成果が今回の大会の優勝につながったと思います。Splinterlandsの面白さはリーグが違うと戦略も大きく違うことにあると思います。もしあなたがトーナメントプレイヤーになりたいなら、どれか1つだけのリーグに絞って経験をたくさん積むことをお勧めします。
PS.
There are many players stronger than me in the Bronze League. I was really lucky this time. I am planning to hold a tournament with legend cards in the Bronze League in the near future. I hope you can see the top players of the Bronze League there.
ブロンズリーグには私より強いプレイヤーがたくさんいます。今回は本当に運がよかったです。近いうちに同じブロンズリーグでレジェンドカードありの大会を開催しようと思います。ぜひブロンズリーグのTOPプレイヤー達の実力をそこで見てもらえればと思います。
---
---