Witch Hunt in Splinterlands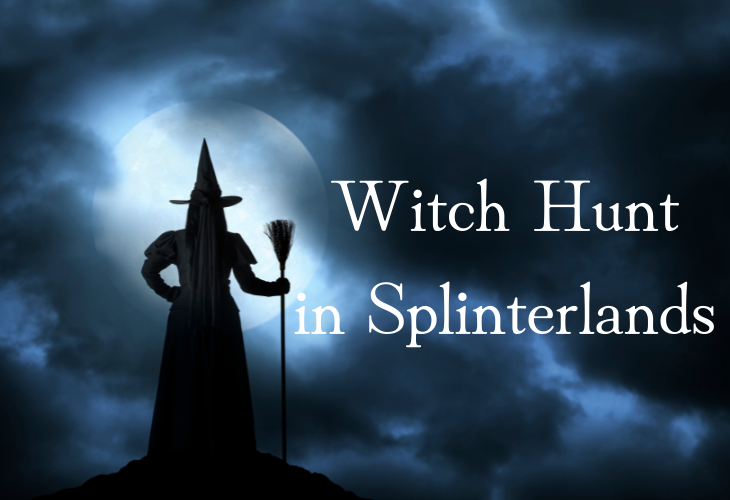 I mentioned in a previous article that ,three of us (ueyuey, schnapoon, haflblue) are suspected of running bots that win-trade with each other, and were refused to continue playing in ZenSports Cup.
This article goes further into this issue.
私たち3名(ueyuey,schnapoon,haflblue)は、Win-trade botだと疑われており、Eスポーツ大会の参加を拒否されたたことを前の記事で紹介しました。この記事ではこの問題をさらに深ぼります。
■Previous article
https://peakd.com/hive-110144/@ueyuey/we-are-not-bots-we-are-a-group-of-esports-enthusiasts
ueyuey:https://twitter.com/uey_uesama
schnapoon: https://twitter.com/schnapoon
haflblue: https://twitter.com/Halfblue13
Responses to the previous article
After publishing the previous article, I am very pleased to hear from various people that they will support me with DM and comments on the article.
Here are some excerpts from the comments I received.
・ It is strange that even if you do not participate in Discord, you will be suspected and it will affect your participation in other competitions.
・ It is strange that you are still guilty (cannot participate in the zensports tournament) even though you do not know whether you are guilty or not.
・Witch hunting has been done
etc.
前回の記事を出した後に、様々な方からDMや記事のコメントにて支援するとの連絡をいただき大変うれしく思っています。
いくつかいただいたコメントを抜粋させていただきます。
・ディスコードに参加していないだけで、勝手に疑われてそれが他の大会に参加に対して影響を及ぼすことはおかしい。
・有罪か無罪かわからないのにいまだに有罪(zensportsの大会に参加できない)なのはすくなくともおかしい
・魔女狩りが行われている
などなど。
Suspicion against me
Discord has commented on me with a number of allegations without any rationale. I swear to God that I do not do these alleged actions.
I will arrange the doubts about me that have been raised so far in chronological order. Some of these are known to be different, but the community never feels apologetic. .. .. I really don't think the current community is in the right direction for splinterlands.
ディスコードでは私に対していくつもの疑惑を何の論拠もなしにコメントがされています。私は神に誓ってこれらの疑いとされる行為はしていません。これまで上げられてきた私に対する疑いを時系列に並べていきます。これらのいくつかは違うとわかりきっている内容ですが、決してコミュニティからは謝罪する雰囲気は感じられません。。。本当に今のコミュニティはsplinterlandsにとって決していい方向ではないと思います。
1:Ueyuey is playing a lot of battles using BOT
→ I started splinter lnads in August, but it's certainly what was said around October. I thought it was important to gain a lot of experience in order to be strong in this game, so I played a ranking match of 1000 games per season. Nowadays, there are multiple players who play 1000 games in one season, but at that time they were treated as BOTs because this was not something that humans could do. Without doing any accurate research. The story of these BOTs will change the point of discussion and will be replaced by the contents described below.
→私がsplinterlnadsを始めたのが8月ですが、確か10月頃に言われていた内容です。私はこのゲームで強くなるには多くの経験値を積むことが大事と考え、1シーズン1000試合におよぶランキングマッチを行いました。今では1シーズンに1000試合を行うプレイヤーは複数みられますが、当時はこれは人間ができる行為でないと理由でBOT扱いをされていました。何も正確に調査もせずにです。これらのBOTであるという話は、いつのまにか論点が変わり次に記載する内容にすり替わっていきます。
2:Schnapoon is ueyuey's alt account (and halfblue later)
→ As I wrote in the previous article, schnapoon is a Japanese player like me. He was hired by a Japanese investor as a scalar and started participating in the game around November. He has more than 1000 games in a season for this game than I used to. And he will soon improve and become a high-ranking leader in the Silver League. I know him online, but he's never my alt account.
And if it's an alt account, why should it be so denied? You all know that there are many tournaments and leaderboard leaders with multiple Alt accounts. Why would only we be denied and affect the zensports tournament? Is it because we are not on Discord?
For some reason, some people said that Halfblue was ueyuey's alt account. He is also a completely different person from me.
→前回の記事でも書きましたが、schnapoonは私と同じ日本のプレイヤーです。彼は日本の投資家からスカラーとして雇われ、このゲームに11月頃から参加するようになりました。彼はこのゲームのために、私が以前やっていた以上に1シーズンで1000試合を超える経験を積みます。そして彼はすぐに上達してシルバーリーグのリーダーボードの上位に名前が出るようになります。彼とはオンライン上での知り合いではありますが、決して私のaltアカウントではありません。
また、もしaltアカウントだったとしてもなぜこんなに否定される必要があるのでしょうか。複数のAltアカウントで多くの大会やリーダーボードの上位をとっている人がいるのは皆さんご存じのはずです。なぜ私達だけが否定され、zenposrtsの大会に影響を及ぼすほどのことになるのでしょうか。それは私たちがディスコードにいないからでしょうか? 
Halfblueについてもなぜか途中から、ueyueyのaltアカウントだという人もでてきました。彼も全く私とは別人です。
3:Ueyuey, schnapoon, halfblue are doing win-trade
→ Someone posted a lot of screenshots in the comment section of the previous article and said it was proof. Is it really proof?
For example, has an account that surrendered to me surrendered to another player?
Is it possible to say for sure by properly investigating all other players?
If you can't say yes, you're hunting witches.
→前回の記事のコメント欄にも大量にスクリーンショット貼り付けて、それが証拠だと言っている方がいましたが、本当にあれが証拠になりますか?
例えば私にサレンダーしているアカウントは他のプレイヤーには決してサレンダーしていませんか?
ちゃんと他のプレイヤーについてもすべて調査して確実性をもっていえることですか?
それがYESと言えないなら、あなた達は魔女狩りをしています。
I want to clear these suspicions
1:Ueyuey is playing a lot of battles using BOT
→ I don't think anyone cares about this anymore, so it's okay to go through, but if you're still skeptical about this, the Splinterlands development team should be able to look into my logs. If you continue to doubt these, I would like you to investigate the play time peculiar to Bot properly.
→この件はもう誰も気にしていないと思いますのでスルーでもいいですが、もし未だにこれも疑っているのであれば、spinterlandsの開発チームであれば私のログを調査できるはずです。これらをこれからも疑うのであれば、Bot特有のプレイ時間などちゃんと調査をしてほしいです。
2:Schnapoon is ueyuey's alt account (and halfblue later)
→I'm still wondering why I'm punished if I don't prove these in the first place, but I don't like being suspected, so in the near future, the three of us will put out a play video that will perform rank matches etc. on each YouTube distribution at the same time. If you still doubt, we can also provide personal information to each of us to the operations staff of splinterlands to certify us as different people. Because we are different people.
→そもそもこれらをなぜ証明しないと罰せられるのかいまだに疑問ですが、私達も疑われているのは嫌なので近い将来私達3人は同じ時間にそれぞれのユーチューブ配信でランクマッチなどを行うプレイ動画を出します。それでも疑うようなら、私たちそれぞれsplinterlandsの運営スタッフに個人情報を提示して、私たちは別人であることを認定してもらうことも可能です。なぜなら私たちは別の人間だから。
3:Ueyuey, schnapoon, halfblue are doing win-trade
→ I would like to ask the development team of splinterlands to investigate this as well. I want you to look at the data properly with the eyes of a third party, not with a biased screenshot.
On the other hand, I've heard that rank matches will no longer know each other's names.
If investigating is a hassle, I'd like you to implement this as soon as possible.
Even so, I am confident that the results will remain the same. Because I don't have a win-trade.
From another point of view, is it because I'm win-trade that I'm in the top of the tournament?
In March, I participated in the official Silver League tournament eight times with an average ranking of 4.875. Is this also because I'm doing win-trade? I think different. This is because I have been working hard on this game so far.
→これもsplinterlandsの開発チームに調査をお願いしたい。偏りのあるスクリーンショットではなく、第3者の目でちゃんとデータを調べてほしい。
一方で今度からランクマッチはお互いに名前が分からなくなると聞いています。
調査が面倒なのなら、はやくこれを実装してほしいです。
それであっても私は変わらず結果を残す自信があります。なぜなら、win-tradeなんてしていないから。
一方でトーナメントで私が上位にいるのもwin-tradeをしているからですか?
3月、私はシルバーリーグの公式大会に8回出場して平均順位は4.875位でした。これもwin-tradeをしているからでしょうか?違うと思います。これは私がこれまでこのゲームに対して真摯に向き合って努力してきたからです。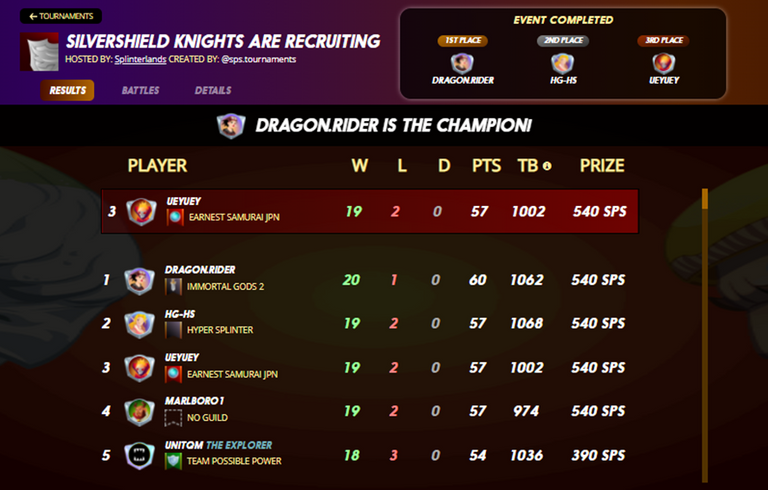 The essence of the problem
Spliterlands is BCG. In other words, I know that I'm always jealous of being in the upper ranks because the element of money is involved. It can't be helped because it's a human being, and I envy those who have the financial power to compete in the diamond league and champion league. However, isn't it strange that if you spit out that feeling with Discord, the player who is trying hard will be kicked out?
Don't you think the reason why we couldn't participate in the zensports tournament this time is because of the witch hunting on Discord?
Have you read Community-guidelines ?
As I write many times, I love the game splinterlnads and hope that it will continue to grow. On the other hand, what do new entrants think of the current Discord? Of course, I understand that important discussions are taking place.
However, the current situation is that there are many attacks on individuals, and I just hope that these will be improved.
Thank you for reading, have a great day!
SpliterlandsはBCGです。すなわちお金の要素も絡んでくるため、いつも私が上位にいることで妬まれることは分かっています。それは人間だから仕方ないし、私もダイヤリーグやチャンピオンリーグで戦える資金力を持っている人がうらやましく思ってしまいます。ただし、その感情をディスコードで吐き出せば努力しているプレイヤーが追い出される状況はおかしくないでしょうか?
今回私たちがこのようにzensportsの大会に出れなくなった状態になった理由は、ディスコードで魔女狩りが行われているからだとは思いませんでしょうか?
Community-guidelinesを読んだことはありますか?
何度も書きますが、私はsplinterlnadsというゲームがとても大好きで、これからももっと発展してほしいと願っています。一方で新規参入者が今のディスコードをみてどう思うでしょうか? もちろん大事なディスカッションがされているのも理解はしています。
しかしながら個人への攻撃など多く見られるのが現状で、これらが改善されることを私は願うばかりです。
最後まで読んでくれてありがとうございます。
---
---