LEVEL 2 vs fully maxed level opponent. Fate of the battle?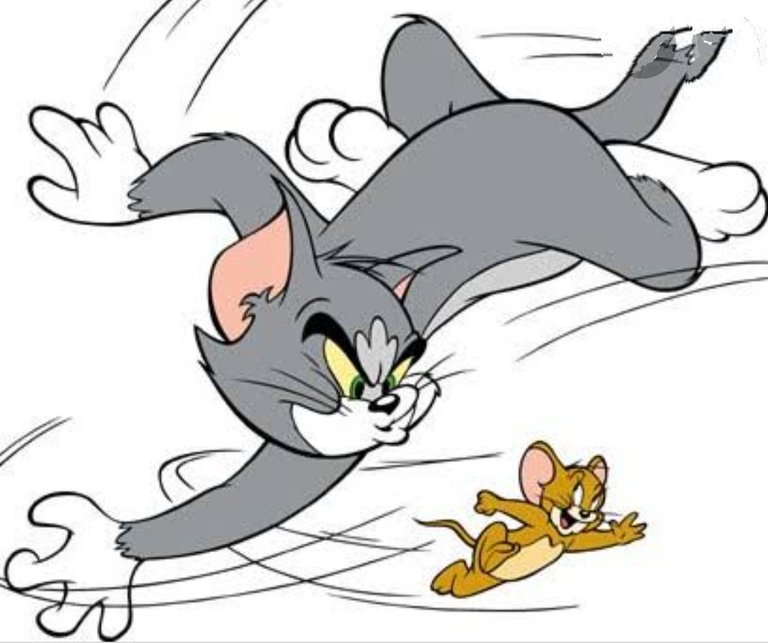 (Image source is from Google animated images with some editing)
Hello everyone, I'm back with an amazing and awesome battle in splinterlands.
I hope everyone is doing good and keeping your family safe.
Today's battle is significant as it covers almost maximum level difference in between both teams and regardless of last disparity battle post, this battle has battle conditions which don't take away advantages of levels in terms of abilities as well. It's a battle in diamond league. That battle post link is here
https://ecency.com/hive-13323/@ukcrypton/level-1-vs-max-level
The link to the battle will be posted in last to make the fight interesting.
Like all my battle posts, I'll first start with venue that is battle conditions. First one is explosive weaponry where monsters attack Has a blast effect on the surrounding monsters. Second one is lost magic means magic monsters can't be used in the battle. Battle has a heavy mana base of 58.
Now let's look at the enemy team.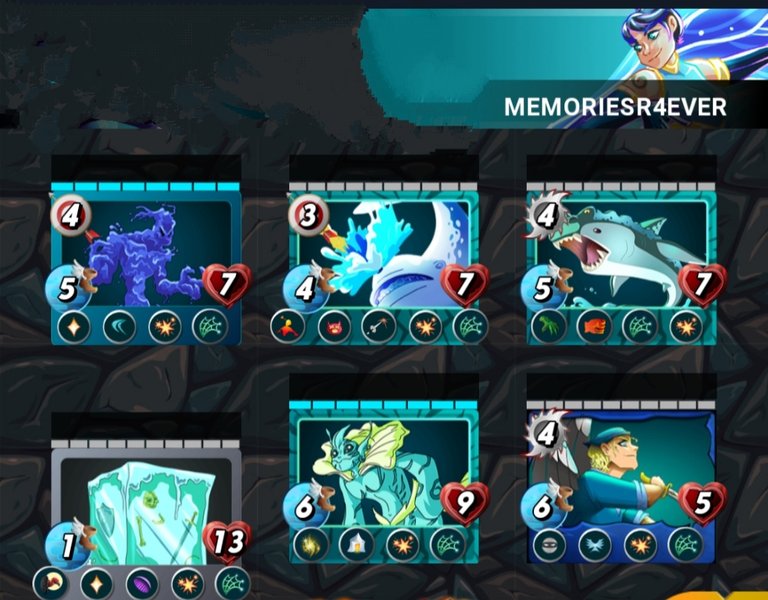 The team is lead by rare water summoner Vera salacia who posseses snare ability, gives all team monsters with the ability to make all flying monsters loose flying ability, this also has a hidden wonderful effect, it makes all allied monsters 100% chance to hit a flying monster regardless of it's speed difference.
On first position we have gelatinous cube, huge health point 13 with scavenge ability to increase maximum health by 1 each time any monster die in battle and self heal to keep healing up, higher health points leads to higher healing.
On second position we have kelp initiate, hopping 9 health monster with just 2 mana and also possessing high speed of 6 with abilities of cleanse and triage which removes all negative effects on first position monster and at the same time healing non first position monsters.
On next position, we have pelacor bandit with 4 melee attack and 6 speed in just 3 mana with sneak ability to hit last monster in enemy team, an awesome reward card.
Next monster is wave runner, 4 melee attack with 7 health and 5 speed possessing reach ability which enables is to attack from second position ( it's 4 th position and it looks like enemy messed up with its positions rendering it unable to attack until it reaches second position.) and knock out ability which makes this monster deal double damage to stunned enemy.
On second last position, we have sniping narhwal with 3 range attack, 7 health and 4 speed using 5 mana. It has ability of snipe means it'll hit a non melee monster which is not on first position and comes first in non melee type. Also poseses pierce and stun ability which hit health of hit monster if armor is not enough to block all damage and 50% stun chance.
On last position we have water elemental, 5 speed 4 range attack and 7 health points with dodge and self heal which makes it 25%chance to dodge any melee or range attacks.
I think enemy don't have enough damage in it's team. Also only 29 mana is consumed that's just half of battle mana.
Time to introduce my team.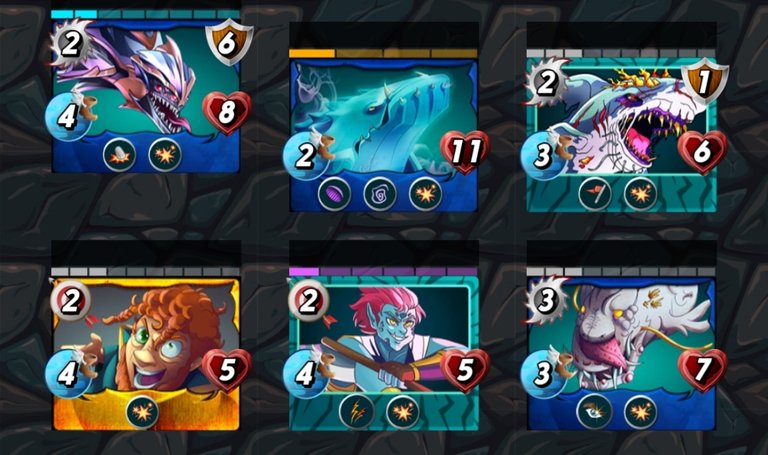 My team captain is level 2 kelya frendeul ( I don't own high level summoners in many splinters) which gives one speed and one armor to all my team monsters.
On first position I placed diemonshark with 2 melee attack and trample ability which has a 50% chance of attacking again after killing an enemy monster. 4 speed, 6 armor and 8 hp.
On second position I placed baakzira with void and slow ability with 11 hp. Reducing 1 speed of enemy and getting half damage from magic attacks, although we don't have magic monsters allowed I used that to absorb blast damage.
Next to it I placed demented shark. With 6 health and inspire ability to increase one melee attack of all my team monsters. It also can't attack but gives buff.
Next monster is deeplurker with 3 melee attack, 7 health and opportunity ability at 3 speed. Very useful in getting multiple blast hits.
On second last position, I used axemaster with 2 range attack, 4 speed and 5 hp possessing double strike which means it attacks twice.
Last position is occupied by supply runner with 2 range attack and
4 speed with 5 hp.
Don't have many abilities because of low level monsters as well as low level summoner.
After we know both teams, let's fight / rumble.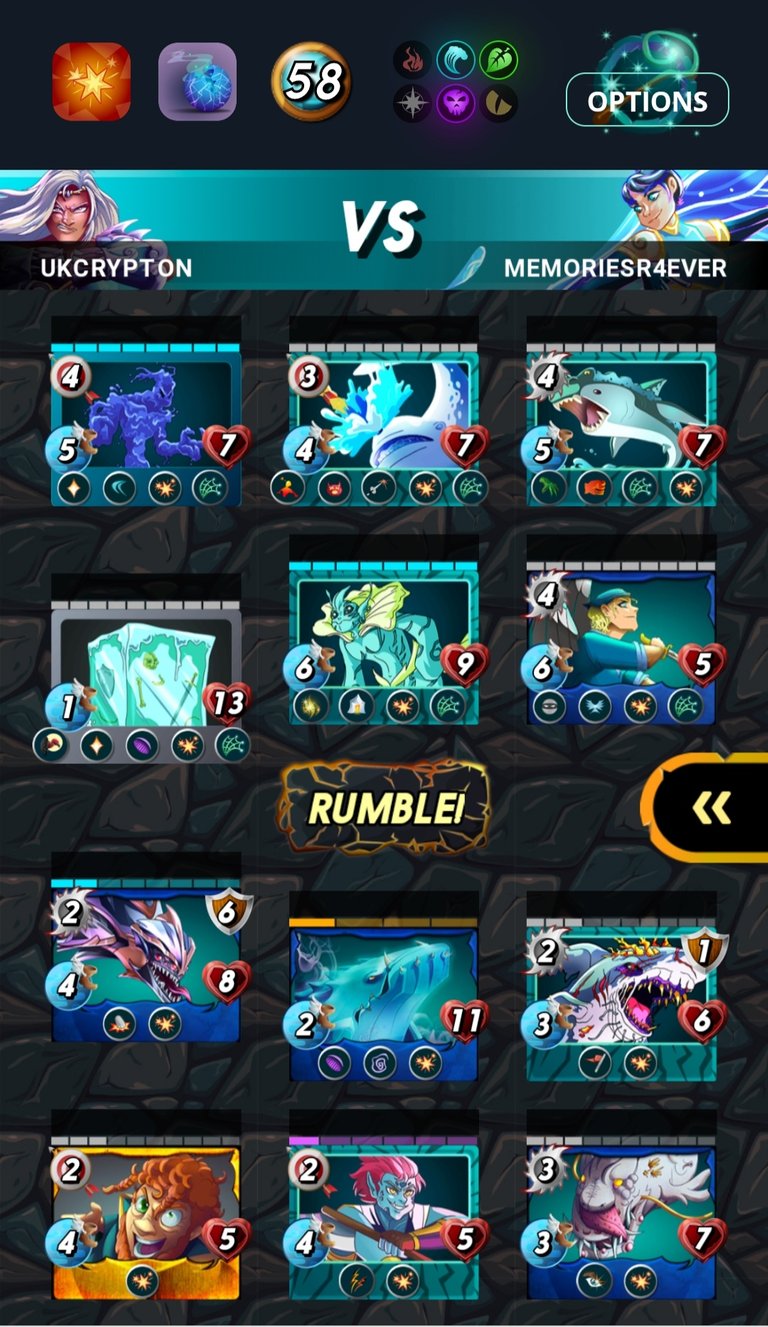 Since enemy whole team is unbalanced with less damage output and just a bunch of meat shields along with poor positioning. I also got one miss from water elemental with just 1 speed difference(this usually don't happen with me and reverse occurs many times) although even hitting won't had any impact on the battle results.
I killed their meat shields in no time and their back row was in first position without taking much damage resulting in easy win.
Before the battle started, I didn't had hope of winning because of my summoner level and splinters available. Also when I first watched enemy team with completely maxed out team I thought it's gone. But soon I saw that enemy has very less damage and I found myself winning.
Do you have such battles where this much amount of level difference occurs and you still come out winning, share in comments.
I hope you enjoyed watching the battle.
Let's put the battle link so that you can see the battle for yourself.
https://m.splinterlands.io/#/battle/game/process/sl_624c000dce1fdd86cbd4230ce797edf9
That's it for today's post, will keep sharing with you interesting battles. Meanwhile I have also posted some battles in effectiveness and guides and strategies and also covering chaos legion cards recommendations in separate sections. Check it if you are interested by scrolling through my all my posts.
See you in the next post. Till then keep yourself safe and have fun with splinterlands.
PS: all the screenshots are captured and edited from splinterlands mobile website.
---
---