ABSOLUTE HEAL - SPLINTERLANDS [PT-BR/ENG]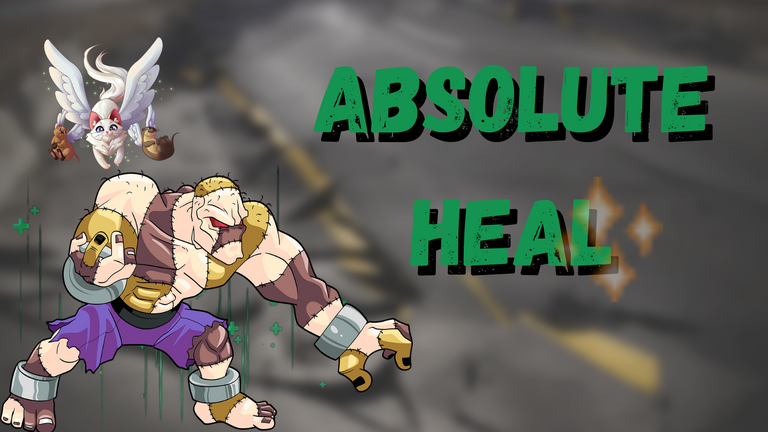 VERSÃO EM PORTUGUÊS

(nativo)

Existem inúmeras formas de vencer partidas em Splinterlands e com certeza você se surpreenderá com os resultados de algumas partidas que você terá ao decorrer da sua experiência com esse jogo.
A partida que irei compartilhar hoje eu mostrarei uma forma bem diferente de se vencer utilizando uma única habilidade: cura

. Eu espero que vocês gostem dessa postagem e se divirtam com essa vitória inusitada.

A PARTIDA

A baixa mana disponível somado com a limitação de apenas unidades físicas é um padrão em que eu costumo optar por utilizar Mylor + Mycelic Infantry, pois é um Tank poderoso e que causa muito dano devido ao Thorns

.
Porém dessa vez eu resolvi optar por uma composição diferente pois havia alugado recentemente a poderosa Byzantine Kitty e estava tentando utilizá-la de várias formas diferentes para descobrir o quão roubada ela realmente podia ser.
Eis então que opto por formar uma composição simples focada simplesmente em curar, curar e curar. Não sei se é a melhor composição para essa situação, porém o resultado com certeza foi hilário.

A COMPOSIÇÃO
O combo é bem simples e requer apenas duas unidades e pelo menos 13 de mana disponível. Além disso é importante se atentar ao level do monstro que utilizarei pois fará toda a diferença.
---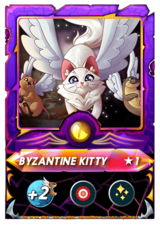 Byzantine Kitty
Esta invocadora lendária incrivelmente fofinha te deixa rápido, preciso e bem saudável. O custo 7 dela pode fazê-la parecer menos interessante em partidas de baixa mana, mas eu mostrarei hoje que ela pode sim ser muito útil nessas situações. Por ser de raridade lendária ela te possibilita a utilizar unidades de level superior de acordo com a tabela.

---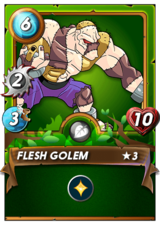 Flesh Golem Lv. 3
No level 3 este Golem ganha a incrível capacidade de se regenerar, se tornando um verdadeiro monstro difícil de se derrubar. Seus status são bem interessantes para o custo e fica ainda melhor no level 4 por aumentar o seu dano, mas para a nossa composição o level 3 é o suficiente (e o mais barato) para criarmos a cura absoluta.
---
A mana restante você pode preencher com qualquer unidade que pareça útil para a sua partida, por exemplo o Creeping Ooze que aumentaria a chance de Miss dos inimigos. Seu foco nessa composição é sobreviver mais do que seu oponente através da esquiva (advinda da alta velocidade) e da dupla cura.

É HORA DO DUELO!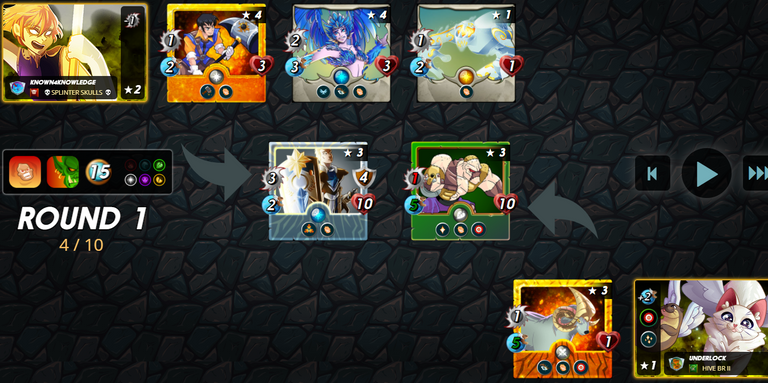 Ao revelar os times me deparei com essa composição. Meu adversário optou por uma estratégia bem poderosa de reduzir o dano físico (100% garantido devido a regra de combate) e proteger o seu Tank com Repair

, garantindo que todo o foco fosse contra ele devido ao Taunt.

.
Desta forma se tornou impossível para o meu Flesh Golem causar dano, ficando fadado a atacar inutilmente a armadura do adversário de novo e de novo e de novo.

Porém apesar do Flesh Golem não conseguir causar dano, seu fator regenerativo aprimorado pela Kitty lhe permitiu aguentar a todos os danos e se recuperar de todas as feridas de novo e de novo e de novo.

Infelizmente para o meu adversário o seu combo só funciona por causa do Armorsmith e ao longo dos rounds se aproximava cada vez mais a REGRA ESPECIAL que definiria o vencedor deste combate.
---
Após o Round 20 o efeito de fadiga começa a ocorrer em todos os rounds seguintes, iniciando com 1 de dano e aumentando gradativamente até que haja um campeão ou um empate.
---
Quando esse dano começa a acontecer, geralmente as composições focadas em uma única unidade possuem vantagem, pois ao longo dos turnos as unidades mais fracas vão sendo derrubadas fazendo com que seu time enfraqueça gradativamente.
E foi exatamente isso que ocorreu, mesmo que meu Flesh Golem não conseguisse causar dano ao oponente, quando o dano advindo da fadiga começou a acontecer, as unidades da backline foram caindo e assim o efeito de Repair finalmente cessou, finalmente permitindo que ele conseguisse empurrar o Shieldbearer direto para a derrota!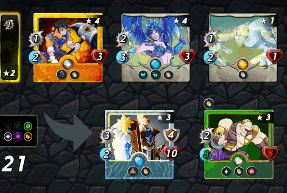 Para assistir essa batalha e ver a cura absoluta em ação basta CLICAR AQUI!

CONSIDERAÇÕES FINAIS
Como eu disse no início desta postagem existem muitas formas diferentes de se vencer em Splinterlands, e é extremamente divertido você vivenciar elas ao longo da sua jornada.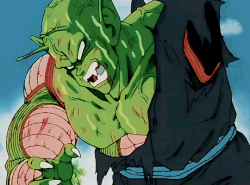 Espero que você curta esse jogo tanto quanto eu e que suas partidas sejam extremamente aleatórias com resultados inesperados, pois essas são as que ficam na memória!
Muito obrigado a todos que leram até aqui, espero que tenham gostado. Se vocês curtirem meus conteúdos, peço que deixem o seu voto na postagem e sigam o meu perfil para poderem acompanhar as futuras postagens.

---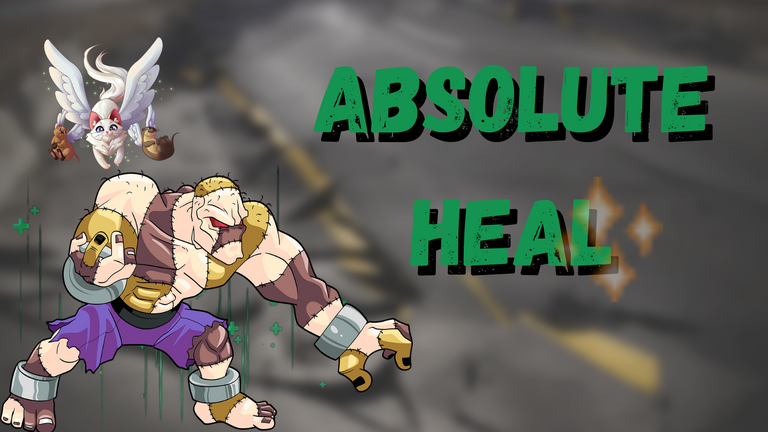 ENGLISH VERSION

(translate google)

There are numerous ways to win matches in Splinterlands and you will surely be surprised by the results of some matches that you will have during your experience with this game. .
The game I'm going to share today I'll show you a very different way to win using a single skill: heal

. I hope you like this post and have fun with this unusual victory.

THE MATCH

The low available mana added to the limitation of only physical units is a pattern in which I usually choose to use Mylor + Mycelic Infantry, as it is a powerful Tank and does a lot of damage due to Thorns

.
But this time I decided to opt for a different composition because I had recently rented the powerful Byzantine Kitty and was trying to use it her in several different ways to find out just how stolen she really could be.
So I choose to form a simple composition focused simply on healing, healing and healing. I don't know if it's the best composition for this situation, but the result was certainly hilarious.

THE COMPOSITION
The combo is quite simple and requires only two units and at least 13 mana available. In addition, it is important to pay attention to the level of the monster that I will use because it will make all the difference.
---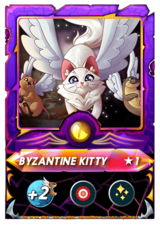 Byzantine Kitty
This incredibly cute Legendary Summoner makes you fast, accurate and very healthy. Its 7 cost can make it seem less interesting in low mana games, but I'm going to show you today that it can be very useful in those situations. Because it is of legendary rarity it allows you to use higher level units according to the table.

---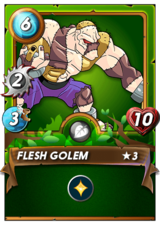 Flesh Golem Lv. 3
At level 3 this Golem gains the incredible ability to regenerate, becoming a real monster that is difficult to take down. Its stats are very interesting for the cost and it gets even better at level 4 for increasing its damage, but for our composition level 3 is enough (and the cheapest) to create the absolute healing.
---
The remaining mana you can fill with any unit that seems useful for your game, for example the Creeping Ooze that would increase the enemies Miss chance. Your focus in this composition is to outlast your opponent through dodge (from high speed) and double healing.

IT'S TIME TO DUEL!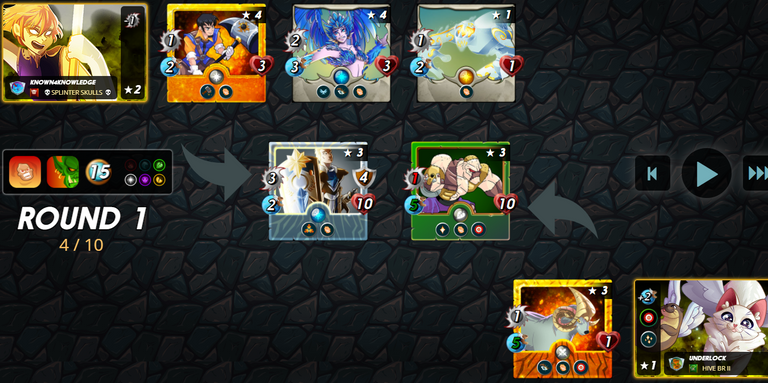 When revealing the teams I came across this composition. My opponent opted for a very powerful strategy of reducing physical damage (100% guaranteed due to combat rule) and protecting your Tank with Repair

, ensuring all focus was on him due to the Taunt.

.
In this way it became impossible for my Flesh Golem to deal damage, being doomed to uselessly attack the opponent's armor again and again and again.

But while the Flesh Golem can't deal damage, its Kitty-enhanced regenerative factor allowed it to withstand all damage and recover from all wounds again and again and again.

Unfortunately for my opponent, his combo only works because of Armorsmith and throughout the rounds he got closer and closer to SPECIAL RULE that would define the winner of this fight.
---
After Round 20 the effect of fatigue begins to occur in all subsequent rounds, starting with 1 damage and gradually increasing until there is a champion or a draw.
---
When this damage starts to happen, compositions focused on a single unit usually have an advantage, because over the turns the weakest units are being knocked down causing your team to gradually weaken.
And that's exactly what happened, even though my Flesh Golem couldn't damage the opponent, when the damage from fatigue started to happen, the backline units were falling and so the effect of Repair finally stopped, finally allowing that he could push the Shieldbearer straight to defeat!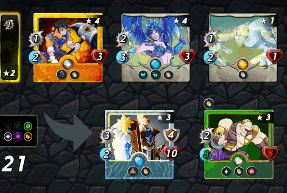 To watch this battle and see the absolute healing in action just CLICK HERE!

FINAL CONSIDERATIONS
As I said at the beginning of this post there are many different ways to win in Splinterlands, and it's extremely fun for you to experience them along your journey.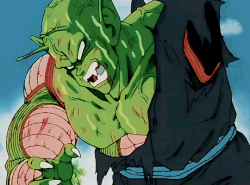 I hope you enjoy this game as much as I do and that your matches are extremely random with unexpected results, as these are the ones that stick in the memory!
Thank you so much to everyone who read this far, I hope you enjoyed it. If you like my content, I ask you to send your vote on the post and follow my profile so you can read future posts.

---
---