MAGIC BATTLE - SPLINTERLANDS [PT-BR/ENG]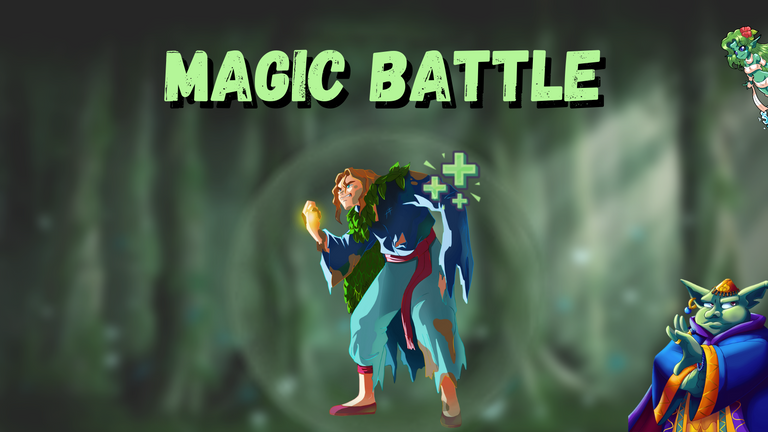 VERSÃO EM PORTUGUÊS

(nativo)

Batalhas entre duas composições mágicas são bem comuns em Splinterlands, pois essas unidades são extremamente poderosas e possuem vantagens absurdas se comparadas às outras. Por conta disso é preciso sempre estar preparado para enfrentar os magos, caso contrário você simplesmente será atropelado.
Na batalha de hoje eu irei mostrar algumas ótimas estratégias e combos que você pode utilizar para tentar sobrepujar o seu oponente, se colocando na vantagem simplesmente por escolher as habilidades certas para o combate.

A PARTIDA

Com estes três Splinter disponíveis e a regra de combate Equalizer, eu decidi montar uma composição mágica/anti-mágica por alguns fatores estratégicos:
Tanto o Splinter de Água, quanto Terra e Dragão possuem muitas cartas mágicas interessantes, o que aumenta a chance do adversário apelar para os magos.

Em regras de Equalizer os magos costumam se sair bem pois todos focam a linha de frente do inimigo, eliminando-os um a um.

Eu possuo cartas de level maior na composição mágica de Terra. Além disso, os healers em partidas com Equalizer se tornam extremamente eficientes.
Considerando tudo o que foi elencado acima, decidi montar a seguinte composição.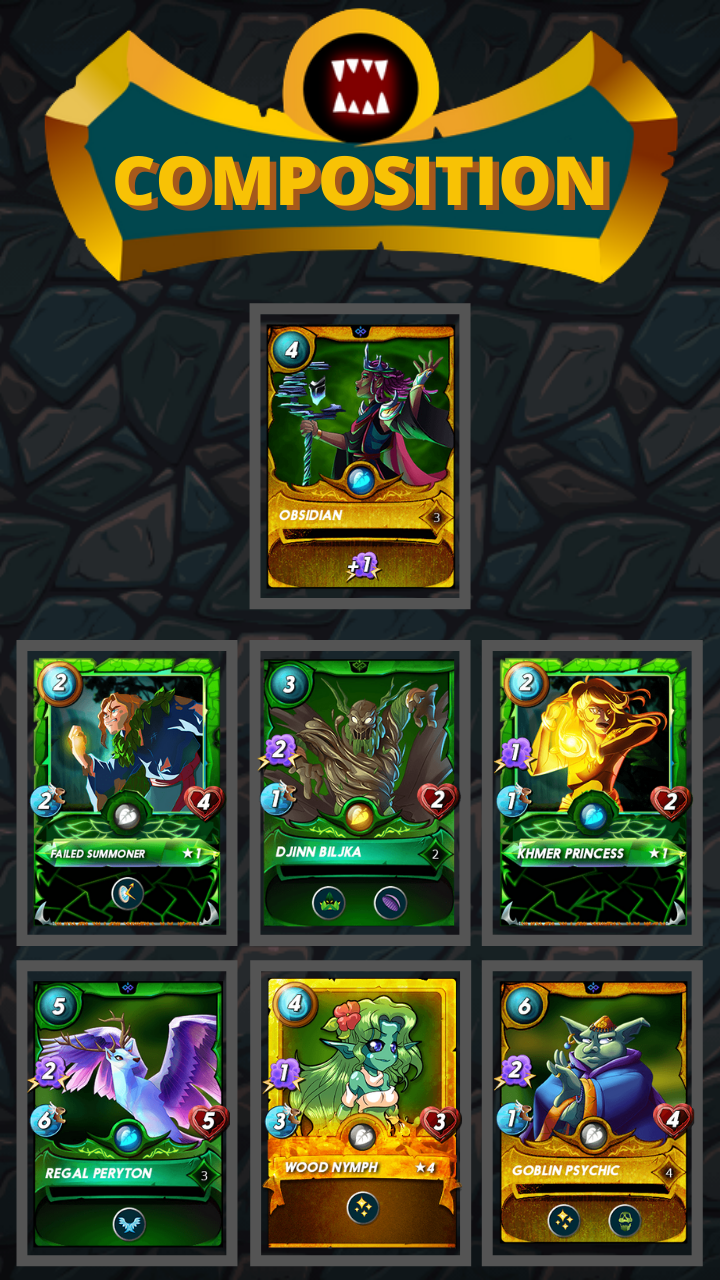 Dessa forma eu tenho uma linha de frente que reflete dano mágico e logo após uma unidade que recebe dano mágico reduzido, com a dupla cura prestando suporte da backline.
Observem que o maior HP das minhas unidades é 5, ou seja, eu contei que meu oponente iria pegar um monstro com vida alta, pois assim a minha estratégia funcionaria melhor.
Vamos descobrir se eu acertei na análise?

É HORA DO DUELO!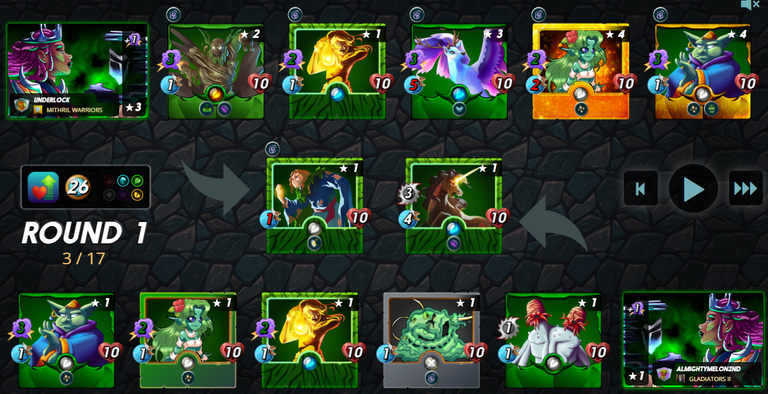 Felizmente acertei em cheio a composição inimiga. Enquanto eu optei por uma linha de frente de baixo custo com a habilidade de Reflect Magic

, meu oponente trouxe o poderoso Unicorn Mustang, mas apesar de poderoso seu alto custo fez com que as unidades restantes fossem menos poderosas. Além disso sua alta vida também beneficiou o meu time, permitindo que minha estratégia funcionasse perfeitamente.
Tendo acertado a estratégia bastava assistir sua execução.
---
REFLECT MAGIC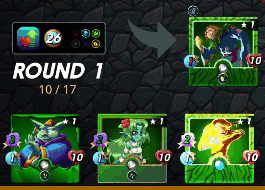 Mesmo que minha unidade tenha zero de ataque ela consegue causar 4 de dano por turno nas três unidades mágicas do time inimigo. Ao longo do tempo o Failed Summoner conseguiu causar 14 de dano nos magos inimigos, mitigando boa parte da vida deles!
---
AFFLICTION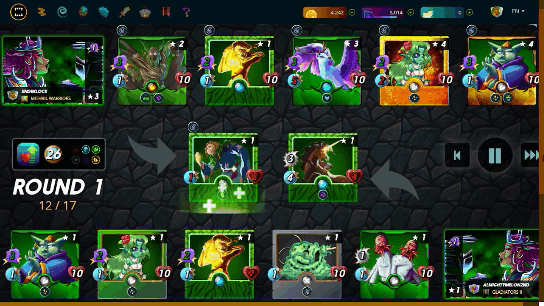 Enquanto o Failed refletia dano, na Backline ele estava recebendo todo o suporte possível do Goblin Psychic, principalmente ao considerarmos que em seu primeiro ataque ele conseguiu aplicar o debuff Affliction no inimigo, impedindo-o de receber sua dupla cura, o que praticamente selou o destino desta partida!
---
DOUBLE HEAL
Tendo conseguido 10 de Vida por causa da regra de combate e recebendo duas curas todos os rounds se tornou impossível para o oponente conseguir derrubar meu Failed Summoner, dessa forma ele conseguiu permanecer de pé refletindo o seu dano do primeiro ao último round, garantindo uma vitória limpa contra o meu adversário!
Se você deseja ver essa composição funcionando completamente, basta CLICAR AQUI para assistir a batalha!

CONSIDERAÇÕES FINAIS
Em jogos de estratégia tomar as melhores decisões é o que te faz vencedor, e em Splinterlands isso fica muito claro quando assistimos batalhas como essa, pois podemos perceber como existem muitas maneiras diferentes para criar composições e montar times fantásticos simplesmente usando sua inteligência.
É realmente gratificante jogar Splinterlands e eu espero que você também se divirta tanto quanto eu. Muito obrigado a todos que leram até aqui, espero que tenham gostado. Se vocês curtirem meus conteúdos, peço que deixem o seu voto na postagem e sigam o meu perfil para poderem acompanhar as futuras postagens.

---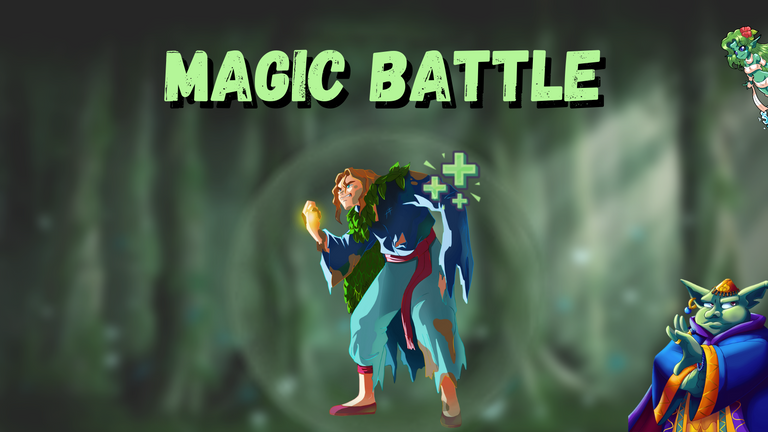 ENGLISH VERSION

(translate google)

Battles between two magic compositions are quite common in Splinterlands, as these units are extremely powerful and have absurd advantages compared to the others. Because of this, you must always be prepared to face the mages, otherwise you will simply be run over.
In today's battle I'm going to show you some great strategies and combos that you can use to try to outmaneuver your opponent, putting yourself at the advantage simply by choosing the right skills for combat.

THE MATCH

With these three Splinters available and the Equalizer combat rule, I decided to build a magic/anti-magic composition for some strategic reasons:
Both Water Splinter, Earth and Dragon have many interesting magic cards, which increases the chance of the opponent to appeal to mages.

In Equalizer rules, mages usually do well because they all focus on the enemy's front line, eliminating them one by one.

I have higher level cards in Earth's magic composition. Also, healers in Equalizer matches become extremely efficient.
Considering everything listed above, I decided to assemble the following composition.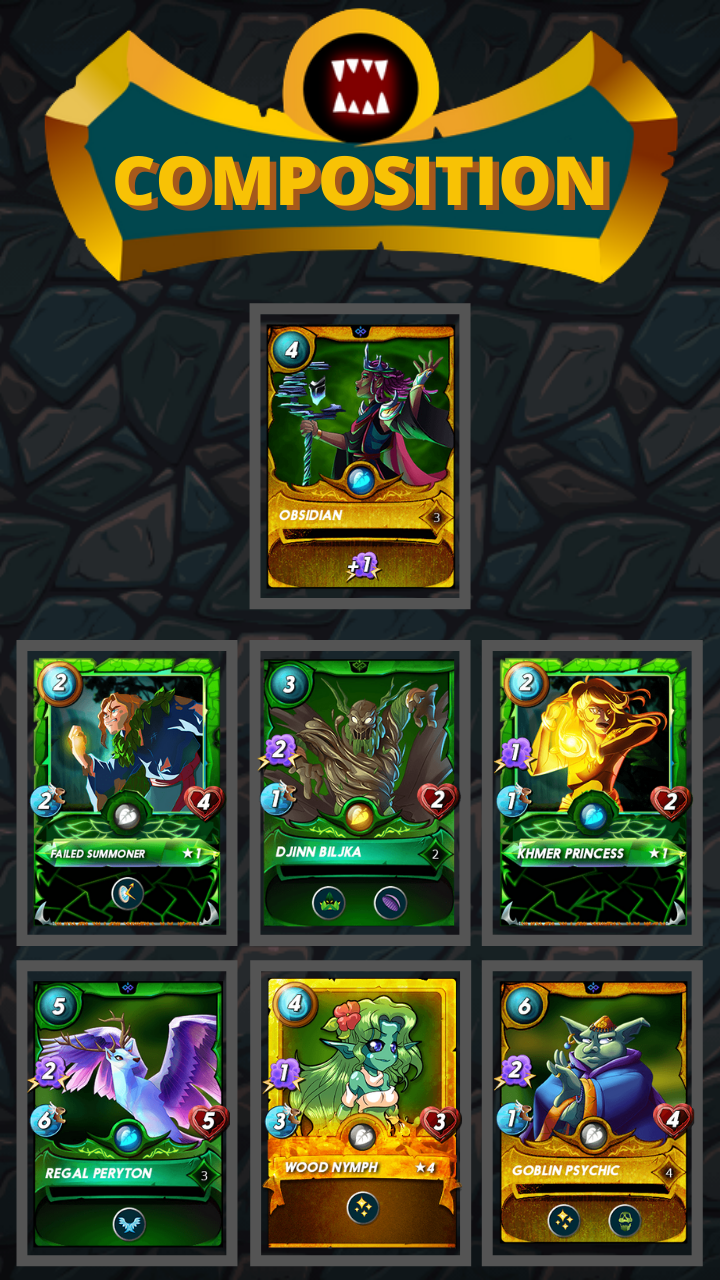 That way I have a frontline that reflects magic damage and right after a unit that takes reduced magic damage, with the double heals supporting the backline.
Note that the highest HP of my units is 5, that is, I told that my opponent would get a monster with high health, because then my strategy would work better.
Let's find out if I got the analysis right?

IT'S TIME TO DUEL!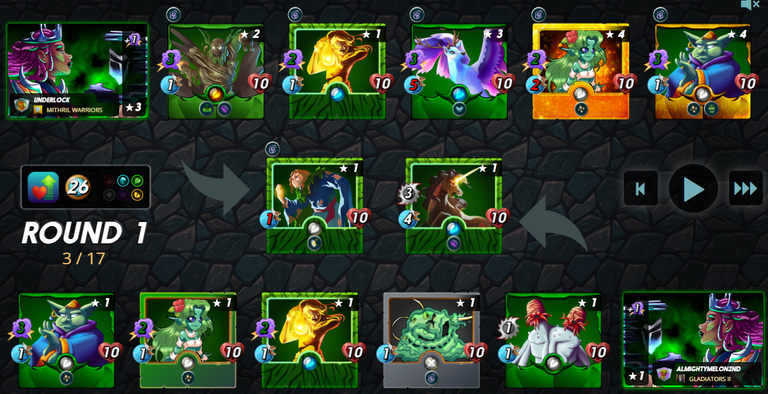 Fortunately I hit the enemy composition squarely. While I opted for a low-cost frontline with the ability of Reflect Magic

, my opponent brought out the mighty Unicorn Mustang, but despite being powerful its high cost made the remaining units less powerful. In addition, his high health also benefited my team, allowing my strategy to work perfectly.
Having got the strategy right, it was enough to watch its execution.
---
REFLECT MAGIC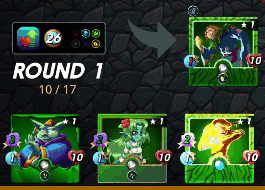 Even though my unit has zero attack it manages to deal 4 damage per turn to the three magic units on the enemy team. Over time the Failed Summoner managed to deal 14 damage to enemy mages, mitigating most of their health!
---
AFFLICTION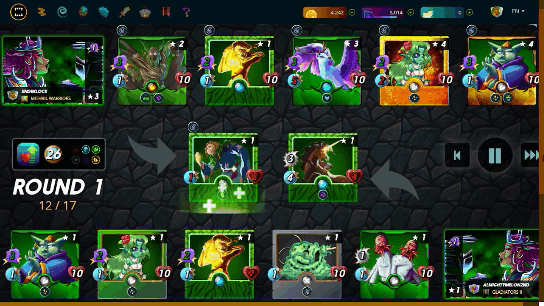 While Failed reflected damage, in Backline he was getting all the support possible from Goblin Psychic, especially considering that in his first attack he managed to apply the Affliction debuff on the enemy, preventing him from receiving his double heal, which practically sealed the fate of this match!
---
DOUBLE HEAL
Having gained 10 Health because of the combat rule and receiving two heals every round it became impossible for the opponent to take down my Failed Summoner, so he was able to stay on his feet reflecting his damage from the first to the last round, guaranteeing a victory clean against my opponent!
If you want to see this composition in full working order, just CLICK HERE to watch the battle!

FINAL CONSIDERATIONS
In strategy games, making the best decisions is what makes you a winner, and in Splinterlands this is very clear when we watch battles like this, as we can see how there are many different ways to create compositions and build fantastic teams simply using your intelligence.
It's really satisfying to play Splinterlands and I hope you enjoy it as much as I do. Thank you so much to everyone who read this far, I hope you enjoyed it. If you like my content, I ask you to send your vote on the post and follow my profile so you can read future posts.

---
---