RANKING FIGHT - SPLINTERLANDS [PT-BR/ENG]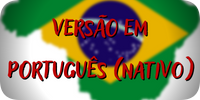 © Ukyron3

INTRODUÇÃO
As mudanças em Splinterlands estão vindo uma atrás da outra e assim fica impossível conseguir descobrir qual é a melhor maneira de se jogar a nova partida ranqueada. No meio desse caos eu optei por buscar os melhores alugueis e ir o mais pesado possível para as partidas ranqueadas! Isso realmente funcionou, até que... Eu cheguei no top ranking!

A postagem de hoje visa apenas compartilhar essa experiência louca que estou vivenciando em dias de grandes mudanças e as consequências (negativas) de alcançar o Top 25 da liga Ouro. Espero que gostem!

BRIGA PELO RANKING
Este não é o lugar que eu queria estar, afinal para disputar pelo topo do ranking é preciso muita habilidade, mas além disso: muitas cartas! E quando eu digo muitas eu quero dizer de level alto. Por não possuir um arsenal de cartas próprio muito poderoso, eu costumo utilizar bastante do sistema de alugueis para montar meus times diariamente.
Com tantas mudanças acontecendo uma em cima da outra ficou bastanet difícil saber quando, quanto ou como fazer os melhores alugueis, o que funcionaria ou não e muitas outras dúvidas sobre as novas mecânicas implementadas. Com tudo isso eu acabei fazendo o aluguel de muitas cartas poderosas através do BID, gastando praticamente o dobro de DEC/Dia do que estou acostumado.

E só está nesse valor porquê estou pagando barato na maioria das cartas que peguei (sem contar o Power que eu consegui praticamente de graça), conseguindo montar vários sets poderosos dos elementos de Fogo

, Água

e Morte

. Dessa maneira mesmo que intencionalmente acabei subindo muito o meu rating com várias Win Streaks ontem, que me permitiu farmar muitos baús mas que agora me resultou em uma barreira bem desafiadora.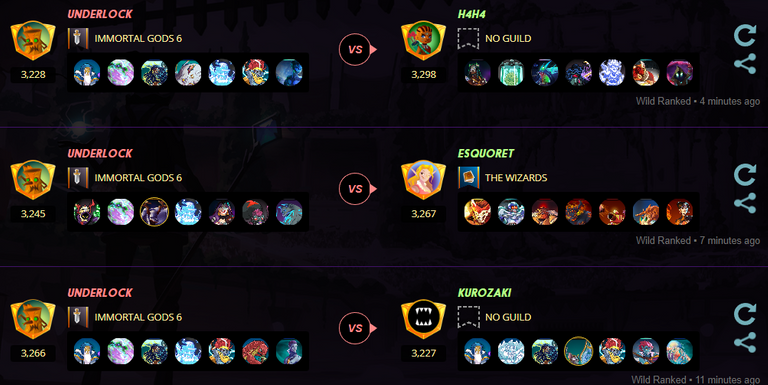 Mas mesmo que minha taxa de vitórias tenha começado a diminuir, é impressionante disputar com as pessoas do topo do ranking pois podemos aprender novas estratégias que ainda não conhecíamos. Além disso sempre dá para vencer uma partida ou outra na base da pura estratégia, tornando gratificante cada vitória contra esses jogadores de alto nível.

BATALHAS ESPETACULARES
Se tem algo que podemos no topo do ranking são partidas de altíssimo nível. Eu me considero um jogador mediano que utiliza do sistema de alugueis pra tentar enfrentar os jogadores com cartas muito melhores que as minhas, e até o momento tem dado certo. Essas foram algumas das incríveis partidas que disputei durante o meu farm de hoje!

BATALHA 1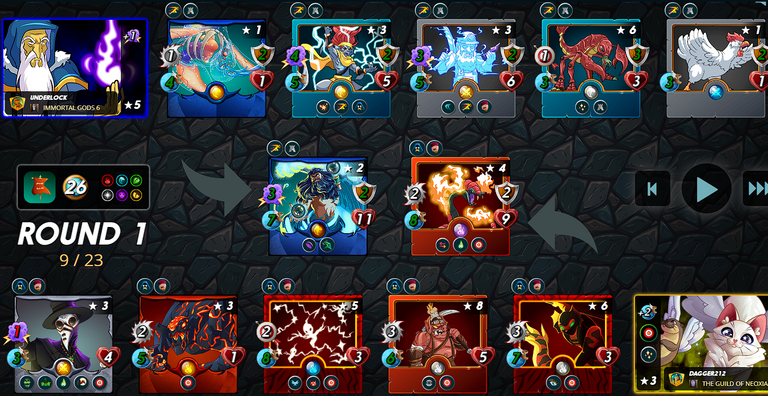 Quem precisa da Byzantine Kitty (level 3 😆) quando se tem dois magos super poderosos que aumentam a velocidade do time inteiro com Swiftness

? Brincadeiras a parte, esta foi uma disputa de velocidade mas que ficou totalmente desbalanceada para o meu lado por conta do Crustacean King e a armadura distribuído pela habilidade Protect

.
Isso fez com que muitos dos ataques inimigos fossem gastos na armadura enquanto os danos mágicos das minhas unidades iam eliminando um após o outro.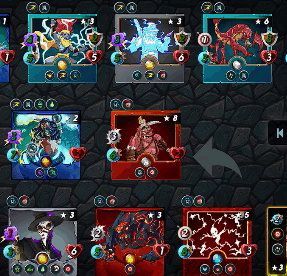 Se meu oponente tivesse conseguido eliminar ao menos meu Oshannus e um dos outros dois magos, seria bem possível que a última unidade inimiga conseguisse cuidar do resto pois o combo de habilidades que o Doctor Blight é muito poderoso para combates 1x1, além do seu Scavenger

que o deixa uma vida muito alta, resultando em curas exorbitantes vindas da Kitty. Felizmente eu ainda possuía muito dano e o Blight não conseguiu alcançar uma vida muito alta para se sustentar com a cura, resultando na minha vitória!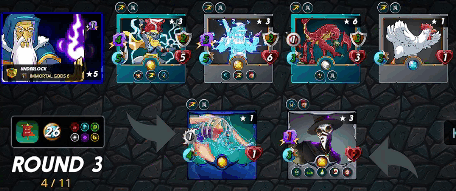 BATALHA 2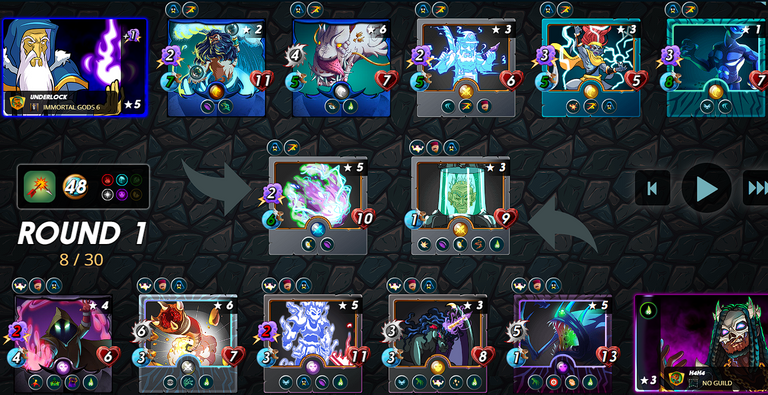 Repetir sempre a mesma composição tende a falhar e foi justamente isso que aconteceu. Por meu time de Água

ser o mais forte que eu possuo resolvi novamente optar por ele, deduzindo que meu oponente viria com alguma composição mágica pare ser counterada pelas minhas duas linhas de frente.
Porém aconteceu justamente o contrário e meu time foi totalmente counterado, tendo seu dano reduzido pelas habilidades Silence

e Void

. Além disso as unidades físicas possuíam um dano muito alto com um bônus advindo do Waka que é a possibilidade de causar Poison

.
A soma de todos esses fatores me fez ser trucidado, mas tem um detalhe que eu gostaria muito de compartilhar. O mérito da vitória foi totalmente do oponente pois ele acertou todas as maneiras de me counterar, que é algo relativamente raro de acontecer. Não apenas nos tanques escolhidos ou no tipo de dano, mas também em habilidades que poucos utilizam adequadamente. Eu estou falando do Snare

.
A carta que deveria aguentar vários hits se esquivando absolutamente de tudo com seu Dodge

e Flying

além dos incríveis 8 de velocidade foi reduzida a um monte de lixo com uma simples habilidade. Essa partida o meu adversário mereceu vencer!

CONSIDERAÇÕES FINAIS
A frase Dias de luta, dias de glória (Charlie Brown Jr.) faz bastante sentido em nossas vidas. Ontem eu estava ganhando todas sem a menor preocupação, e hoje eu tive muitas dificuldades ao enfrentar jogadores de alto nível. Entender que os dias de luta virão é essencial para não nos frustrarmos e buscarmos sempre aprender mais com essas experiências, pois somente assim conseguiremos alcançar os dias de glória!
Muito obrigado a todos que leram até aqui, espero que tenham gostado. Se vocês curtirem meus conteúdos, peço que deixem o seu voto na postagem e sigam o meu perfil para poderem acompanhar as futuras postagens.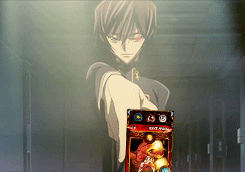 ---
Você pode ganhar renda passiva por delegação de tokens de tribo para "The Cartel".


Clique neste banner para entrar no servidor de Discord "The Cartel" para saber mais.
---
---
---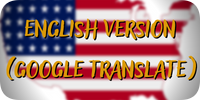 © Ukyron3

INTRODUCTION
Changes to Splinterlands are coming one after another and so it's impossible to figure out the best way to play the new ranked match. In the midst of this chaos I chose to look for the best rentals and go as hard as possible for ranked matches! It really worked, until... I made it to the top rankings!

Today's post just aims to share this crazy experience I'm going through in days of big changes and the (negative) consequences of reaching the Top 25 of the Gold league. Hope you like it!

FIGHT FOR THE RANKING
This is not the place I wanted to be, after all, to compete for the top of the ranking it takes a lot of skill, but besides that: many cards! And when I say many I mean high level. As I don't have a very powerful arsenal of cards of my own, I tend to use the rental system a lot to build my teams daily.
With so many changes happening one on top of the other, it was quite difficult to know when, how much or how to make the best rentals, what would work or not, and many other questions about the new mechanics implemented. With all this I ended up renting many powerful cards through the BID, spending practically twice the DEC/Day than I'm used to.

And it's only in this value because I'm paying cheap on most of the cards I got (not counting the Power I got practically for free), managing to assemble several powerful sets of the elements of Fire

, Water

and Death

. So even though I intentionally ended up raising my rating a lot with several Win Streaks yesterday, which allowed me to farm a lot of chests but which now resulted in a very challenging barrier.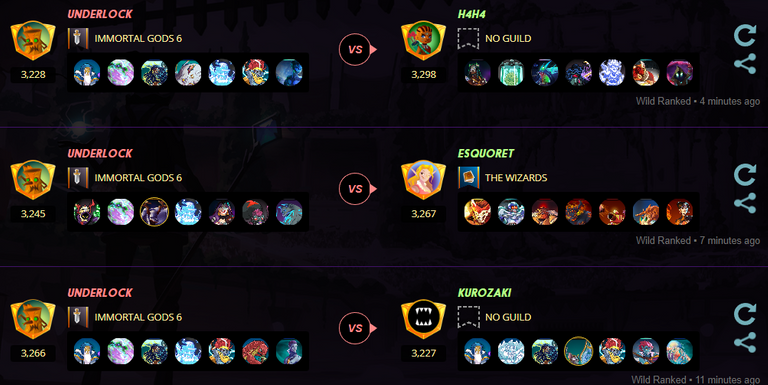 But even though my win rate has started to decrease, it's impressive to compete with the people at the top of the rankings because we can learn new strategies that we didn't know before. In addition, it is always possible to win a game or another based on pure strategy, making each victory against these high-level players gratifying.

SPECTACULAR BATTLES
If there's one thing we can top the rankings for, it's extremely high-level matches. I consider myself an average player who uses the rental system to try to face players with much better cards than mine, and so far it has worked. These were some of the amazing matches I played during my farm today!

BATTLE 1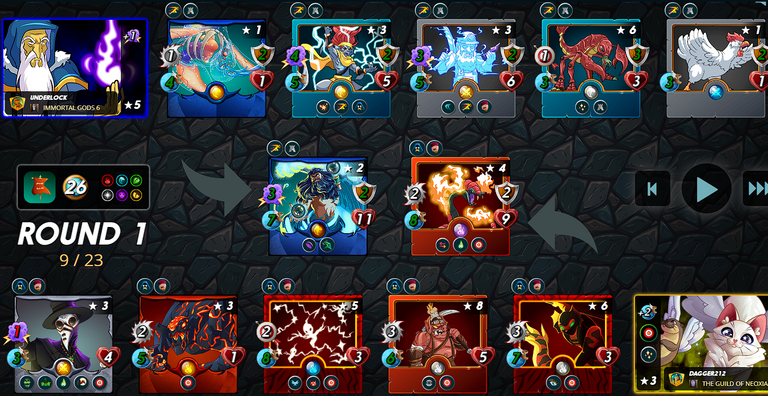 Who needs Byzantine Kitty (level 3 😆) when you have two super powerful mages that increase speed of the entire team with Swiftness

? Jokes aside, this was a speed dispute but it was totally unbalanced for my side because of the Crustacean King and armor distributed by skill Protect

.
This caused a lot of enemy attacks to be spent on armor while my units' magic damage was eliminated one after the other.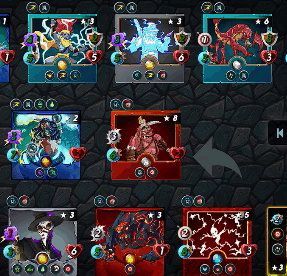 If my opponent had managed to eliminate at least my Oshannus and one of the other two mages, it would be quite possible that the last enemy unit could take care of the rest because the skill combo that Doctor Blight is very powerful for 1v1 combats, in addition to its Scavenger

which gives it a very high life , resulting in exorbitant healings from Kitty. Luckily I still had a lot of damage and Blight couldn't reach too high a health to sustain itself with healing, resulting in my victory!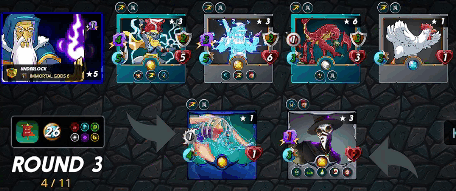 BATTLE 2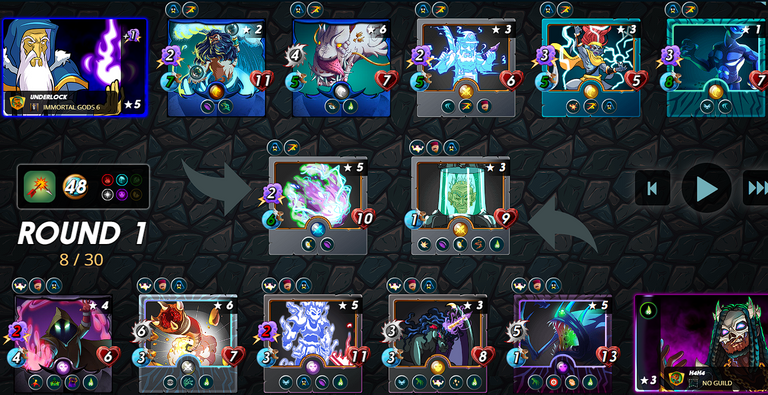 Always repeating the same composition tends to fail and that's exactly what happened. By my Water team

be the strongest I have I decided to opt for him again, deducing that my opponent would come with some magic composition to be countered by my two front lines.
But just the opposite happened and my team was totally countered, having its damage reduced by the skills Silence

and Void

. In addition, physical units had very high damage with a bonus coming from Waka which is the possibility of causing Poison

.
The sum of all these factors caused me to be slaughtered, but there is one detail that I would very much like to share. The victory was entirely credited to the opponent because he hit all ways to counter me, which is a relatively rare thing to happen. Not just on chosen tanks or damage type, but also on skills that few use properly. I'm talking about Snare

.
The card that should take several hits by dodging absolutely everything with its Dodge

and Flying

in addition to the incredible 8 speed has been reduced to a bunch of junk with a simple skill. This match my opponent deserved to win!

FINAL CONSIDERATIONS
The phrase Fighting days, glory days (Charlie Brown Jr.) makes a lot of sense in our lives. Yesterday I was winning them all without the slightest concern, and today I had a lot of difficulties facing high-level players. Understanding that the days of struggle will come is essential for us not to get frustrated and always seek to learn more from these experiences, because only then will we be able to reach the glory days!
Thank you so much to everyone who read this far, I hope you enjoyed it. If you like my content, I ask you to send your vote on the post and follow my profile so you can read future posts.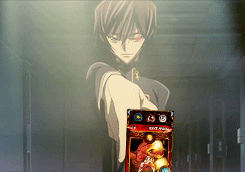 ---
---
---