RIFTWATCHER DRAGONS REVIEW - SPLINTERLANDS [PT-BR/ENG]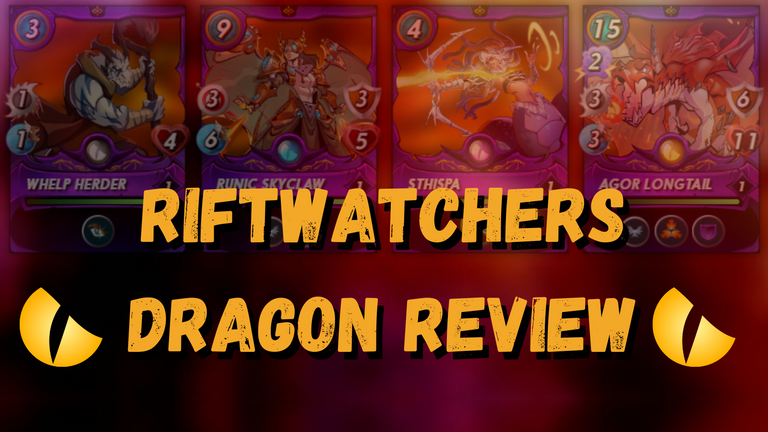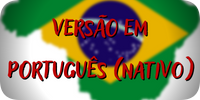 © Ukyron3
Click here to English Version.

INTRODUÇÃO
O splinter de Dragão

recebeu apenas 4 cartas com a chegada da edição Riftwatchers, será se essas cartas vão realmente contribuir com o aumento da força desse splinter se comparado com as cartas dos outros elementos?
Para sabermos essa resposta devemos avaliar todos os 4 dragões e definir o quanto eles são bons quando comparados com outras cartas de Splinterlands. Vamos conhecer quem são os novos dragões?


CARTAS COMUNS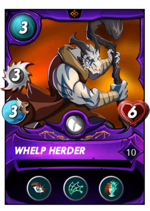 A carta comum lançada para os dragões foi o Whelp Herder. Apesar da habilidade Opportunity

ser uma das melhores do jogo, o fato desta carta possuir estatísticas ofensivas péssimas no seu primeiro level o torna muito fraco, a menos que ele receba muito suporte como o buff do invocador Daria e esteja em uma partida com a regra Reverse Speed

.
Conforme seu level aumenta as coisas começam a melhorar pois seu ataque e velocidade vão sendo aprimorados com o tempo. Mesmo assim suas duas novas habilidades não são as melhores possíveis e por causa disos essa carta acaba não se encaixando dentre as melhores que eu vi dessa expansão. Mesmo assim ela é uma boa adição para dar mais possibilidades de cartas físicas para utilizar nas partidas de baixa mana disponível e será muito útil em regras como Little League
.

CARTAS RARAS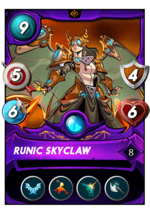 A Runic Skyclaw foi bastante comparada com essa outra carta de Splinterlands por causa das suas duas primeiras habilidades serem iguais, entretanto esta não é uma comparação justa por dois motivos:
A Spirit of the Forest é uma carta lendária e isso tem um peso muito relevante para o design da carta;
A Runic Skyclaw é uma carta focada na ofensividade enquanto a outra foca nas habilidades de suporte que são ganhas nos leveis superiores.
Entendendo essas diferenças nós podemos analisar a Skyclaw como uma carta incrível para lidar com suportes inconvenientes que causam debuffs ou que curam sem parar. Seus status ofensivos são incríveis e ela possui uma resistência considerável. Ao analisarmos suas duas habilidades ganhas ao longo dos leveis o Reflection Shield

pode servir se você utilizá-la na penúltima posição, isso mitigaria efeitos de Blast

aplicados por cartas com Sneak

, entretanto esse uso é muito específico então para fazer melhor uso dessa habilidade seria importante utilizá-la em uma partida com a regra Close Range
e colocá-la na segunda posição.
A Giant Killer

é a cereja do bolo que a torna perfeita nas partidas de 99 mana pois você terá muita chance de causar 10 de dano com os ataques da Runic Skyclaw e isso seria devastador para o oponente. Esta carta tem muito potencial e fará você vencer muitas partidas!

CARTAS ÉPICAS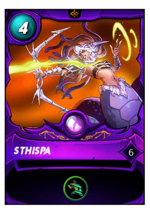 Eis a nova invocadora dos dragões. A Sthispa distribui a habilidade Phase

para todas as suas cartas e garante que sua composição de unidades incrívelmente rápdidas e cheia de habilidades como Flying

e Dodge

não sejam facilmente destruídas pelas unidades mágicas.
Apesar disso ser bem legal eu a considero bem medíocre pois essa habilidade só será útil contra cartas com Dano Mágico

e mesmo assim adicionará nenhum atributo que aumente a força do seu time, ela apenas retira uma das vantagens que os magos possuem se comparados com os outros tipos de dano. Talvez ao longo do tempo eu mude de opinião sobre esta carta mas por enquanto eu a considero pouco utilizável.

CARTAS LENDÁRIAS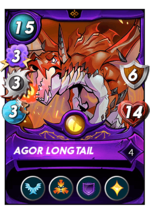 Para fechar com chave de ouro as novas cartas dos dragões temos o lendário Agor Longtail com sua impressionante capacidade de causar dano duplo e controlar o campo com seu Taunt

, conseguindo lidar com unidades físicas e também mágicas fazendo-as ter que atravessar sua armadura por causa da habilidade Void Armor

.
Apesar da sua força eu vejo que o maior problema desta carta é que ela só pode ser usada em partidas com uma mana disponível absurdamente alta e nesses casos o oponente também terá unidades com ataques muito elevados e a falta de habilidades como Void

ou Shield

o torna relativamente frágil, sendo dependente de alguns debuffs no dano para permanecer vivo.
A situação desta unidade melhora bastante a partir do level 3 pois ele recebe a habilidade Heal

que ao ser combinada com uma carta com tamanha Vida

se torna muito mais efetiva. O Agor Longtail é um ótimo lendário capaz de aguentar bastante dano e principalmente causar muito dano contra seus inimigos e fará a diferença nas batalhas.

CONSIDERAÇÕES FINAIS
Dragões sempre são insanos e servem para potencializar ainda mais as composições de Splinterlands e com certeza as novas cartas possibilitarão a formação de novas estratégias muito efetivas. Algumas são melhores que as outras mas todas são úteis e vieram para somar à diversidade do jogo.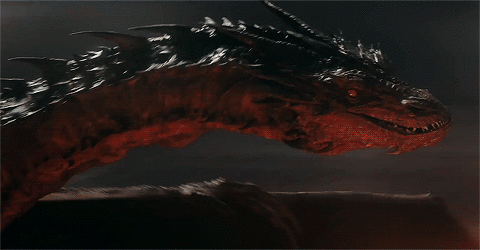 Qual foram suas impressões sobre os dragões? Já utilizou ou enfrentou alguma dessas cartas? Compartilha sua experiência nos comentários!
Muito obrigado a todos que leram até aqui, espero que tenham gostado. Se vocês curtirem meus conteúdos, peço que deixem o seu voto na postagem e sigam o meu perfil para poderem acompanhar as futuras postagens.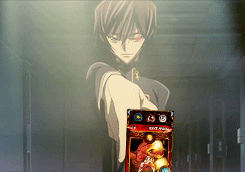 ---

---
---
---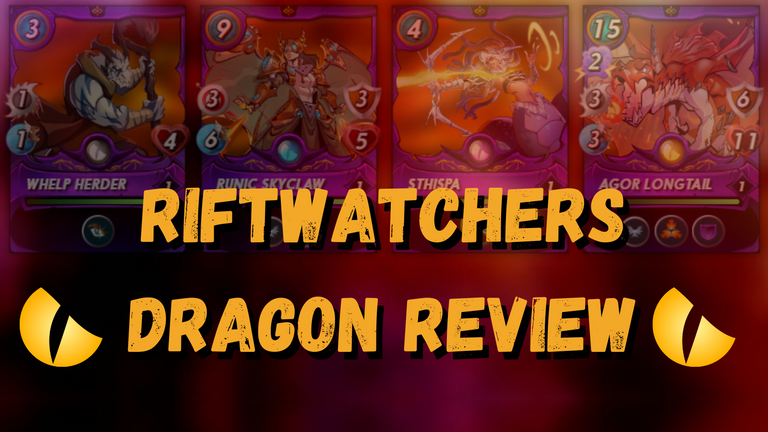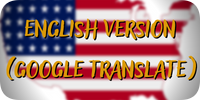 © Ukyron3

INTRODUCTION
The Dragon Splinter

received only 4 cards with the arrival of the Riftwatchers edition, will these cards really contribute to the increase in the strength of this splinter compared to the cards of the other elements?
To know this answer we must evaluate all 4 dragons and define how good they are when compared to other cards from Splinterlands. Let's meet who are the new dragons?


COMMON CARDS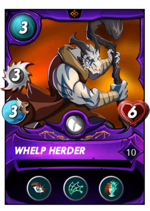 The common card released for dragons was the Whelp Herder. Although the skill Opportunity

is one of the best in the game, the fact that this card has terrible offensive stats at its first level makes it very weak unless it receives lots of support like the summoner buff Daria and be in a match with the Reverse Speed rule

.
As your level increases things start to improve as your attack and speed improve over time. Even so, your two new skills are not the best possible and because of that this card doesn't fit among the best I've seen from this expansion. Even so, it is a good addition to give more possibilities of physical cards to use in the low mana available games and will be very useful in rules like Little League
.

RARE CARDS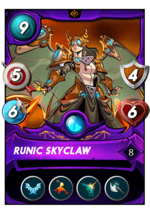 Runic Skyclaw has been compared a lot to this other card from Splinterlands because its first two abilities are the same, however this is not a fair comparison for two reasons:
The Spirit of the Forest is a legendary card and this has a very relevant weight for the card design;
The Runic Skyclaw is a card focused on offense while the other focuses on support skills that are gained at higher levels.
Understanding these differences we can analyze Skyclaw as an amazing card to deal with inconvenient supports that cause debuffs or heal nonstop. Her offensive stats are incredible and she possesses considerable stamina. When analyzing your two skills gained over the levels the Reflection Shield

can serve if you use it in the penultimate position, this would mitigate effects of Blast

applied by cards with Sneak

, however this usage is very specific so to make better use of this skill it would be important to use it in a match with the Close Range rule
and place it in the second position.
The Giant Killer

is the icing on the cake that makes it perfect in 99 mana matches as you will have a lot of chance to do 10 damage with attacks Runic Skyclaw and that would be devastating to the opponent. This card has a lot of potential and will make you win many games!

EPIC CARDS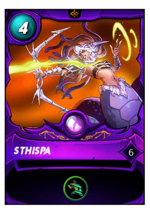 Here's the new dragon summoner. Sthispa distributes the Phase skill

to all of their cards and makes sure their unit composition is incredibly fast and full of abilities like Flying

and Dodge

are not easily destroyed by magic units.
Although this is pretty cool I consider it pretty mediocre because this ability will only be useful against cards with Magic Damage

and even then it will add no attributes that increase your strength team, it just takes away one of the advantages that mages have compared to other damage types. Perhaps over time I will change my mind about this card but for now I find it unusable.

LEGENDARY CARDS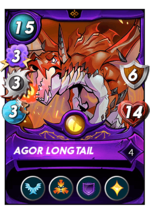 To top off the new dragon cards we have the legendary Agor Longtail with his impressive ability to deal double damage and control the field with his Taunt

, being able to deal with physical and also magical units making them have to go through your armor because of the ability Void Armor

.
Despite its strength I see that the biggest problem with this card is that it can only be used in games with an absurdly high available mana and in these cases the opponent will also have units with very high attacks and the lack of abilities like Void

or Shield

makes it relatively fragile, being dependent on some damage debuffs to stay alive.
This unit's situation improves a lot from level 3 onwards as it receives the ability Heal

that when combined with a card of this size Life

becomes much more effective. The Agor Longtail is a great legendary capable of taking a lot of damage and mainly dealing a lot of damage against your enemies and will make a difference in battles.

FINAL CONSIDERATIONS
Dragons are always insane and serve to further enhance the compositions of Splinterlands and for sure the new cards will allow the formation of new very effective strategies. Some are better than others but all are useful and come to add to the game's diversity.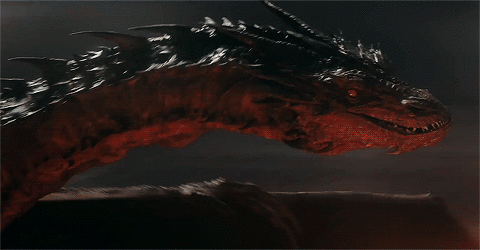 What were your impressions of dragons? Have you used or faced any of these cards? Share your experience in the comments!
Thank you so much to everyone who read this far, I hope you enjoyed it. If you like my content, I ask you to send your vote on the post and follow my profile so you can read future posts.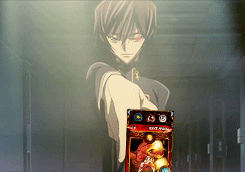 ---

---
---